Saving Introverts From the Soul-Destroying Open-Plan Office
The plan to make your dream of workplace serenity come true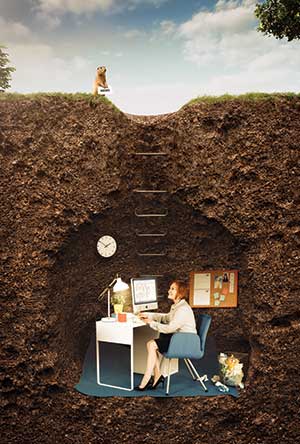 I'm sitting in a small office in Chicago, typing on my laptop and talking on my cell phone. There's a built-in desk, a monitor on the wall, shelves to one side, and a highly ergonomic chair. Colorful striations, meant to evoke a library's rows of books, decorate the space. The door and one wall are frosted glass, turning the people walking by into soundless, blurry ghosts. It's all very new and sleek but also cozy, as if the designers were channeling the aesthetic of a boutique hotel, which, I'm told, they were. On one of the shelves near the floor sits a pair of brown wingtips. I have no idea why they're there, because this isn't my office.
In fact, it isn't really an office at all. It's a Susan Cain Quiet Spaces unit, a floor model in the showroom at Steelcase, an office design company. In theory, corporations will install the units for recharging, having a private conversation, or just working in undisturbed quiet. It's been designed in particular for the inward-focused, deliberate, sometimes solitary types who make up one-third to one-half of the population and for whom the open-plan office is a particular hell.
The Quiet Spaces' namesake, Susan Cain, is a former corporate attorney and author of the best-selling Quiet: The Power of Introverts in a World That Can't Stop Talking, a manifesto for wallflowers. She delivered a popular 2012 TED Talk on the same topic, a jeremiad against modern society's mindless celebration of the extrovert: We equate volubility with intelligence, certainty with judgment, and charisma with good leadership. "Our most important institutions—our schools and our workplaces—they are designed mostly for extroverts, and for extroverts' need for lots of stimulation," she said in her talk. Introverts "feel at their most alive and their most switched-on and their most capable when they're in quieter, more low-key environments," she explained.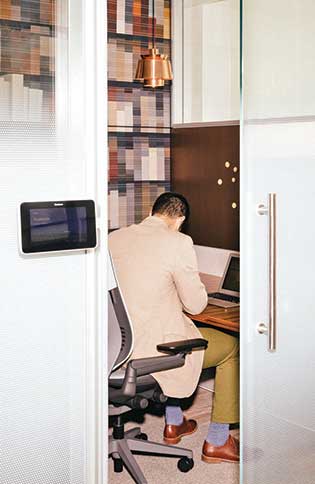 Does that sound like your office? It doesn't sound like mine. In the prototypical modern workplace, desks are spread around open floors or clustered in pods. The theory is that this encourages collaboration and creates the chance interactions among colleagues from which breakthroughs emerge. And of course, these layouts also allow more workers to be economically squeezed into less space. As a result, Cain says, the quiet and calm necessary for deep thinking, and the solitude that nourishes the introverted mind, are obliterated.
In the audience at Cain's TED Talk was James Hackett, Steelcase's chief executive officer at the time. The two met afterward and talked. "He's this big, burly ex-football player, and he's an introvert," Cain recalls. The company was already trying to figure out ways to bring flexibility to the open-plan office. According to James Keane, Hackett's successor, it's a matter of "letting people be actively involved in thinking about how they want to spend the next couple of hours. Do you want to be in the cafe? Do you want to be in a private space? Do you want to be in an open space? Do you want to take a walk for an hour and come back when you're feeling more energetic? You know, giving freedom back to people to make those choices."
Steelcase invited Cain to speak at the company's offices in Grand Rapids, Mich. "I thought of them as allies from that first meeting," she says. Together, they set out to design places where the Albert Einsteins and Eleanor Roosevelts—both introverts, Cain says—could do their best work.
There's some irony in this. Steelcase was founded in 1912, and one of its first products was the Modern Efficiency Desk. As Nikil Saval writes in Cubed: A Secret History of the Workplace, the traditional desk had been a Wooton roll-top, "a massive, high-backed, grandiose affair riddled with cubbyholes and with foldout wings that seemed to reach around and clasp the sitter in warm embrace." The Modern Efficiency Desk was smaller and barer. It was built not for the one-room countinghouses of the 19th century but for the expansive corporate bullpens of the 20th, where clerks sat out in the open in rows while their supervisors stalked the aisles peering over their shoulders. In the century since Steelcase invented a desk for the open plan, the American office has only grown more open. Today, with "flat management structure" and "radical transparency," even CEOs have put their desks in the bullpen.
This is despite a growing body of research that underlines the open plan's drawbacks. A 2013 study in the Journal of Environmental Psychology, based on a survey of 43,000 workers, found that the idea of open plans improving morale and productivity has no basis in the research literature. A 2000 paper looked at physiological and mental effects from being subjected to three hours of simulated office sounds. Among other things, the 40 female participants gave up faster on a set of unsolvable brainteasers—their willpower presumably sapped by simply having to endure the noise. Research by Anne-Laure Fayard, a management professor at New York University, showed that while workers in open-plan offices do indeed talk to each other more, those conversations are superficial, because the conversants know neighbors can listen in. Workers at one company told her, "We say hi to more people, but there is no space to go and have a real conversation." Steelcase's own surveys found similar concerns. "Privacy has been the No. 1 issue for the past five years," says Chris Congdon, Steelcase's director of research communications. "It's the biggest gap between what workers have and what they want."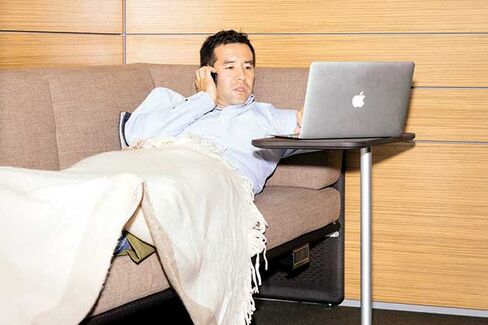 The Susan Cain Quiet Spaces aim to close that gap. Unveiled in early June, the series includes five rooms: Be Me, Flow, Studio, Green Room, and Mind Share, most of which are on display at the company's showroom in the Merchandise Mart in Chicago. Studio has a low chaise, a plush rug, and a basket of rolled-up yoga mats in one corner. In Be Me, a daybed takes up one side of the space, encouraging reclining, even napping. Green Room, designed for introvert-friendly small meetings, has a sectional sofa; according to Cain, introverts prefer to converse obliquely, not face-to-face. All the rooms are fronted in frosted glass—the opacity can be customized for privacy.
Fayard says efforts such as these are growing more common. "I've seen various companies trying to go beyond everyone just having headphones, adding a lounge or library where people can do more quiet, focused work," she says. She suggests creating multiple smaller spaces that are built for something like a private call or a two-person conversation, freeing up conference rooms for bigger meetings.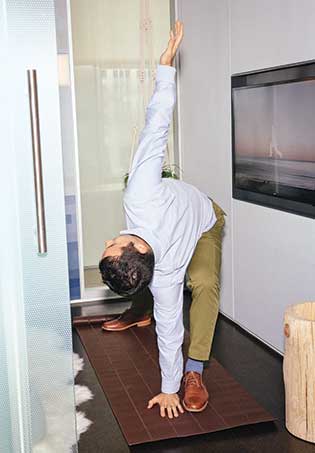 I spent an afternoon in Chicago trying the Steelcase spaces, collecting my thoughts in Be Me and chatting one-on-one in Green Room. I closed the frosted-glass door in Studio and decompressed. I even got some work done in the officelike Flow. Keane, Steelcase's CEO, is having a Flow unit built to function as his own office, along with a Green Room for meetings. If a company really wants to join the Quiet Revolution, as Cain's new consulting firm is called, it's going to need to order a lot of these rooms. Otherwise it risks having a bunch of quietly seething introverts. And the units aren't cheap: They start at $15,000, for Flow, compared with a couple thousand dollars for a typical cubicle setup.
Cain says she hopes offices install enough so everyone, not just introverts, can use the spaces whenever they need to. Still, she concedes, "there are economic realities that I'm sympathetic to." According to an analysis released on July 1 by Reis, a real estate data firm, even as companies begin to hire again, many aren't expanding their office spaces. "It is likely that newly created office jobs are taking up under-utilized space," the report suggests.
Cain won't be installing Susan Cain Quiet Spaces in the offices at Quiet Revolution. "It is a big old house on the Hudson River, and it's lovely, with common spaces and private spaces," she says. "And you can go and sit on the porch and look at the river with your laptop."
Before it's here, it's on the Bloomberg Terminal.
LEARN MORE