Risk Stirs as Portugal to Puerto Rico Disrupt Complacency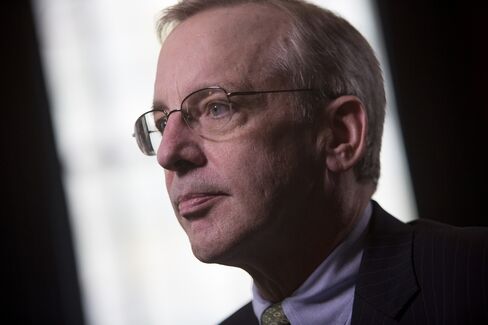 Credit investors lulled into complacency by the largesse of central banks are getting a reminder about risk.
Portugal's Banco Espirito Santo SA jolted global markets when a parent company missed short-term debt payments. Puerto Rico's governor signed a law giving some government entities the right to restructure debt, potentially hurting creditors. Then there's the Middle East, where Israel is mobilizing 20,000 soldiers for a possible ground invasion of the Gaza Strip.
The events are triggering turmoil in debt markets from London to New York, renewing concern the financial system remains vulnerable six years after central banks began flooding their economies with cheap cash to break free from the global credit crisis. The same policy makers that helped drive bond yields to unprecedented lows, have warned investors are becoming too complacent about risks.
"This is a stark reminder that things can go wrong," said Graham Neilson, the London-based chief investment strategist at Cairn Capital Ltd., which oversees $21 billion. "Any sign that things under the bonnet aren't really that great causes a repricing."
Risk Gauges
A derivatives index that gauges the credit risk of banks and insurers in Europe jumped yesterday for a fifth day after a company linked to Portugal's second-biggest bank missed payments on commercial paper. Shares in Espirito Santo were suspended after dropping 17 percent as investors shunned risk assets on concern that financial problems within the Espirito Santo group would spread.
The Markit iTraxx Europe Senior Financial Index of credit-default swaps insuring 25 banks and insurers rose to 72 basis points yesterday from a more than six-year low of 57 basis points last month. Yields on 10-year Portuguese and Greek government bonds surged at least 20 basis points.
In the U.S., credit swaps tied to the nation's six-biggest banks reached the highest in almost three months. The average cost of the contracts has climbed 9.7 basis points to 68.1 basis points since June 25, the day Puerto Rico's governor proposed the law allowing public utilities such as the commonwealth's main power authority to negotiate with bondholders to reduce their debt loads.
Sales Pause
A measure of debt-market stress known as the two-year swap spread jumped to the highest since April. The U.S. two-year interest-rate swap spread has added 4.6 basis points the past three weeks to 17.1 basis points. The gauge typically widens when investors seek the perceived safety of government debt and narrows when they favor assets such as corporate bonds.
With the volatility, corporate-bond sales that have been on a record pace paused. Goldman Sachs Group Inc., Banco Popular Espanol SA and Spanish builder Actividades de Construccion & Servicios SA all postponed offerings, while Greece raised less and paid more than analysts expected when it sold 1.5 billion euros ($2 billion) of bonds.
Borrowers have sold $2.4 trillion of debt in corporate-bond markets globally this year, compared with $2.09 trillion sold by this time in 2013, Bloomberg data show.
Hidden Risks
After pumping trillions of dollars into the financial system, central bankers say they're worried that complacency is increasing the likelihood of future market instability. A measure of risk that uses options to forecast volatility in equities, currencies, commodities and bonds is at about its lowest level on record.
"Anytime volatility is extremely low, risks gets hidden." Matthew Duch, a fund manager at Bethesda-based Calvert Investments Inc., which oversees more than $12 billion in assets, said in a telephone interview. "Volatility is good because it keeps you aware of the risks."
The value of bonds in the Bank of America Merrill Lynch Global High Yield Index has soared to more than $2 trillion. It took 12 years for the gauge, started at the end of 1997, to get to $1 trillion, and only four years to add another $1 trillion. About $345 billion of the debt has been sold this year, putting 2014 on track to top last year's record $477 billion.
Yields on corporate debt from the riskiest to the most-creditworthy reached a record-low 3.22 percent on June 26, down from as high as 9.05 at the depths of the credit crisis in 2008, according to the Bank of America Merrill Lynch Global Corporate & High Yield Index.
'Little Nervous'
Federal Reserve Bank of New York President William Dudley said in May that the slide in market volatility "makes me a little nervous," while Bank of England Deputy Governor Charlie Bean said conditions were "eerily reminiscent" of the pre-crisis era. Bundesbank board member Andreas Dombret said last month that "we do see risks, despite the fact that the markets are calm."
Israel began a military offensive in the Gaza Strip this week by declaring its purpose was to halt Palestinian rocket attacks. The escalation in violence between Israel and Gaza-based militants is the worst since November 2012.
Puerto Rico Governor Alejandro Garcia Padilla signed a bill into law last month allowing certain public corporations to restructure debt to reduce their obligations. The move is roiling the municipal bond market, which holds about two-thirds of the debt in mutual funds. Puerto Rico securities have lost 9.8 percent since the beginning of June.
Puerto Rico
The commonwealth's debt has ballooned to about $73 billion, more than any U.S. state government except California and New York.
Credit-default swaps used to speculate on the ability of municipal bond insurers to make good on their guarantees have jumped.
Contracts tied to a unit of Assured Guaranty Ltd. have climbed 136 basis points since June 23 to 351 basis points, according to data provider CMA. Swaps on MBIA Inc. soared 250 to 571 during the same period.
"There has to be a pause at some point and this may be it," said Jonathan Pitkanen, head of credit research at Threadneedle Asset Management Ltd., which oversees $126 billion. "This might be one of those occasions when you just needed a catalyst for people to sell off."
(An earlier version of this story corrected 2013 bond issuance.)