No Periphery Panic as Losses Pale Versus 2012: Chart of the Day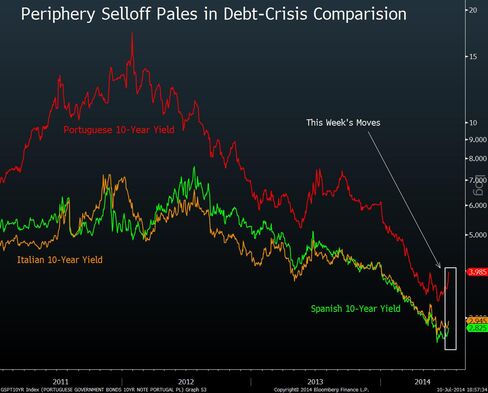 The selloff in European bonds, sparked yesterday by banking woes in Portugal, evoked memories of the euro-region's debt crisis. The minimal rise in periphery bond yields shows how far the nations have come in two years.
The CHART OF THE DAY shows that even after Portuguese 10-year bonds fell, yields remained below 4 percent, less than one-quarter of the 2012 peak. The seven basis-point climb in Spanish 10-year yields, which was the fifth-biggest this year, would have barely been among the top 75 increases two years earlier.
Bond prices have stabilized since European Central Bank President Mario Draghi vowed in July 2012 to safeguard the region's common currency. Yields on bonds from Spain and Italy dropped to records this year, and Portugal's fell to 3.23 percent, the least since 2005, after the ECB introduced an unprecedented package of stimulus measures to boost inflation.
"Spreads will continue to tighten," said Michiel de Bruin, head of global rates and money markets at F&C Asset Management Plc in London, which manages about 83 billion pounds ($142 billion). "I don't think the Portugal situation will derail the rally, but of course it adds to the uncertainty."