Fed's Bullard Says Unemployment Drop to Push Inflation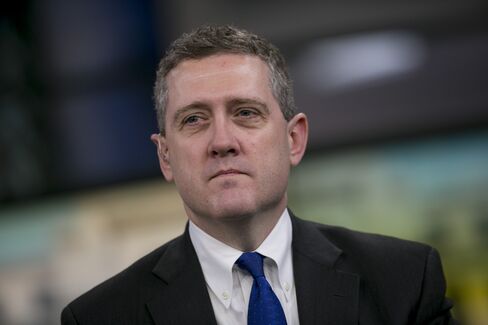 Federal Reserve Bank of St. Louis President James Bullard said a rapid drop in joblessness will fuel inflation, bolstering his case for an interest-rate increase early next year.
"I think we are going to overshoot here on inflation," Bullard said yesterday in a telephone interview from St. Louis. He predicted inflation of 2.4 percent at the end of 2015, "well above" the Fed's 2 percent target.
"That is a break from where most of the committee seems to be, which is a very slow convergence of inflation to target," he said in a reference to the policy-making Federal Open Market Committee.
A drop in unemployment to 6.1 percent in June, the lowest level in almost six years, increases pressure on the Fed to raise the main interest rate sooner than most officials have estimated, Bullard said.
The St. Louis Fed chief, who calls himself the "North Pole of inflation hawks," estimates full employment at about 6 percent. A lower level may stoke wage and price pressures, he said. The FOMC's longer-run projection of unemployment is between 5 percent and 6 percent.
"When unemployment goes into the five range, that is going to below the natural rate," or the level at which inflation is neither speeding up or slowing down, Bullard said.
"Inflation has been unusually low in 2013 and the first part of 2014" because of temporary circumstances such as European economic weakness.
"Those special factors are wearing off, and the economy is on the upswing," Bullard said. "Those factors will send the inflation rate above target in 2015."
Rapid Drop
Unemployment could drop below 6 percent in "the next couple of jobs reports," Bullard said. "If unemployment continues to come down as fast as it has, we could be in the fives fairly soon."
That, along with "good growth numbers in the second and third quarters and continued upward trends in inflation," is likely to spark "more heated debate about the date of policy tightening," he said.
Bullard said investors are underestimating the level of Fed tightening for 2015 and 2016 by ignoring the forecasts of FOMC participants. Their median projections, released in June, call for a target interest rate of 1.13 percent at the end of 2015 and 2.5 percent a year later.
"It is a mistake for the market not to go with the median of the committee," he said. "I think that's the best indication we have."
Growth Outlook
Bullard, 53, also said he's confident the economy will expand at a 3 percent pace through the rest of the year after an "unnerving" 2.9 percent first-quarter contraction.
The improving economy and Fed pledges to do what it takes to preserve the momentum have almost tripled U.S. stock prices since 2009 and pushed swings across asset prices to new lows.
The Standard & Poor's 500 Index added 0.5 percent to close at 1,972.83 in New York yesterday. The yield on the 10-year Treasury note fell one basis point, or 0.01 percentage point, to 2.55 percent.
Some Fed policy makers were concerned investors may be growing too complacent about the economic outlook, and the central bank should be on the lookout for excessive risk-taking, minutes of their June meeting showed yesterday.
"Of course financial stability has to be a top concern of the committee following the financial crisis," Bullard said. Still, he said he has seen nothing "to date that is so severe that I would bring it in as a top concern for monetary policy."
Feeding Bubble
The greater concern is interest rates "that are possibly too low the next couple of years," and that could "get into feeding into some kind of bubble process in the U.S. economy," he said.
Bullard's views last year swayed investors, with his speeches and interviews influencing the yield on the 10-year Treasury note more than any other Fed official, including then-Chairman Ben S. Bernanke, according to an analysis by Macroeconomic Advisers LLC, a research firm cofounded by former Fed Governor Laurence Meyer.
Bullard has been seen as a bellwether because his views have sometimes foreshadowed policy changes. He published a paper in 2010 entitled "Seven Faces of the Peril," which called on the central bank to avert deflation by purchasing Treasury notes. That was followed by a second round of bond buying.
Bullard joined the St. Louis Fed's research department in 1990 and became president of the regional bank in 2008. His district includes all of Arkansas and parts of Illinois, Indiana, Kentucky, Mississippi, Missouri and Tennessee.
Before it's here, it's on the Bloomberg Terminal.
LEARN MORE