Bank of Korea Lowers Growth Outlook as Lee Holds Key Rate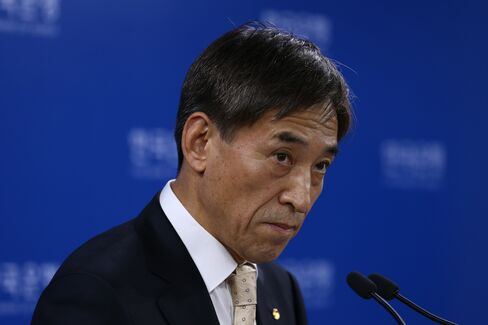 The Bank of Korea cut its growth outlook for this year and said inflation was picking up more slowly than expected, after leaving interest rates unchanged.
Governor Lee Ju Yeol said today the central bank lowered its growth forecast for 2014 to 3.8 percent from 4 percent. The BOK held the seven-day repurchase rate at 2.5 percent for a 14th straight month, it said in a statement in Seoul, as predicted by all 16 economists in a Bloomberg News survey. One of the seven board members opposed the decision, Lee said.
A rise in the won to near six-year highs threatens to damp growth that's showing signs of sputtering, with factory output unexpectedly shrinking in May, exports growing at half the forecast pace in June and manufacturers' confidence falling in July to the lowest this year. Samsung Electronics Co. -- the country's biggest exporter -- cited a strong currency and a drop in its smartphone market share for disappointing earnings.
"The overall tone of the statement is slightly more dovish than before," said Raymond Yeung, a senior economist at Australia & New Zealand Banking Group Ltd. in Hong Kong. "We do not think an imminent rate cut was considered in the board room."
The central bank's estimate for growth in 2014 is higher than the median forecast in a Bloomberg survey of economists of 3.6 percent. Lee also said the BOK cut its outlook for gross domestic product in 2015 to 4 percent from 4.2 percent.
South Korea needs to "swiftly" execute fresh policies to spur the economy, Finance Minister nominee Choi Kyung Hwan said in parliament this week.
Economic Support
The won climbed 5.2 percent against the dollar in the second quarter, the most among 31 major currencies tracked by Bloomberg, and reached a six-year high of 1,008.37 on July 4. The South Korean currency strengthened 0.1 percent to 1,011.66 at 11:59 a.m. in Seoul.
Choi pledged this week to look into "all possible steps" across fiscal and monetary policies and said he would announce a package of macro- and micro-policies to support growth soon.
Lee said today that the BOK lowered consumer inflation projections to 1.9 percent this year and 2.7 percent in 2015.
Low inflation gives the central bank leeway to support the economy. Consumer prices rose 1.7 percent in June from a year earlier, below the central bank's target range of 2.5 percent to 3.5 percent.
Policy Outlook
The gap between the three-year government bond yield and the BOK's benchmark rate last week approached its narrowest since May 2013, when the BOK last decided to ease monetary policy, reflecting growing market speculation for a cut.
"While we maintain our view of no policy rate changes for the remainder of this year, we see an incremental increase in the risk of a surprise rate cut in the third quarter of 2014," Goldman Sachs Group Inc. economist Kwon Goohoon said in a June 30 report.
Most economists forecast the next move by the BOK will be a rate hike, probably in the first quarter of next year, as the inflation rate picks up and growth picks up to the economy's potential rate.