Abdullah Camp Proposes Interim Afghan Regime as Crisis Brews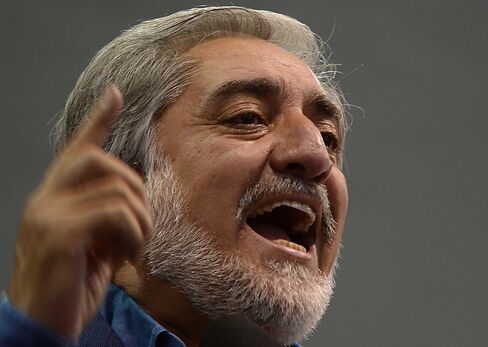 A running mate to Afghan presidential candidate Abdullah Abdullah proposed the formation of a one-year transitional government if efforts fail to resolve a disputed election.
A crisis awaits if the Independent Election Commission of Afghanistan doesn't void allegedly fraudulent votes cast in favor of opponent Ashraf Ghani Ahmadzai, Mohammad Mohaqeq, one of Abdullah's vice president candidates, said in an interview in Kabul yesterday. U.S. Secretary of State John Kerry arrives today to help find a solution.
"A transitional government must be formed for one year and the independent electoral commission must be also reformed," Mohaqeq said, referring to a scenario where Abdullah rejects the final results. "And then a re-election should take place nationwide."
The standoff threatens to delay an agreement that would allow U.S. troops to remain in the country after this year and bring in aid money needed to fund soldiers fighting a Taliban insurgency. Kerry and President Barack Obama have warned that any attempt to form a government outside the constitutional process would result in the U.S. cutting off economic and military aid.
"Abdullah's position is that if U.S.-led negotiations fail, then he will form a government," said Waliullah Rahmani, director at the Kabul Center for Strategic Studies. Such a breakaway administration would bring "unimaginable" costs to Afghanistan, he said.
Vote Audits
The election commission declared Ghani the winner of an initial count on July 7, an outcome rejected by Abdullah. Final results are due on July 22 and the swearing-in on Aug. 2.
Both candidates agreed to a proposal from Jan Kubis, head of the United Nations Assistance Mission in Afghanistan, to audit 8,000 polling stations, equivalent to 3.5 million votes or 43 percent of the total, President Hamid Karzai said in a statement last night.
Karzai said he hoped the candidates would cooperate on the deal, after an agreement to audit more than 7,000 polling stations broke down this week. Abdullah had wanted 11,000 polling stations inspected, his spokesman Sayed Fazel Sancharaki had said by phone.
Kerry's experience in Afghan matters provides hope he'll play a critical role in resolving the impasse, Mohaqeq said. He accused Ghani's supporters of casting more than 2.5 million fraudulent ballots and said victory belonged to Abdullah, a former foreign minister.
Talks Proposed
"If fraudulent votes are not discarded, a crisis will come to Afghanistan," Mohaqeq said. Demonstrations would continue if Ghani is declared the winner and Abdullah would consider setting up a parallel government, he said.
Ghani received 56 percent of about 8 million votes in the runoff with Abdullah getting 44 percent, according to the IEC. Abdullah won 45 percent of 7 million votes in the first round and Ghani took 32 percent, both falling short of the 50 percent needed to avoid another poll.
Ghani, a former finance minister, called for calm on July 8 and said he was ready for talks with Abdullah's group.
"We want a united, prosperous and stable Afghanistan," Ghani said. "We expect Dr. Abdullah won't move the country into another crisis."
1990s Fighting
Both candidates are vying to succeed Karzai, who's constitutionally barred from seeking a third term. The United Nations Assistance Mission in Afghanistan said last month that the elections were better managed than previous votes and warned against moves from either side that might ignite ethnic conflict.
The formation of a coalition would be possible if the camps agree to discard results of the runoff, Mohaqeq said, adding that acceptance of the second round would result in an illegitimate government.
Ghani is an ethnic Pashtun who holds a doctorate in cultural anthropology from Columbia University in New York. Abdullah, 53, is half-Pashtun and half-Tajik. Pashtuns account for 42 percent of Afghanistan's 32 million people, while Tajiks make up 27 percent, according to the CIA World Factbook.
In the 1990s, after the Soviet Union withdrew from Afghanistan, factional fighting killed thousands of people and led ultimately to the Taliban regime, which was ousted by the U.S. after the attacks on the World Trade Center and Pentagon in 2001. Mohaqeq fought both the Soviets and Taliban.
"Massive fraud took place, which is unbelievable," he said. "We were the winner and we are the winner."