World Cup Records Fall as Germany Advances to Eighth Final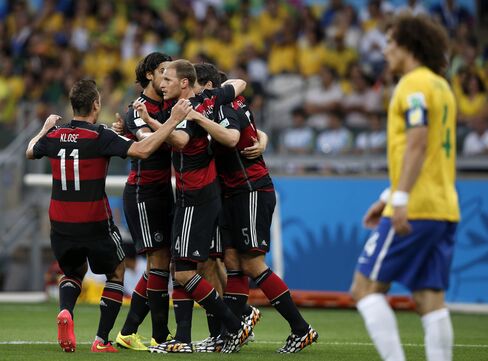 As Germany was advancing, World Cup records were falling.
The three-time champion's 7-1 defeat of host Brazil in a semifinal yesterday set marks for team and individual scoring. Here are some of them:
Brazilian Incompetence: ======================= * The defeat was Brazil's worst. * The team was the first to concede seven goals in a knockout match in a World Cup. * It was the first time Brazil conceded five goals in a World Cup match since 1938, when it beat Poland 6-5. * The loss is the host's biggest since a 6-0 defeat against Uruguay in the Copa America in 1920. * It was Brazil's first competitive defeat in a home match in 64 games, since a 3-1 loss to Peru in 1975.
German Brilliance: ================= * Germany became the first team to score seven times in a World Cup semifinal. * Germany surpassed Brazil for the most goals scored by a team, with 223, in tournament history. * With Germany's second goal, Miroslav Klose set the record for World Cup career goals with 16, surpassing retired Brazil forward Ronaldo. * Thomas Mueller is the third player, after Klose and Teofilo Cubillas, to score five or more goals in two different World Cups. * Germany will play in its record eighth World Cup final on July
13.
Before it's here, it's on the Bloomberg Terminal.
LEARN MORE