Wells Fargo Profit Streak Seen No Match for Revenue Skid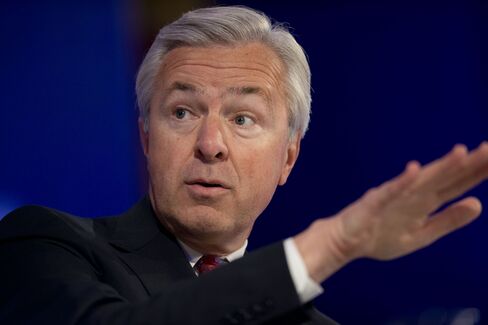 Wells Fargo & Co., the world's most valuable bank, is at risk of ending a 17-quarter streak of rising per-share profits as an industrywide revenue slump overcomes one-time gains and cost cuts that buttressed earnings.
The largest U.S. home lender, which reports results this week, is struggling to replace about $1.4 billion in lost mortgage revenue as higher interest rates crimp new loans. Chief Executive Officer John Stumpf has sought to counter the drop by expanding investment banking and spurring retail brokerage sales. Those units are still too small to cover the shortfall.
The bank has defied analysts in the past year as it increasingly leaned on one-time profit jolts from reserve releases or investment gains to plug the hole. Such items accounted for 26 percent of per-share profit in the first quarter, up from 7 percent a year earlier -- and they probably won't continue, according to David Konrad, an analyst at Macquarie Group Ltd. in New York.
"They have a great track record," Konrad said in an interview. "At some point all streaks come to an end."
The six biggest U.S. banks -- a group that also includes JPMorgan Chase & Co., Bank of America Corp., Citigroup Inc., Goldman Sachs Group Inc. and Morgan Stanley -- are contending with drops in mortgage lending and securities trading, as well as costs from legal claims and government probes. New York-based JPMorgan said in a May filing that trading revenue will fall about 20 percent this quarter amid "a continued challenging environment and lower client activity levels."
'One Number'
Wells Fargo reports earnings July 11, with the others following next week.
The bank would need to show at least $1.06 in profit for each share to continue its streak of consecutive increases. The San Francisco-based firm will probably report $1.01, according to the median estimate of 31 analysts surveyed by Bloomberg. That figure still would be 3 cents more than the same period in 2013, and analysts estimate it and Morgan Stanley will be the only big banks posting year-on-year increases. Well Fargo's revenue may slip 3 percent to $20.7 billion, estimates show.
"There's a lot of discussion in the marketplace that Wells likes to report numbers that are equal to or greater than the last quarter," Fred Cannon, New York-based head of research at Keefe, Bruyette & Woods Inc., said in a June 26 interview. "It really all comes down to one number."
The bank has beaten estimates for 10 straight quarters, including the last three when analysts also called for an end to the streak, according to data compiled by Bloomberg. They predicted narrower misses in those cases.
More Valuable
Wells Fargo, which counts Warren Buffett's Berkshire Hathaway Inc. as its largest shareholder, gained 15 percent this year through yesterday. That's the largest advance in the 24-company KBW Bank Index, which rose 2.6 percent.
Wells Fargo's stock-market value of more than $275 billion makes it more valuable than JPMorgan and Industrial & Commercial Bank of China Ltd., according to data compiled by Bloomberg. It out-earned each of the biggest U.S. banks last year, with a $21.9 billion profit. JPMorgan ranked No. 2 with $17.9 billion.
Wells Fargo executives have portrayed the earnings growth as a testament to the bank's diversified business model. They've stopped short of predicting more gains.
"Every quarter's a little bit different," then-Chief Financial Officer Tim Sloan, 54, said on a conference call in April. "But we continue to be optimistic." Ancel Martinez, a Wells Fargo spokesman, declined to comment.
Mortgage Slump
The bank turned to other businesses as 30-year home-lending rates rose more than 1 percentage point, curtailing mortgage refinancings. Lenders probably made $109 billion of such loans in the second quarter, down from $453 billion in the final period of 2012, according to the Mortgage Bankers Association. Total quarterly originations will stay below $300 billion through 2015, the Washington-based group forecasts.
Wells Fargo, which accounted for about 28 percent of U.S. mortgages in the first quarter of 2012, watched that share decline to 16 percent two years later. Mortgage-banking revenue slumped to $1.51 billion from $2.87 billion in the same period.
Stumpf, 60, mostly left investment banking and trading to Wall Street before the 2008 purchase of Wachovia Corp. Wells Fargo's push into those businesses drew a nod in February from JPMorgan CEO Jamie Dimon, whose firm was the largest global investment bank by revenue in 2013, according to data compiled by Bloomberg Industries.
"Wells Fargo will be in our business," Dimon, 58, told investors at JPMorgan's New York headquarters.
Bellwether Status
JPMorgan, which typically shared bellwether status with Wells Fargo, is set to announce results on July 15. The largest U.S. bank by assets probably will say it earned an adjusted $5.12 billion, an 18 percent decline from a year earlier, according to analysts surveyed by Bloomberg. Adjusted per-share earnings are estimated to be $1.31.
Bank of America, the second-largest lender, will probably say adjusted profit slid 7.5 percent to $3.28 billion, according to analysts tracking the Charlotte, North-Carolina-based firm. New York-based Citigroup, the third-largest bank, is estimated to a report a 16 percent slide to $3.25 billion.
Before investors can learn those results, they'll look to Wells Fargo for an early glimpse into the industry's second-quarter performance.
"The tone of the quarter for banking overall will be set by Wells," Cannon said. "If the number is $1.05 or more, it will set a very good tone as we go into the rest of the reports."