U.K. House Prices Rise as Improving Economy Bolsters Demand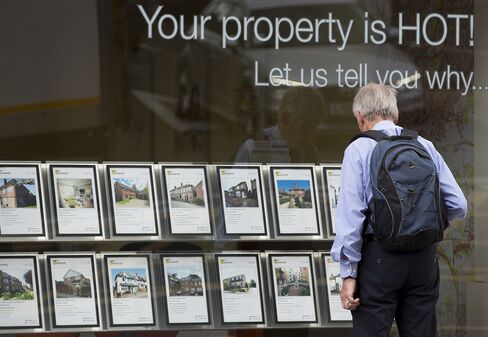 U.K. house prices rose in the second quarter as an improving economy and rising confidence bolstered demand for property, according to Halifax.
Values increased 2.3 percent in the three months through June to an average 183,462 pounds ($314,200), the Lloyds Banking Group Plc mortgage unit said in a statement today. While prices dropped 0.6 percent from May, they jumped 4 percent that month, the most since October 2002.
"Housing demand continues to be supported by an economic recovery that is gathering pace," said Stephen Noakes, mortgages director at Halifax. Employment levels and "rising consumer confidence" should also boost the market, he said.
While the decline in June from the previous month is the third drop since March, May's gain pushed up the annual increase in the second quarter to 8.8 percent, the biggest rise since 2007. Prices were up 9.4 percent in June from a year earlier, Halifax said.
Monthly movements "can be volatile and the quarter-on-quarter change is a more reliable indicator of the underlying trend," Halifax said.
With demand outstripping supply, concerns that the U.K. property market may be at risk of overheating prompted Bank of England Governor Mark Carney to announce measures last month to limit risky mortgages and prevent an unsustainable buildup of consumer debt. Deputy Governor Jon Cunliffe said last week that the main risk to the U.K.'s financial stability is housing and low borrowing costs may hide the real cost of Britons' mortgage burden.
London Prices
After the surge in house prices in the past year that saw values in London rise 30 percent above their previous peak in 2007, some recent surveys have suggested the pace in increases may be easing.
Last month, the BOE said mortgage approvals fell for the fourth month to their lowest since June 2013 in May as banks introduced tougher criteria on mortgage applicants. Both Rightmove Plc and Hometrack Ltd. reported a slowing in monthly home-price inflation in June, with the latter saying buyers became more cautious on the outlook.
"Demand will continue to be supported by a growing economy and steady declines in the unemployment rate," said Matthew Pointon, a property economist at Capital Economics Ltd. in London. "Nevertheless, there are signs that the market is now cooling."
Before it's here, it's on the Bloomberg Terminal.
LEARN MORE