Espirito Santo Creditors Doubt Containment on Missed Payment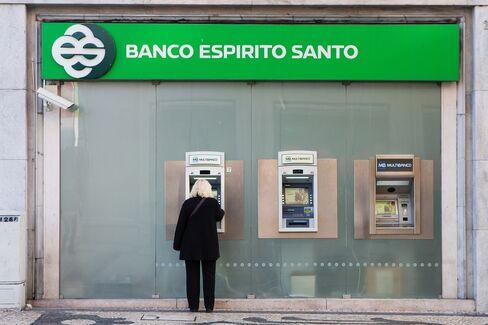 Central bank assurances that Portugal's Banco Espirito Santo SA is protected after a parent company missed short-term debt payments are failing to ease creditor concern they may also suffer losses.
The bank's shares were suspended after tumbling more than 17 percent as its bonds dropped to record lows. Portuguese government debt led declines in securities from Europe's most indebted nations, while banks dragged stocks in the region down more than 1 percent.
The selloff is reawakening concern that the financial system remains vulnerable to shocks as the euro region emerges from the sovereign debt crisis. While the Portuguese government said the nation's second-biggest lender is isolated from losses in group holding companies, lack of transparency in the corporate structure is disturbing investors.
"Should the Portuguese situation continue to deteriorate, risk aversion contagion could quickly spread to other euro zone member states' bonds and other asset classes," Adrian Miller, director of fixed-income strategy at GMP Securities LLC in New York, wrote in a note to clients. "The situation confirms the EU's efforts to break the link between sovereigns and the related banking system has not been successful."
Missed Payments
Espirito Santo International missed payments on commercial paper to "a few clients," according to a July 8 statement. The company is the biggest shareholder of Espirito Santo Financial Group, which suspended trading in its shares and bonds today saying it's "currently assessing the financial impact of its exposure." ESFG owns 25 percent of the bank.
While the Bank of Portugal said the Banco Espirito Santo can avoid "contagion risks," investors facing losses on the notes may try to make a claim against the bank, according to a Bank of America Corp. report. An estimated 2.55 billion euros ($3.48 billion) of the paper is outstanding, Merrion Stockbrokers Ltd. in Dublin said in a report yesterday.
"There's a vacuum of information from the bank, but a lot of nasty information coming through from the group," said Richard Thomas, an analyst at Bank of America Corp. in London. "They're saying it's ringfenced, but the market is saying give us the numbers and we'll assess."
Market turbulence sparked by the Espirito Santo group prompted Madrid-based Banco Popular Espanol SA to postpone an issue of the riskiest bank debt today. Spanish builder Actividades de Construccion & Servicios SA also delayed a sale of five-year notes due to adverse market conditions, according to a person familiar with the matter.
Financial Swaps
The cost of insuring senior financial debt in Europe rose for a fifth day. The Markit iTraxx Financial Index of credit-default swaps on 25 European banks and insurers rose 4.5 basis points to 73.5, the highest since May 27, according to data compiled by Bloomberg.
Banco Espirito Santo's stock was suspended at 51 euro cents at 12:30 p.m. in Lisbon, down from 68 cents on July 1. The bank's 7.125 percent subordinated notes due November 2023 slid as much as 6.7 cents on the euro today to 82.9 cents, to yield a record 9.79 percent, according to data compiled by Bloomberg. The yield on Portugal's 10-year bonds climbed 16 basis points to 3.93 percent.
The Stoxx Europe 600 Index lost 1.2 percent in London, with a gauge of banks dropping to the lowest since December.
Trading Suspension
Even as trading was suspended, Espirito Santo Financial Group's 6.875 percent bonds due October 2019 were quoted today at 10.1 cents on the euro, according to data compiled by Bloomberg. The note was at 100.2 cents as recently as June 18.
The Bank of Portugal reaffirmed yesterday a July 3 statement that the Lisbon-based bank's solvency has been significantly reinforced and can avoid risks from the rest of the group. Banco Espirito Santo has been "adequately isolated" by the Bank of Portugal from the financial problems in some entities of Grupo Espirito Santo, Parliamentary Affairs Minister Luis Marques Guedes said on July 3.
"We expect further volatility in its debt and equity pricing until final clarity emerges on the extent of the group restructuring," Ciaran Callaghan, a senior credit analyst at Merrion Stockbrokers, said in a note to clients yesterday.
Portugal's Espirito Santo family has controlled the bank for most of its 94-year history. The bank's board on July 28 will be asked to approve a replacement for Chief Executive Officer Ricardo Salgado, the 70-year-old great-grandson of the bank's founder, according to a July 5 statement.
Moody's cut the ratings of Espirito Santo Financial Group yesterday. The company was downgraded three levels to Caa2, the third-lowest ranking, with Moody's citing lack of transparency about its financial position and links to other companies within the group.
Espirito Santo Financial Group is 49 percent owned by Espirito Santo Irmaos SGPS SA, which in turn is fully owned by Rioforte Investments, which is fully owned by Espirito Santo International.
Default Swaps
Credit-default swaps on the senior debt of Banco Espirito Santo were the worst performing among financial companies around the world this week jumping 54 percent to the highest in eight months, according to data compiled by Bloomberg. The lender's debt is the most expensive to insure among 325 financial companies tracked by Bloomberg.
The cost of insuring the bank's debt jumped 67 basis points today to 454 basis points, the highest level since October. The contracts, which peaked above 1,200 basis points during Europe's sovereign debt crisis in 2011, are up from a more than four-year low of 156 basis points last month.
The net amount of the bank's debt protected by credit-default swaps almost doubled to a two-year high of $940 million on July 4 since April, according to the Depository Trust & Clearing Corp. The contracts were the 23rd most traded last week among 1,000 entities tracked by DTCC, with 352 trades covering a gross $846 million.
Before it's here, it's on the Bloomberg Terminal.
LEARN MORE