Skoda Bets on New Models to Turn Around China Sales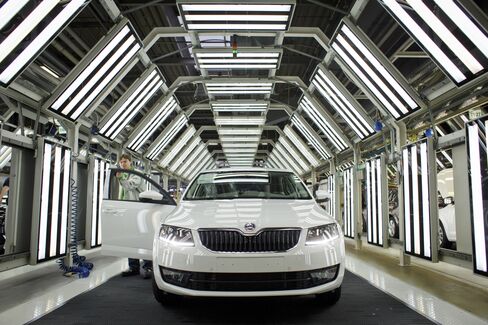 Skoda Auto AS, the Czech mass-market brand owned by Volkswagen AG, is counting on new models and dealership facelifts to turn around sales in China this year and help its parent company become the world's biggest carmaker.
The manufacturer expects its new Rapid Spaceback compact car, next-generation Octavia sedan and a new version of the Yeti sport utility vehicle to lift sales more than 10 percent by the end of the year, Skoda China President Andreas Hafemann said in a July 7 interview in Beijing.
"We did a lot of homework regarding the brand and also the vehicles," Hafemann said. "With the products, it's the expansion, it's going into segments which we were not positioned in the past."
Reaching its sales target would lift Skoda out of a slump in China, where it was one of only two mass-market foreign brands -- Suzuki Motor Corp. is the other -- to see a decline last year in deliveries in the world's largest auto market, according to researcher IHS Automotive. Nationwide, consumers bought 16 percent more passenger vehicles than a year earlier.
Skoda sold 227,000 units in China last year, 3.7 percent fewer than a year earlier. Deliveries have increased 8.2 percent in the first five months of this year, compared with an 11 percent increase in the passenger-vehicle market.
The company aims to more than double deliveries in China by 2018, supporting VW's bid to unseat Toyota Motor Corp. as the leading global carmaker by that same year.
Competing Brands
Such growth will require Skoda to avoid competition with its parent company's namesake brand, which IHS Automotive says enjoys the perceived prestige of German engineering. The VW marque also features models at comparable, or slightly higher, prices.
Skoda's top-selling Octavia sedan starts at 119,900 yuan ($19,000), according to the company's website, while the VW Lavida, one of China's most popular sedans, costs 107,800 yuan, based on data from Autohome.com.
"Consumers here truly believe in German brands and Skoda hardly is one," said Lin Huaibin, a Shanghai-based analyst for IHS Automotive. "If you have to pay almost the same price as a Volkswagen, why not just go straight for a Volkswagen model instead?"
Hafemann said Skoda emphasizes the value of its products, such as more legroom and headroom, easy-to-access trunks and distinctive design features, like C-shaped tail lights. The brand's European heritage is also an advantage and he considers carmakers like Ford Motor Co. and Hyundai Motor Co. the brand's main competitors.
More Value
"The price position, I think, is on the good level," Hafemann said. "The strategy is that we're definitely below Volkswagen. When you compare it also, what is in the car, what is outside the car, we provide a little bit more value."
To meet its growth targets, Skoda is going to need more customers like Zhou Wen, who has driven an Octavia for six years.
"This car drives well, I've never had any problems with it," said Zhou, who works as a regional sales manager in Shanghai for a French multinational company. "I'm glad I bought it over the Ford Focus, which I was also considering."
Skoda is aiming to reach more potential buyers by increasing its Chinese dealerships by at least 10 percent to about 360 by the end of the year, according to Hafemann. Sales floors will get brighter lighting and more inviting layouts to attract consumers, he said.
Product Line
Skoda is also working with its partner, Shanghai Volkswagen Automotive Co., to expand its product line beyond the six models it already assembles in China: the Fabia, Octavia, Rapid, Rapid Spaceback, Yeti and the Superb.
The brand will introduce another as-yet-unnamed SUV that's bigger than the Yeti, Hafemann said. He declined to say when that model would hit showrooms.
That would go some way toward reducing Skoda's reliance on sedans, a segment that has seen slower growth than the roomier categories, according to researcher LMC Automotive.
China's multipurpose vehicle sales surged 56 percent in the first five months of this year while SUV sales jumped 38 percent, according to the state-backed China Association of Automobile Manufacturers. Sedan deliveries increased 5.4 percent in the same period.
"At the moment, they're focused too much on the sedan side," John Zeng, managing director of LMC Automotive in Shanghai, said of Skoda. "They need to try to improve their product portfolio."