Pentagon Found to Pay Textron Unit $8,124 for a $445 Gear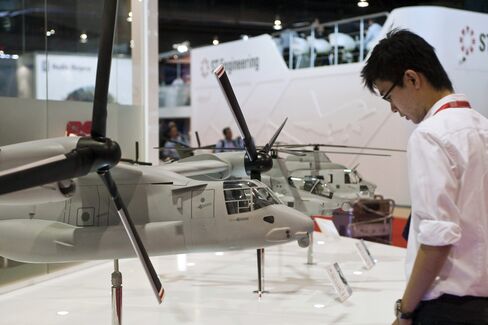 The Pentagon paid Textron Inc.'s Bell Helicopter unit $8,123.50 each for gears that should have cost $445.06, according to a report by the Defense Department's inspector general.
The bevel gears that were marked up 18-fold were part of $9 million in excess payments by taxpayers cited by the watchdog office.
This is the latest case in which the inspector general said Pentagon agencies allowed contractors to overcharge for parts. For decades, the Defense Department has been the subject of periodic ridicule from lawmakers, and even late-night comedians, after reports of inflated prices for items such as a coffee pot and a toilet seat.
In the Bell case, the inspector general recommended that the Defense Logistics Agency seek to recoup the excess money and analyze prices to ensure taxpayers aren't further overcharged. Otherwise, the excess payments may increase by an additional $2.6 million under Bell's noncompetitive contract, the report found.
"The contracting officer did not sufficiently determine whether prices were fair and reasonable," according to the July 3 report, signed by Jacqueline Wicecarver, assistant inspector general for acquisition. The report, obtained by Bloomberg News, was labeled "For Official Use Only."
Bell Helicopter "does not agree with the findings or recommendations," Andy Woodward, a spokesman for the unit of Providence, Rhode Island-based Textron, said in a statement.
'Fully Complied'
"Bell Helicopter has fully complied with all applicable regulations, and continues to adhere to its policy, which ensures that the U.S. Government consistently receives the best price on commercial items acquired for its use," he said.
The alleged overcharges were incurred on Bell's 2012 sole-source, $128 million contract to support Navy and Marine Corps H-1 and Army OH-58 Kiowa helicopters. The contract is in place until February 2017.
"Prices were not sufficiently determined fair and reasonable because the contracting officer did not perform an adequate analysis when procuring sole-source" parts, accepting the company's pricing "in a noncompetitive environment," the inspector general's report found.
The agency "potentially overpaid Bell Helicopter Textron about $9 million out of $13.4 million on 33 of 35 sole-source spare parts" reviewed, Wicecarver wrote.
Auditors for the inspector general calculated the potential overpayments based on cost data that Bell Helicopter provided under an administrative subpoena, according to the report.
Cost Data
In response to the inspector general's recommendation that the Defense Logistic Agency pursue options including a voluntary refund from Bell, Matthew Beebe, the agency's director of acquisition, told auditors that "Bell has consistently refused to provide cost data for commercial parts" it sells the Pentagon.
Agency officials do "not believe they have the ability to obtain cost data," the report said.
Michelle McCaskill, a spokeswoman for the agency, said today in a e-mailed statement that it's not going to press Bell Helicopter for a refund "because DLA procured the items under current commercial contracting procedures and pricing methodology."
"The prices on this contract are fair and reasonable in accordance with current federal and defense acquisition regulations as well as commercial item pricing guidance," she said.
Boeing Parts
In June 2013, the Defense Logistics Agency asked Boeing Co., based on another audit, to refund $13.7 million for what it called excessive prices for spare parts, including a $10 aluminum sleeve for which the Pentagon paid $2,286.
Chicago-based Boeing this year agreed to provide the agency with $3.2 million in parts to settle the case.
The Bell audit found that the Defense Department paid the company $2,355.85 for a round inner cap -- an "inflated unit price that should have been $297.08." In another case "Bell proposed and DLA accepted a unit price of $492.17" for a $51.67 pin.
Bell Helicopter also charged the agency $295.57 apiece for one-inch bushings the inspector general determined should have cost an average $25.72 each.
The Defense Logistics Agency's Beebe said in his written response to the report that the agency followed "current commercial contracting procedures and pricing methodology" and paid 35 percent less than the company charged commercial customers.
The deal with Bell also provided for additional price cuts if commercial customers were charged less for the same item, Beebe said.
Before it's here, it's on the Bloomberg Terminal.
LEARN MORE