Israel Strikes Gaza by Air, Sea to Halt Rocket Attacks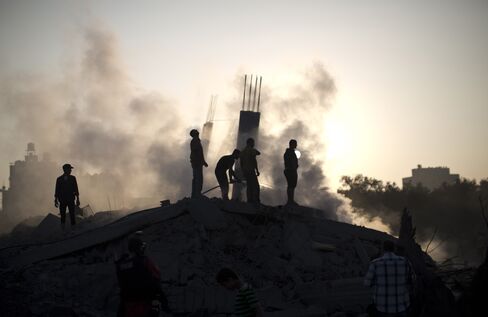 Palestinian rockets reached the skies over Tel Aviv and Jerusalem as Israeli strikes killed 23 in the Gaza Strip, with troops and tanks positioned outside the Hamas-controlled territory for a possible ground invasion.
The missiles aimed at Israel's biggest cities yesterday were among some 160 rockets fired from Gaza, prompting air raid sirens across the country while causing little damage. Most fell in open fields or were shot down by Israel's "Iron Dome" defense system, police said. Israel yesterday struck around 160 targets in Gaza, while cabinet ministers authorized the call-up of 40,000 reservists.
The escalation in violence between Israel and Gaza-based militants is the worst since November 2012. It follows the collapse of U.S.-sponsored peace talks in April and the killing of teenagers on both sides of the conflict, which triggered almost a month of rocket fire and air strikes.
One rocket reached the city of Hadera, 69 miles or 110 kilometers north of Gaza, the longest strike from the Palestinian enclave until now, Israeli army spokesman Lieutenant-Colonel Peter Lerner said in a phone briefing.
Gaza Rockets
The rocket was an Iranian-supplied M302, and the military believes Palestinian militants holds scores more of the projectiles, Lerner said. Israel is deploying a third infantry brigade alongside two others already in place on the border with Gaza and is continuing to call up more reserves, the spokesman said.
Israel stocks dropped to their lowest in four months yesterday, falling 1 percent at the close in Tel Aviv. The shekel weakened for a third day today.
Israel's began its military offensive in Gaza this week, declaring its purpose was to halt rocket attacks. Lerner said today the mission is to "deplete the rocket capabilities of Hamas," signaling that Israel has expanded its goals beyond reaching a cease-fire agreement, which ended two previous offensives in Gaza.
The Islamist militant group "is going to pay for its aggression," Lerner said.
Sirens were heard in the Tel Aviv area today. At least four rockets were fired from Gaza into Israel, a sharp drop from yesterday. Israel targeted struck 120 rocket launchers in the Palestinian territory overnight, and 10 "command and control centers," Lerner said, some of them located in the homes of militants.
Palestinian Appeal
Palestinian leaders appealed to the United Nations and Egypt for help in arranging a cease-fire.
The Israeli military operation "threatens to further destabilize the dangerous situation on the ground and fully ignite yet another round of deadly violence," Palestinian Ambassador Riyad Mansour wrote in letters to the heads of the United Nations Security Council and General Assembly.
Israeli Prime Minister Benjamin Netanyahu said in televised comments that he ordered a "significant" expansion of Israel's offensive in Gaza that "may take time." A ground incursion is an option, according to an official who commented anonymously because he wasn't authorized to comment on record.
Teenage Killings
"We won't tolerate rocket fire on our cities and communities," Netanyahu said. Israel Radio said cabinet ministers were to meet tonight to discuss how to proceed.
Israel has already called up 1,500 reservists to boost the regular infantry and paratroop forces stationed along the Gaza border. The military said in a text message that an inner cabinet has approved the mobilization of 40,000 reserve troops.
Israel last sent ground forces into the territory in a 2009 operation in which more than 1,000 Palestinians and 13 Israelis died.
"Israel wants war," said Sami Abu Zuhri, a Hamas spokesman in Gaza.
"There are continuous air strikes on our people, an open war on innocent civilians, women and children," Abu Zuhri said on Hamas's Al-Aqsa television. "Israel wants to turn things around and hide the truth."
Senior Hamas political leaders haven't been seen in public since the Israeli air strikes on the territory of 1.8 million people began in June.
Seven Palestinian civilians were killed in an Israeli air strike on a house in Khan Younis, al-Qedra said. Witness Sa'ad Asqul said they had disregarded a telephoned Israeli warning of an imminent air strike on the house and gathered around it as human shields.
Food Buying
In Gaza City, residents packed bakeries, supermarkets and groceries, stocking up on provisions in case an Israeli ground operation begins. Streets were largely empty of vehicles.
Mohamed Abu Haseira, a 26-year-old father of three from Gaza City, stood outside a bakery in a line of dozens.
"I came here to buy bread because it seems that this war is rolling though in the end, there will be a truce," he said. "Until then, nobody knows how many victims there will be."
Tali Levy, 49, an English teacher in the city of Ashkelon about 8 miles north of Gaza, said her family has barely slept the past two nights because of the frequent air raid sirens.
After an alarm went off yesterday, "a tremendous explosion went off above our home as the rocket was intercepted, our windows and glass patio door shook tremendously, and I almost died of fright," she said. "It's really like living in a game of Russian roulette here."
Egyptian Mediation
Egypt traditionally has played a role in mediating an end to conflicts between Israel and Gaza militants. The Egyptian Foreign Ministry said it's in touch with concerned parties to help end the violence.
Gaza militants began bombarding southern Israel after the kidnapping and killing of three Israeli teenagers last month led to an Israeli roundup of Hamas operatives in the West Bank. The attacks increased after the suspected revenge killing of a Palestinian teenager in Jerusalem last week. The youth was burned alive, the Palestinian attorney general has said, and Jewish suspects were arrested this week.
Netanyahu has blamed the killings of the three Israeli teenagers on Hamas, which has neither confirmed nor denied involvement. Israel, like the U.S. and European Union, considers Hamas a terrorist organization.
Israel evacuated Gaza in 2005 after a 38-year occupation. Hamas violently wrested control of the territory in 2007 from forces loyal to Palestinian President Mahmoud Abbas.