India Seeks Foreign Rail Investments Amid Modi's Reforms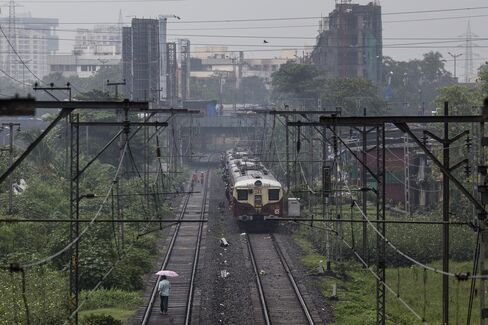 July 8 (Bloomberg) -- India said it will start bullet-train services and seek overseas investment to modernize its railways as Prime Minister Narendra Modi begins unveiling his policies after taking charge in May.
Overseas investors will be allowed to invest in railroad infrastructure, except the operation of existing trains, Sadananda Gowda, the rail minister, said in parliament today unveiling the railway budget for the year ending March. The proposal will need to be approved by the cabinet.
Gowda also announced a high-speed train to connect financial hub Mumbai with Ahmedabad in western Gujarat state, and scaled back borrowing to repair the financial health of Asia's oldest network.
The proposals have potential to bring in investments from companies such as General Electric Co. and Bombardier Inc. as Modi aims to fix the nation's creaky infrastructure. Gowda said last month the state-run railway needs to focus on improving safety, punctuality, raise average speed to at least 150 kilometers (93 miles) per hour and become more competitive compared with transportation by road.
"Growth of railway sector depends heavily on availability of funds for investment in rail infrastructure," Gowda told parliament. "Internal revenue sources and government funding are insufficient to meet the requirement."
Indian Railways last month raised passenger and freight fares, giving Modi room to cut subsidies after he said he's ready to take unpopular steps to improve fiscal health in Asia's third-largest economy. Modi led his party to a landslide election win in May with the promise of economic development and slower inflation.
Bullet Train
India will set up a diamond quadrilateral network of high-speed railroads connecting major cities and growth centers and 1 billion rupees ($16.7 million) have been set aside in the budget for initiating the project, Gowda said.
The operator aims to increase the speed of trains to as much as 200 kilometers per hour on nine routes, Gowda said.
"Focus on one bullet train initially, and up-gradation of existing infrastructure for higher speeds on other sectors, is a good balance between affordability and desire," said Manish Agarwal, leader capital projects and infrastructure at PricewaterhouseCoopers LLP in India. "The intention to develop a rational approach to tariff setting" is welcome, he said.
The government plans to set up private freight terminals in collaboration with non-state companies to build a network of such facilities, the minister said.
Foreign Participation
India is considering allowing overseas investment in new rail infrastructure including the operation of high-speed trains, links to ports and freight corridors, Railway Board Chairman Arunendra Kumar said at a press conference in New Delhi today. The extent of foreign ownership, which could be as much as 100 percent, will be decided by the cabinet, he said.
Tariffs for railroads operated by private companies will need approvals from the government, Kumar said. The companies will be responsible for logistics including hiring if they operate the rail lines, he said.
Indian Railways will develop some stations to international standards through collaborations with private companies, Gowda said. Initially, at least 10 stations will be developed with modern facilities, leveraging land and air space, he said.
Gowda proposes market borrowing of 117.9 billion rupees in the year ending March, compared with the estimate of 128 billion rupees in an interim budget presented by his predecessor in February.
On July 10, Finance Minister Arun Jaitley will present the Modi government's first general budget.
To contact the reporter on this story: Anurag Kotoky in New Delhi at akotoky@bloomberg.net
To contact the editors responsible for this story: Anand Krishnamoorthy at anandk@bloomberg.net Subramaniam Sharma, Suresh Seshadri