Clevelend Hosting 2016 Republican Convention in Key State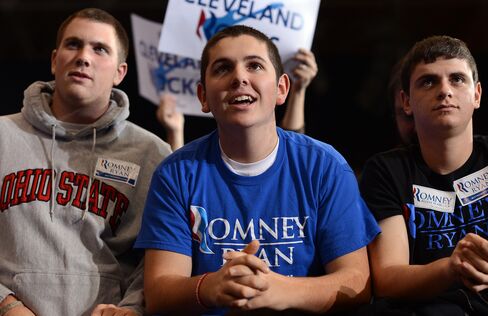 July 8 (Bloomberg) -- The Republican Party, picking Cleveland for its 2016 presidential nominating convention, will home in on the most necessary of states for its nominee.
No Republican has won the White House without also winning Ohio, and the state has voted the way of the nation in presidential contests since the 1960s.
The Republican National Committee today announced its choice of Cleveland over Dallas, the final two sites surviving a nationwide search that eliminated Las Vegas and other cities.
"It was a business decision," Republican National Committee Chairman Reince Priebus said on Fox News. "As goes Ohio, so goes the presidential race."
The dates of the convention haven't been decided yet -- June 28 and July 18 are under discussion.
"By moving it sooner, you actually compress the primary calendar," Priebus said on Fox News Channel.
The Republicans are erring in pushing their convention to early summer, according to David Plouffe, who managed President Barack Obama's first campaign and advised his second.
"Strategically, I don't understand it," Plouffe said. "As a party, you have two big weapons in a presidential race: the selection of the vice president and the convention. To potentially have those over by July 4 makes no sense."
The first week of September is better, Plouffe said. "People are back from summer vacation," he said. "It's when you have the highest TV ratings. More people will be engaged, not just the electorate, but volunteers and campaign staffers."
Democrats' Turn
Cleveland also is among the finalists competing for the 2016 Democratic National Convention, as is Ohio's capital of Columbus. This holds out the possibility of both major parties holding their conventions in the same city, or at least the same state.
The other sites under consideration by the Democrats: New York -- Brooklyn specifically, Philadelphia, Phoenix and Birmingham, Alabama.
"Columbus is front and center, down to the final five," Senator Sherrod Brown, an Ohio Democrat, said on Bloomberg Television today. "I've been advocating to the DNC all along for both cities, now I'll advocate only for Columbus."
No Guarantee
The courting of a state for its electoral votes with the prize of an economy-boosting and energy-driving convention is no guarantee of success. The Republicans nominated Mitt Romney in Tampa, Florida, in 2012. Obama was nominated for re-election in Charlotte, North Carolina.
Each candidate lost the convention state in November.
Obama, however, was first nominated for president in Denver and carried Colorado in 2008. Republican Senator John McCain of Arizona was nominated for president that year in St. Paul, Minnesota, and lost that state.
The event, nonetheless, is good for local business.
"This is great news for Cleveland and our entire state," Senator Rob Portman, an Ohio Republican, said of the party's decision in a statement. "It's a unique opportunity to showcase the new Cleveland as one of America's great cities, and to bring dollars and jobs to Ohio."
New Center
Cleveland, a city of 390,000 on Lake Erie in Cuyahoga County, Ohio's most populous, has seen boom times and bad times.
It grew with the steel industry and John D. Rockefeller's Standard Oil, and saw a decline that left it with the label "the mistake by the lake" after the Cuyahoga River caught fire in 1969 and the city defaulted in 1978. It has been revived with a new convention center and downtown facilities for professional sports teams.
Robert Bennett, an RNC member and former chairman of the Ohio Republican Party, said the city's civic organizations and leaders had waged an all-out effort to land the convention. The city created a website during the party selection process billing it as "the heart of the ultimate swing state."
A good convention in Ohio could be "worth a couple points in Ohio" in the presidential contest, he suggested.
Yet even Priebus, the party chairman, readily noted in addressing reporters earlier this year: "There doesn't seem to be a correlation between conventions and winning particular states. The DNC had their convention in Charlotte, right? Who won North Carolina? Mitt Romney."
Brown agrees about the local economic benefits: "This isn't about being a Democrat or Republican. This is about bringing jobs to northeast Ohio."
Still, he said, he could envision something better for Cleveland than clinching the convention: Retrieving LeBron James, the former Cleveland Cavaliers basketball star who left for the Miami Heat in 2010.
"Can I expand the question?" he said. "The Indians winning the World Series, the Browns winning the Super Bowl, LeBron coming back -- that probably in the aggregate is even better."
To contact the reporters on this story: Mark Silva in Washington at msilva34@bloomberg.net; Mark Niquette in Columbus at mniquette@bloomberg.net
To contact the editors responsible for this story: Jeanne Cummings at jcummings21@bloomberg.net Mark McQuillan