EU Mulls More Russia Sanctions as Ukraine Rebels Fight On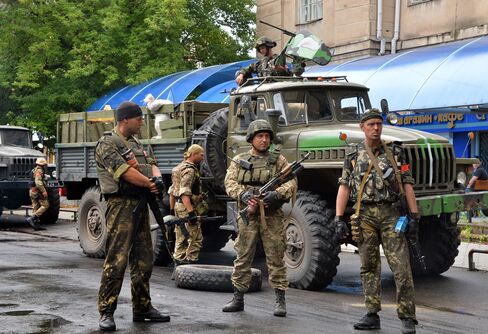 European Union states may expand a list of Russians facing sanctions over the crisis in Ukraine as soon as tomorrow, as rebels seized a new town after retreating from eastern strongholds to bigger population centers last week.
Several hundred rebels seized Popasnaya, a city of 20,000 people in the Luhansk region, news service Interfax reported, citing the rebels. They also seized a military enlistment office in the city of Luhansk itself, Interfax said, after shifting a main force of thousands of soldiers to the provincial capital of Donetsk on Saturday, according to people in the city.
Representatives of the 28 EU governments met in Brussels yesterday and agreed that sanctions could be applied as soon as tomorrow to more Russians they accuse of backing the rebels. President Vladimir Putin's government has renewed calls for peace talks amid Russia's biggest showdown with the U.S. and its European allies since the fall of the Berlin Wall.
"Putin has been passive in supporting the rebels of late," Jan Techau, director of the Carnegie Europe research center in Brussels, said in an interview. "They are expensive for Russia in financial terms, they're politically costly, not reliable and not totally under his control."
Blowing Bridges
Pro-Russian rebels destroyed seven bridges, including three yesterday, after the army recaptured territory in the east of the country from the insurgents, the government in Kiev said on its website. The insurgents are also laying mines as they retreat, posing a risk to civilians, the Defense Ministry said in a statement.
Ukraine's army has had the biggest victories of a three-month campaign over the past few days, retaking the towns of Slovyansk and Kramatorsk. While the government says it's tightening the net around rebel forces, a group comprising several thousand militants and dozens of vehicles including tanks and armored personnel carriers moved from smaller cities to occupy Donetsk and Luhansk last week.
They've vowed to make a stand there, and citizens in the city report daily gunfire and explosions, while Ukrainian army forces have yet to enter the cities in force.
Any decision by the EU on sanctions this week will build on the asset freezes and travel bans the bloc has already imposed on 61 people.
Broader Sanctions
Its first opportunity to consider wider penalties on Russian industry, investment or trade will be at a July 16 summit. Objections by countries such as Italy, Austria, Slovakia, France and Greece have frustrated moves toward broader sanctions, which require unanimity.
Also yesterday, U.S. President Barack Obama spoke by telephone with President Francois Hollande of France about Ukraine. The leaders agreed that their preference is for a cease-fire and that Russia has a responsibility to halt direct and indirect support for rebels, according to a White House statement. The presidents concluded that the U.S. and Europe should take "coordinated measures to impose costs on Russia" if the country doesn't take steps to ease the crisis.
In Moscow, Russia's Micex stock index added 0.8 percent to 1,525.29 at 10:52 a.m., while the ruble crept 0.1 percent higher against its euro/dollar basket. Ukraine's hryvnia was virtually unchanged against the dollar. It's lost 31 percent this year, the worst performer among more than 170 currencies tracked by Bloomberg.
Infrastructure Damage
The Ukrainian government said it will need to spend an estimated 50 million hryvnia ($4.3 million) to repair the bridges. The rebels had caused 230 million hryvnia of damage to the country's railroads, it said.
Pictures following one blast in Novobakhmutova, about 30 kilometers (20 miles) north of central Donetsk, yesterday showed a rail bridge collapsed across a main highway leading north to Slovyansk, leaving part of a freight train suspended on the track in mid-air on the electrified line.
The insurgents are bolstering defenses in Donetsk in preparation for an onslaught, Denis Pushilin, the leader of the self-declared Donetsk People's Republic, said on Twitter.
The government plans a "complete blockade" of Donetsk and the region's other main city, Luhansk, that will force rebels to lay down arms, Inter TV cited Mikhailo Koval, deputy head of the National Defense and Security Council, as saying.
Airport Attack
Rebels attacked Luhansk airport during the day using tanks, the government's operation against the insurgents said on its Facebook page.
"The gains made by the Ukrainian military and security forces suggest that momentum in the ongoing fighting has shifted in their favor," Matthew Clements, an analyst at IHS Country Risk in London, said in a briefing note. "The withdrawal of separatists to cities such as Donetsk and Luhansk could complicate the security operation due to their size and large civilian populations."
The Russian government urged the EU to condemn "criminal policies of the Kiev authorities" and accused the Ukrainian government of ignoring calls to protect civilian lives and infrastructure.
"It is in our common interest to stop the bloodshed as soon as possible," Russian Foreign Minister Sergei Lavrov told a news conference in Sofia. "Our position is that there can be no reason whatsoever to postpone the cease-fire. The fighting is inflicting great suffering on the civilian population, as a result of which the outflow of refugees is increasing and civilian infrastructure is being destroyed."
Before it's here, it's on the Bloomberg Terminal.
LEARN MORE