Longer-Term Treasuries Rise as Few View Is Unchanged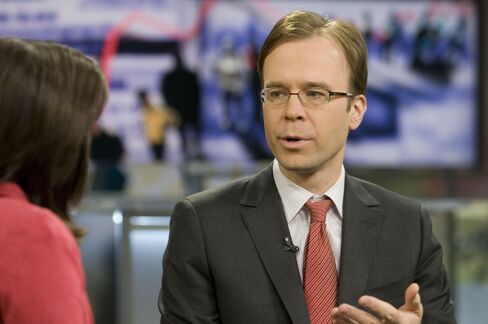 Longer-term Treasuries rose, pushing 10-and 30-year yields lower amid speculation an uptick in inflation and acceleration in the U.S. job market won't be enough to pressure the Federal Reserve into raising rates soon.
The yield on the 30-year bond dropped for the first time in four days even as a report last week showed U.S. employers added more jobs in June than forecast and the unemployment rate dropped to an almost six-year low. The difference between the yields on five-year notes and 30-year bonds narrowed to 1.70 percentage points before the Fed releases minutes of its June meeting on July 9. The U.S. will sell $61 billion in notes and bonds this week.
"Even though data has been looking a little better, the jury is still out on if it will lead to momentum in the second half," said George Goncalves, the head of interest-rate strategy at Nomura Holdings Inc., one of the 22 primary dealers that trade directly with the Fed. "The back end is a comfortable place for investors to be."
The 30-year bond yield dropped three basis points, or 0.03 percentage point, to 3.44 percent at 5 pm New York time, according to Bloomberg Bond Trader prices. The 3.375 percent bond maturing in May 2044 rose 19/32, or $5.94 per $1,000 face amount, to 98 27/32.
Market Yields
The 10-year yield fell three basis points to 2.61 percent after rising 10 basis points last week. The five-year yield was little changed at 1.73 percent while the three-year yield rose one basis point to 0.97 percent.
This week's note and bond sales will consist of $27 billion of three-year Treasuries tomorrow, $21 billion of 10-year notes on July 9 and $13 billion of 30-year debt on July 10.
"Aggressive buyers want to move out the curve a bit," said Guy Haselmann, an interest-rate strategist in New York at primary dealer Bank of Nova Scotia. He forecasts the 30-year yield will drop below 3.29 percent before the end of summer, and under 3 percent by year-end as investors "question people's rosy outlook for growth and inflation."
The difference between the yields on five-year notes and 30-year bonds touched 1.67 percentage points on June 18, the narrowest since September 2009. During the period, it widened to as much as 3.11 percentage points in November 2010.
Global Markets
The extra yield that 10-year Treasuries offer over their Group-of-Seven counterparts expanded one basis point to 72 basis points, almost the most since April 2010.
"Treasuries still look attractive against a lot of comparable markets," said Larry Milstein, managing director in New York of government-debt trading at R.W. Pressprich & Co.
The U.S. is recovering after contracting at a rate of as much as 8.3 percent at the worst of the recession that began in December 2007 and ended in June 2009. The economy added 288,000 jobs in June, compared with the 215,000 projected by a Bloomberg News survey of analysts. The unemployment rate dropped to 6.1 percent, a six-year low.
Policy makers have kept their target for overnight lending between banks in a range of zero to 0.25 percent since December 2008. The central bank will publish the minutes of its June 17-18 meeting on July 9.
Traders see about a 78 percent chance officials will raise the key rate from near zero by September 2015, fed funds futures show. That's up from 56 percent at the end of May.
Fed Watch
"The front end will re-price to a level consistent with when the market thinks the first rate hike will take place," Haselmann of Scotia said. "We have no better visibility than the Fed."
The central bank will increase its benchmark interest-rate target in the third quarter of 2015, rather than the first three months of 2016, according to a report from Goldman Sachs Group Inc. The bank joins JPMorgan Chase & Co. and Bank of Tokyo-Mitsubishi UFJ Ltd. in moving up its Fed estimates.
The Bloomberg U.S. Treasury Bond Index dropped 0.15 percent in the month ended July 4. The Bloomberg Global Developed Sovereign Bond Index gained 0.8 percent, reflecting trader expectations for Europe and Japan to keep borrowing costs at record lows.
In the relative calm that is the market for U.S. Treasuries, a sense of unease over a vital cog in the financial system's plumbing is beginning to rise.
The Fed's bond purchases combined with demand from banks to meet tightened regulatory requirements is making it harder for traders to easily borrow and lend certain desired securities in the $1.6 trillion-a-day market for repurchase agreements. That's causing such trades to go uncompleted at some of the highest rates since the financial crisis.
Such failures to deliver Treasuries have averaged $65.6 billion a week this year, reaching as much as $197.6 billion in the week ended June 18, Fed data show. Uncompleted trades averaged $51.6 billion in 2013, and $28.8 billion in 2012, according to the Fed. In those cases, the borrower pays a 3 percent penalty.