TeliaSonera Agrees to Buy Tele2 Norway for $744 Million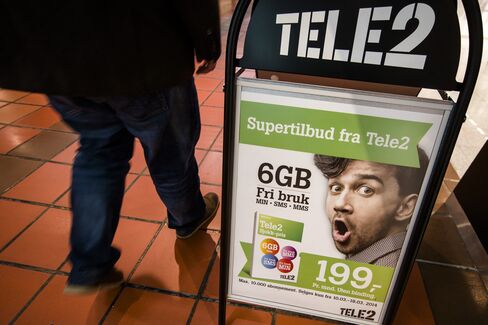 July 7 (Bloomberg) -- TeliaSonera AB agreed to buy Tele2 AB's Norwegian business for 5.1 billion kronor ($744 million) to boost its share of the mobile-phone market in Scandinavia's richest economy and approach the reach of Telenor ASA.
The deal will increase TeliaSonera's mobile market share in Norway to about 40 percent from 23 percent while the subscription base will rise to 2.7 million from 1.6 million, the Stockholm-based company said in a statement. Telenor ASA remains the largest mobile carrier in Norway with 3.22 million wireless customers, according to data compiled by Bloomberg.
The purchase will probably reduce the number of networks in Norway to three from four in a move that mirrors Telefonica SA's deal to buy Royal KPN NV's E-Plus unit in Germany. That transaction has been approved by the European Union.
"It produces a lot of synergies for us given we have most of their traffic on our network," TeliaSonera Chief Executive Officer Johan Dennelind said in an interview. "It's smack in the middle of our core strategy for the Nordics. We're keen now to engage with the competition authorities and see what's required to get this deal through."
TeliaSonera shares rose 2 percent to 50.60 kronor as of 10:07 a.m. in Stockholm, valuing the operator at about 219 billion kronor. Tele2 gained 2.6 percent to 83.6 kronor, for a market value of about 37.4 billion kronor.
Integration Costs
TeliaSonera said the deal comes with integration costs of 250 million kronor to 450 million kronor and investments of 350 million kronor to handle increased traffic. Cost synergies are estimated to be at least 800 million kronor annually from 2016, the company said.
"Scale is important in our industry and I think this will give us the situation where we can get to good levels of profitability in Norway," Dennelind said.
Tele2, which expects to book a capital gain of about 2 billion kronor on the sale, which has an enterprise value of 5.1 billion kronor on a cash and-debt free basis, said the divestment followed a strategic review of the Norwegian business prompted by changes to the market structure as a result of a license auction in December 2013. The company said in March it was considering a sale of the Norwegian business.
Tele2's CEO Mats Granryd said in an interview today that he may use a portion of the proceeds to speed up development of the carrier's growth in the Netherlands. He said it's too early to say whether some money may be returned to shareholders, adding it wouldn't be used to reduce debt.
The takeover is subject to regulatory approval from the Norwegian Competition Authority which is anticipated at the latest in the first quarter of 2015, according to the companies.
Breakup
Ukrainian-born billionaire Len Blavatnik's Access Industries Holdings Inc. won spectrum for what will be Norway's third national network if the TeliaSonera-Tele2 deal is completed.
To win approval for the TeliaSonera-Tele2 agreement, the companies will probably divest some network assets and shift some customers to Access, said Barry Zeitoune, an analyst at Berenberg Bank in London. There's also a chance that the purchase will win approval without such concessions, since Norway isn't part of the European Union and can handle competition issues locally, he said.
The sale of Tele2's Norwegian assets could lead to the carrier's breakup, Zeitoune said. Tele2 agreed to sell its Russian unit to lender VTB Group last year for about $2.4 billion, after Tele2 failed to win a wireless license to run faster services in the country, leaving it with an outdated network.
"Selling out of the Netherlands could make a lot of sense and for 1 billion euros a deal could happen," Zeitoune said in an e-mail. "That leaves Sweden as the main asset left. A deal on this is complex."
To contact the reporter on this story: Adam Ewing in Stockholm at aewing5@bloomberg.net
To contact the editors responsible for this story: Kenneth Wong at kwong11@bloomberg.net Robert Valpuesta, David Risser