Russia Said to Project $18 Billion State Dividend Plunge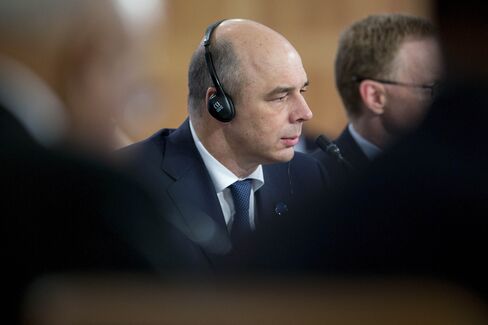 Russia plans to receive almost $18 billion less in dividends from state-controlled companies in 2016 as OAO Gazprom and OAO Rosneftegaz trim payouts, a Finance Ministry document shows.
The government envisages 2016 dividend revenue of 152.1 billion rubles ($4.4 billion), down from a previous forecast of about 761 billion rubles, according to Finance Ministry projections provided to the government and obtained by Bloomberg News. The ministry raised its 2015 dividend-revenue forecast by 28.7 billion rubles to 229 billion rubles and estimates 2017 revenue at 167.3 billion rubles as payouts climb 10 percent from 2016, the document shows.
The lower forecasts coincide with Russia's slowest economic growth since a 2009 recession as U.S. and European Union sanctions following President Vladimir Putin's annexation of Crimea stoked capital outflows. Gross domestic product grew 0.9 percent from a year earlier in the first quarter. It may advance 0.4 percent this year, the central bank predicts.
The revenue forecasts are lower because the Finance Ministry only calculates part of the dividends to International Financial Reporting Standards and the rest based on Russian rules, while the original plan was to calculate all payouts based on IFRS, a participant in the government talks said.
"With state companies, shareholders should understand that the state isn't the best owner in terms of maximizing value," Vladimir Bragin, head of research at Alfa Capital Partners Ltd. in Moscow, said by phone. "Dividends based on Russian accounting standards mean that companies will pay less than what they would have paid based on IFRS."
Payout Percentage
Finance Ministry spokeswoman Svetlana Nikitina didn't respond to calls and e-mails requesting comment outside regular business hours. Natalya Timakova, a spokeswoman for Prime Minister Dmitry Medvedev, declined to comment.
The payout percentage was also reduced, with virtually all the calculations based on a payment of 25 percent of profit under Russian accounting standards instead of the planned 35 percent, said the person, who asked that their name be withheld, having not been authorized to comment publicly.
Energy exporter Gazprom is expected to pay dividends in 2016 of 84.4 billion rubles, down 32 percent from the previous projection, while OAO Transneft may pay out 3.6 billion rubles, down 93 percent, according to the document. No. 2 lender OAO VTB Bank may pay 15 billion rubles in dividends, down 42 percent.
Rosneft Sale
The biggest cut was for state holding company Rosneftegaz, which may pay 27.2 billion rubles in dividends, a 95 percent plunge from the original projection, the document showed. There's a risk the budget won't get an estimated 423.5 billion rubles from the sale of a 19.5 percent stake in OAO Rosneft next year, according to the document, which gave no reason.
The government backed a plan to sell the stake in Rosneft, the nation's largest oil producer, Finance Minister Anton Siluanov said July 3. It will decide later how much revenue will be transferred to the budget, he said.
Rosneftegaz may pay out 124.8 billion rubles in dividends next year, 33 percent more than the initial estimate. The figure includes 100 billion rubles from the Rosneft stake sale.
The Finance Ministry doesn't plan to receive any dividend payments from OAO Russian Railways next year or in 2016, according to the document. The company had been forecast to pay out 425 million rubles for 2015 and 2.8 billion rubles in 2016.
Before it's here, it's on the Bloomberg Terminal.
LEARN MORE