Rupiah Advances Most This Year as Stocks Rally Before Election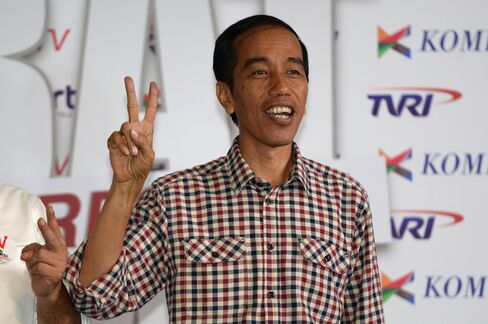 Indonesia's rupiah jumped the most among emerging markets as local stocks rallied on speculation investors are positioning for Joko Widodo to win this week's election after he performed strongly in the final debate.
The world's third-largest democracy will choose a new leader in a July 9 vote that survey company Roy Morgan said is "too close to call." In a televised debate on July 5, Widodo, known as Jokowi, questioned higher beef prices during the Ramadan month, when Indonesians break their daily fast with lavish meals. The former leader of the Prosperous Justice Party, which backs Prabowo Subianto, was sentenced to 16 years in prison in December for accepting bribes from a meat importer.
"The market was probably bracing for a Prabowo win, so this is a relief rally," said Irene Cheung, a Singapore-based strategist at Australia & New Zealand Banking Group Ltd. "Jokowi's record when it comes to corruption seems better compared to Prabowo, so the debate reflected well on him."
The rupiah surged 1.5 percent to close at 11,710 per dollar, the biggest advance since Dec. 2, prices from local banks show. That's the biggest gain among 24 emerging-market currencies tracked by Bloomberg and 31 major currencies.
In the offshore market, one-month non-deliverable forwards climbed 0.9 percent to 11,755 per dollar, trading 0.4 percent weaker than the onshore spot rate, data compiled by Bloomberg show.
The Jakarta Composite index of shares jumped 1.7 percent, the biggest gain since April 1, led by lender PT Bank Rakyat Indonesia with a 3.4 percent climb and conglomerate PT Astra International, which rose 2 percent.
Corruption Debate
Vice presidential contender Jusuf Kalla, 72, the running mate of Jokowi, said in the July 5 debate that the two had no "mafia" standing by their side and asked Prabowo who he was referring to in comments about the risk of a kleptocracy in Indonesia. Prabowo has also pledged his commitment to fighting graft, which he said was hurting the nation's democracy.
"The spirit of democracy is being destroyed by many things," Prabowo said during the debate. "It can be from my party."
Jokowi won 47.8 percent of support in a poll released by Lingkaran Survei Indonesia today, 3.6 percentage points more than Prabowo. That compares with the 0.5 percentage point gap seen in a similar survey conducted at the end of June.
The nation's assets "appear to be positioning" for a Jokowi victory at this week's election, which may push the rupiah to advance toward 11,300 to 11,500 per dollar, Peter Redward, principal at Redward Associates Ltd., said today.
Rupiah Fixing
"Some local investors might decide to have a head start and bet that the election result would be a favorable one," said Akbar Syarief, a fund manager at PT MNC Asset Management in Jakarta. "The performance of the debate also have some impact on investors' confidence."
Foreign reserves jumped to $107.7 billion in June, the highest level since January 2013, from $107 billion the previous month, the central bank said on its website today.
Bank Indonesia set a fixing used to settle the contracts at 11,787 per dollar, compared with 11,887 on July 4.
One-month implied volatility, a measure of expected swings in the exchange rate used to price options, fell 11 basis points to 11.58 percent, data compiled by Bloomberg show.
Indonesians living abroad in cities including New York, Hong Kong and Melbourne have submitted their votes for the presidential election over the weekend, according to statements on the foreign ministry's website.
"The market is rising on speculation that Jokowi won the election abroad," said Andy Ferdinand, head of research at PT Batavia Prosperindo Sekuritas.
The yield on the nation's 8.375 percent local-currency bonds due March 2024 fell five basis points, or 0.05 percentage point, to 8.09 percent, according to the Inter Dealer Market Association. That's the lowest level since June 17.
(An earlier version of this story corrected the election time.)
Before it's here, it's on the Bloomberg Terminal.
LEARN MORE