Knicks Hire Rambis as Assistant Under Former Player Derek Fisher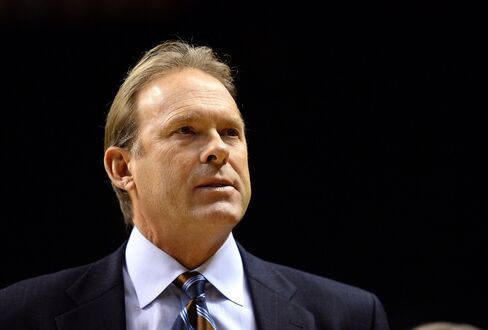 Kurt Rambis is joining the New York Knicks as an assistant under his former player, first-year coach Derek Fisher.
The hiring also reunites Rambis with Knicks president Phil Jackson, who coached the Los Angeles Lakers to five National Basketball Association titles, three with Rambis as an assistant. Rambis spent 13 years on the Lakers bench, seven under Jackson.
"Kurt is exactly the type of person we want in our organization to help develop our culture of success," said Fisher, who played 10 seasons under Rambis in Los Angeles. "His vast knowledge and experience as a championship player and coach are traits that we embrace adding."
Rambis made his league debut in 1981 as a member of the Lakers after being drafted by the Knicks in 1980. He was a part of a combined eight NBA championship teams as a player, coach and executive in Los Angeles.
The hiring comes with the Knicks in the middle of free-agent talks with All-Star forward Carmelo Anthony, who opted out of his contract after three and a half seasons in New York. ESPN reported yesterday that the Lakers were the Knicks' main competition for landing the 2012-13 scoring champion.
Rambis's official Knicks title will be associate head coach, the first assistant in Knicks history to hold that position, according to the statement.
Rambis has held two head coaching positions, going a combined 56-145 in three seasons with the Lakers and Minnesota Timberwolves.
Fisher was hired last month after an 18-year playing career.