Iraq Parliament Meet Delayed as Consensus on Premier Far Off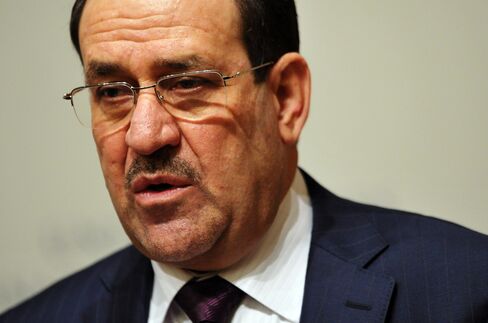 Iraqi lawmakers delayed tomorrow's parliament session for more than a month after political leaders failed to reach agreement on a prime minister who can subdue Sunni insurgents threatening to break up the country.
Legislators will now meet on Aug. 12, Mahma Khalil, a member of the ethnic Kurdish alliance, said by phone. The state-sponsored al-Iraqiya television channel confirmed the date. "All the blocs have not reached consensus" on naming a prime minister, a president and a parliament speaker, Mohamed al-Khalidi, a Sunni lawmaker, said.
Prime Minister Nouri al-Maliki, whose Shiite-led government has been criticized by opponents for marginalizing Sunnis, said July 4 that he won't withdraw his bid to serve a third term. Maliki's State of Law party won the most seats in elections in April while falling short of an outright majority. Politicians have been deadlocked since then over who will lead Iraq, and the first session of parliament adjourned this month even as the nation risks hurtling into renewed sectarian conflict.
The risk of civil war flared last month after an al-Qaeda breakaway group seized Mosul, Iraq's biggest northern city, and captured other cities in a rapid offensive. Fighting has continued since then as the Iraqi army seeks to recover territory lost to guerrillas of the Islamic State group.
Mortar fire killed the commander of the army's sixth division today in clashes in Al-Karmah district, east of Fallujah, according to a military spokesman in Baghdad, Saad Maan. Soldiers killed and captured scores of militants linked to the al-Qaeda splinter group in operations north of the capital and within the city, Maan said.
U.S. Bounty
Islamic State, until last month known as the Islamic State in Iraq and the Levant, or ISIL, is lead by Abu Bakr Al-Baghdadi, an Iraqi with a $10 million U.S. bounty on his head. A video released on jihadist websites on July 5 purported to show Al-Baghdadi delivering a sermon at a mosque in Mosul, a rare appearance by the militant leader. Authorities were checking the video to determine its authenticity, military spokesman Qassim Ata said in a televised news conference yesterday.
Maliki has come under pressure from rival Shiite politicians, their Sunni opponents, Iraq's top cleric and some of the world's leading diplomats to help forge a government capable of reaching across the country's sectarian and ethnic rifts to counter the insurgency.
Ethnic Kurds in the country's northeast have bolstered their rule over what was already a largely autonomous region, heightening concerns that Iraq may fracture.