Sterling 'Ploy' May Delay Clippers Team Sale to Ballmer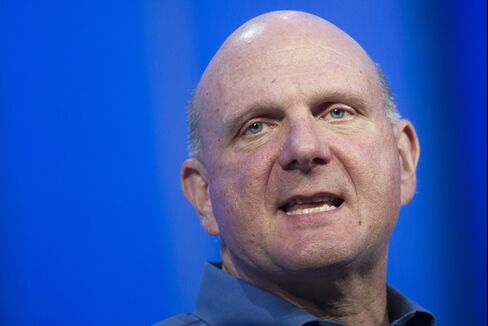 The Los Angeles Clippers' $2 billion sale to ex-Microsoft Corp. Chief Executive Officer Steve Ballmer may not close by a July 15 deadline after what a lawyer for Shelly Sterling called her husband's "ploy" to block the sale by delaying a trial over its legitimacy.
Donald Sterling, 80, had his wife's state court case moved to federal court last week, throwing into doubt a trial set to start today in the California court over whether she followed the rules of a family trust in having him declared incapacitated and taking away his control of the assets, including the Clippers, that are part of the trust.
Shelly Sterling and Ballmer yesterday filed an emergency application in federal court to immediately send the case back to Superior Court in Los Angeles.
California Superior Court Judge Michael Levanas said this morning that lawyers for both sides should be prepared to go to trial later today in his courtroom if the case is sent back by a federal judge. The judge asked the lawyers to come back in the afternoon to update him.
"We're in the batter's box," Levanas said, refusing a request by Donald Sterling's lawyers to call off the trial. If the federal court makes a decision, "the parties should be ready to proceed."
Ballmer required as a condition for the sale that Shelly Sterling get confirmation from a judge that she can sell the team without her husband's consent. The National Basketball Association has said it may proceed with a forced sale of the team if Donald Sterling, who was banned from the league over racist comments he made to a girlfriend, delays completion of the sale past Sept. 15.
"Donald is calculating that he can delay the probate court's ruling on Shelly's petition long enough to jeopardize the closing occurring before July 15," according to Shelly Sterling's filing. "This case cries out for a swift rebuke to Donald's cynical abuse of the judicial process."
Moving Cases
One side in a state court case can move it to federal court by arguing that there are overriding federal law issues involved. The other side can then ask a federal judge to send the case back to state court if it disagrees.
Donald Sterling argued that his medical records were disclosed by his wife in violation of federal law.
"It is our contention that Donald's privacy rights have been trampled by the release of his medical records," Sterling's lawyer, Bobby Samini, said July 3. "While Shelly Sterling and her team will claim that this is merely a 'tactic,' we feel strongly that this important issue should be addressed by the federal court at this time."
Pierce O'Donnell, a lawyer for Shelly Sterling, said in a July 3 statement that he was confident that the case would be sent back to state court promptly.
Sterling and his wife of 58 years were set to go before a California probate judge for a ruling on whether she followed trust procedures by getting two doctors to declare her husband incapacitated and by removing him as co-trustee.
Medical Meeting
Sterling claims he was misled about why he was meeting doctors and didn't prepare for the exams by getting enough rest.
"Donald was not told the truth about the medical examinations," his lawyers wrote in a June 30 filing in state court in Los Angeles. "He was blindsided."
Moving the case to another court is the latest twist in Donald Sterling's off-again, on-again battle to hold on to the Clippers following the outcry over secretly recorded racist comments he made. If the judge voids the deal, other NBA owners may again pursue a forced sale.
The NBA banned Donald Sterling for life and fined him $2.5 million in April after TMZ.com reported that he told a girlfriend he didn't want her to bring black people to Clippers games or post photos online of herself with former NBA All-Star Earvin "Magic" Johnson.
NBA Sued
In May, Donald Sterling agreed to let his wife oversee a voluntary sale of the team to avoid a forced transfer by the league. He reversed himself and sued the NBA in federal court in Los Angeles the day after Ballmer agreed to buy the team for a record $2 billion.
Donald Sterling said through his lawyer last month that he would drop both his lawsuit and opposition to the sale, only to reverse himself again days later because the NBA wouldn't agree to revoke the lifetime ban and the $2.5 million fine. Shelly Sterling then went to court to seek confirmation of the deal.
Donald Sterling said in court papers that his wife tricked him into meeting with two doctors in May without telling him she would use their evaluations to remove him as a co-trustee of the Sterling Family Trust.
Sterling said he was pulled out of a meeting with lawyers for one of the examinations. Had he been told the exams were to evaluate his capacity to serve as a co-trustee, he would have "eaten properly" and "been well rested," and would have been focused with "full and complete understanding what it was for," his lawyers said.
'False Pretenses'
"Donald was induced to submit to medical examination under false pretenses," according to his court filing. "Shelly, his wife, induced him to meet with doctors she hired based on fraudulent representations."
Separately, Donald Sterling argues that he revoked the trust last month, before his wife asked the probate court to confirm her authority to sell assets without his consent. As such, he claims, the court has no authority to rule on the sale and any dispute between the couple belongs in another court.
Shelly Sterling said in a June 30 court filing that her husband voluntarily went for a CT scan and a PET scan of his brain on May 16 and that he and his lawyers didn't object to two examinations at his home later that month. Donald Sterling was diagnosed with Alzheimer's disease, according to his wife.
"Donald is an adult, an attorney, and he had lawyers representing him throughout," she said. There is "no provision in the trust -- or doctrine under the law -- that requires one co-trustee to remind the other of the terms upon which he agreed to serve or that a finding of incapacity could terminate a trustee's authority."
Transaction Terms
Under the transaction's terms, Shelly Sterling must get a non-appealable court order that she has sole authority to sell the Clippers if her husband doesn't agree to the deal. Because an appeal might take a year or two, Shelly Sterling also wants the court to rule that she can close the sale now.
Ballmer outbid at least four other suitors, including a group that included Magic Johnson, for the team. Each bid shattered the previous record price for an NBA team of $550 million, paid in April for the Milwaukee Bucks. Ballmer, with a fortune of $18.9 billion, is the 39th-richest person in the world, according to the Bloomberg Billionaires Index.
The state court case is In the Matter of the Sterling Family Trust, BP152858, Los Angeles County Superior Court. The federal case is Sterling v. Sterling, 14-cv-05216, and the NBA case is Sterling v. National Basketball Association, 2:14-cv-04192, U.S. District Court, Central District of California (Los Angeles).