PBOC Wades Into Fiscal Waters as China Boosts Stimulus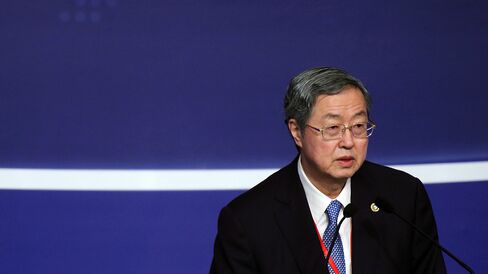 China's central bank is seeking to support economic growth with unconventional tools that Credit Suisse Group AG and Everbright Securities Co. say look more like fiscal policy.
The People's Bank of China this year started a 100 billion yuan ($16 billion) quota for relending earmarked for agriculture and small businesses. It offered another 300 billion yuan for low-income housing, China Business News said.
Governor Zhou Xiaochuan is trying to carry out Communist Party orders to protect this year's 7.5 percent economic-growth target without resorting to nationwide stimulus that stokes debt dangers. While selective tools such as relending can bypass riskier industries including property, JPMorgan Chase & Co. says they lack transparency and contrast with the PBOC's efforts to shift to market- from state-directed credit.
"The central bank has invaded the field of fiscal policy," said Xu Gao, chief economist at Everbright Securities in Beijing, who previously worked for the World Bank. "Fiscal policy hasn't done its job -- money that should have been spent wasn't and projects that should have been financed weren't, so the PBOC has had to inject liquidity."
Economic growth in the first three months slowed to 7.4 percent from a year earlier, the weakest in six quarters. June lending and money-supply figures due from the PBOC by mid-July and data including second-quarter gross domestic product on July 16 will indicate the impact of government efforts to avert a deeper slowdown.
Improved Performance
Premier Li Keqiang said today that while China's economic performance improved in the second quarter from the previous period, the nation can't lower its guard against downward pressure and will increase the strength of targeted measures. China won't adopt strong stimulus and can achieve annual goals of economic and social development for 2014, Li said at a press conference with German Chancellor Angela Merkel in Beijing.
Since the beginning of April, the State Council, which dictates PBOC policy and is headed by Li, has directed agencies to accelerate spending without enlarging budgets. Areas of focus include railway investment, social housing, relending for smaller enterprises, bonds for special projects issued by policy lenders, and lower reserve requirements for banks that support specific sectors.
The line between monetary and fiscal policy is already blurred in China, with the PBOC lacking autonomy to make systemwide changes. A 4 trillion-yuan stimulus announced in 2008 amid the global financial crisis was channeled mostly through monetary policy.
Separate Authorities
The view that countries should have separate authorities in charge of monetary and fiscal policy is based in part on academic research, including a 1993 paper co-written by Lawrence Summers that said greater central-bank independence is associated with lower inflation.
The U.S. Federal Reserve encountered criticism from the public and Congress, especially Republicans, that it waded too far into fiscal policy with bailouts and purchases of government bonds. Germany's Bundesbank has repeatedly criticized a European Central Bank bond-buying program unveiled during debt turmoil in 2012 for stepping into fiscal policy.
Zhou has joined Li at least six times over the past year at local meetings around the country, including one in Changsha last week, underscoring monetary policy's role in the government's economic strategy.
Under its relending facility, the PBOC offers credit directly to certain institutions to lend to industries it specifies with the aim of lowering their financing costs.
More Effective
"China doesn't have limitations on fiscal policy like European countries did," said Chen Long, Beijing-based China economist with researcher GaveKal Dragonomics. "If you want to support some sectors of the economy, fiscal policy is much more effective -- you can simply increase government expenditure and give money to those sectors. The PBOC is trying to do something beyond its reach."
China used relending widely in the 1980s and early 1990s to direct credit, according to London-based economic analysis firm Capital Economics Ltd. The PBOC discussed the relending quota in its first-quarter monetary policy report published on May 6. China Business News reported on May 23 that the central bank offered a 300 billion yuan relending facility to China Development Bank Corp. to fund shantytown renovation.
While the PBOC hasn't publicly commented on the extra funds, some analysts treat the information as credible. Shen Minggao, Hong Kong-based head of China research at Citigroup Inc., wrote in a July 1 report that the initial amount of relending was about 400 billion yuan. He said in an interview he believes the number is accurate though he can't verify it.
Targeted Funds
Relending is good for providing targeted funds, yet it's doing what fiscal policy should do, said Dong Tao, head of Asia economics excluding Japan at Credit Suisse in Hong Kong. "The relending loans are given to certain institutions that we all know are close to the policy implementation," Tao said.
The PBOC hasn't responded to faxed questions sent in May on relending or to questions sent on July 4 on the monetary-fiscal policy overlap.
The use of relending may reflect the lack of an effective monetary-policy channel in China and it shouldn't be permanent, said Zhu Haibin, chief China economist at JPMorgan Chase in Hong Kong. It doesn't mean the PBOC is substituting for fiscal policy, he said.
"The problem is low transparency, and from a long-term reform perspective, we'd like to see more transparent and market-based tools," said Zhu.
Budget Gap
China in March said the government's budget deficit as a percentage of GDP will be 2.1 percent in 2014, about the same as last year. When accounting for local-government debt and off-budget funds, the deficit was about 10 percent of GDP in 2012, indicating that "fiscal space is considerably more limited than headline data suggest," the International Monetary Fund said in its annual report on China's economy last year.
The PBOC's job is complicated by efforts to shift monetary policy onto a market-based footing from traditional quantitative tools such as lending quotas. While the central bank has loosened controls on benchmark bank interest rates, attempts to fix a new anchor are incomplete, with money-market rates remaining volatile.
"Maybe they are stepping back and saying, 'OK, right now it's difficult for us to target the seven-day repo, so let's start thinking of other ways to try to influence market interest rates,'" said Mark Williams, Capital Economics's chief Asia economist in London.
Revamped Tool
The PBOC is preparing a revamped relending tool called pledged supplementary lending to target medium-term interest rates and provide liquidity without cutting banks' reserve requirements, China Business News reported on June 18, citing an unidentified person at the bank.
While the measure could be viewed as part of the current mini-stimulus, it has the potential "to become a major policy instrument," Lu Ting, Bank of America Corp.'s head of Greater China economics in Hong Kong, said in a July 2 report.
As the PBOC transitions to a monetary framework based on interbank interest rates, the facility could serve as the effective benchmark for medium-term rates, helping the central bank manage financing costs for the real economy, he said.
— With assistance by Nerys Avery, and Xiaoqing Pi
Before it's here, it's on the Bloomberg Terminal.
LEARN MORE