China Army Charms Hong Kongers Amid Unease Over Presence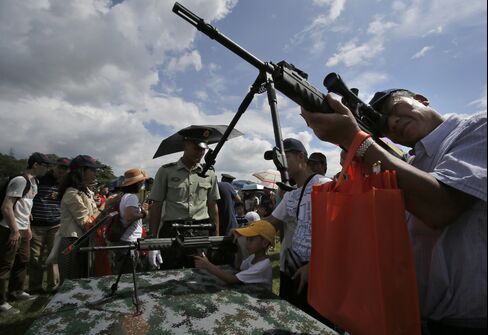 Three weeks after a former Chinese official raised the prospect of troops being deployed to quell civil unrest in Hong Kong, People's Liberation Army soldiers gave a public demonstration of their knife-wielding virtuosity - - carving intricate birds out of fresh watermelon slices.
The military invited local residents to try out guns, troop over frigates and watch a patriotic song and dance show at its Stonecutters Island base. Souvenir bags were handed to each of the 15,000 visitors, loaded with nylon flags of Hong Kong and China, a flannel, fan, cap, raincoat and a bottle of water.
The July 1 charm offensive took place as protesters gathered across the city for the biggest street march in a decade to oppose Chinese control of the city's 2017 leadership election. It also contrasted with the controversy the PLA caused June 11, when it illuminated the entire front of its harbor-front headquarters with a series of seven Chinese characters proclaiming its name.
"The people of Hong Kong feel uneasy about the PLA because after all they remember very well the scenes of June 4," said Wong Yiu-chung, head of the department of political science at Lingnan University in Hong Kong, referring to the 1989 military crackdown on protesters in Tiananmen Square in Beijing. "The PLA is totally controlled by Beijing, which doesn't trust Hong Kong people, or Hong Kong policemen. Ultimately the PLA is Beijing's last resort."
Street Protests
Activist groups in Hong Kong have vowed to stage sit-ins in the main business district if their demands that the public can nominate leadership candidates aren't met. That's prompted warnings from tycoons and chambers of commerce that such action would paralyze the city and hurt its reputation as a global financial center.
Zhou Nan, the former director of Xinhua News Agency's Hong Kong bureau, said June 8 that China may need to send in troops to restore order if civil disobedience couldn't be controlled. Zhou also served as a vice minister of foreign affairs when Xinhua was Beijing's de facto diplomatic mission in the city, which was a British colony before July 1, 1997.
Three days later the PLA's one-night light display sparked a flurry of commentary on social media and in local press that drew a sinister interpretation. The army was making a "show of power," an article in the South China Morning Post said. The uproar illustrates how carefully the PLA must tread in Hong Kong. A day before the light show, China issued a white paper saying the city's autonomy isn't an inherent power.
PLA Dock
The PLA had been "testing" its lighting decorations and hasn't decided upon their effects, the PLA Hong Kong garrison said in a media statement at the time. Another cause for public unease was the decision in February by the city's planning board to rezone part of the promenade on Victoria Harbour for a PLA dock.
There are about 6,000 soldiers based in 18 barracks around Hong Kong, the South China Morning Post reported last year, and the PLA has held regular open days since the 1997 handover from British rule. Unlike the British soldiers, who were known for carousing in the Wan Chai bar district, Chinese troops are mostly confined to barracks.
"I came here to get to know the PLA," said Sandy Lee, 52, who works at the Hong Kong Baptist University, as she waited to board the Huizhou, a stealth-missile corvette that carried a Harbin Z-9C anti-submarine helicopter. "The PLA is right next to the Baptist University but we never get to talk to them."
On the wharf of Stonecutters Island, now connected to the Kowloon peninsula by landfill, two other vessels welcomed thousands of visitors. Nearby, members of the PLA's army unit showed visitors, some just toddlers, how to handle eight different types of gun, the largest a 13.3 kilogram (29.3 pounds), 1,380 millimeter sniper rifle.
Radish Cranes
Nearby, two chefs, donned in a combination of cooking whites and blue fatigues, carved fruit and vegetables into intricate bird and dragon shapes. On a table in front of them stood two white-radish-carved cranes and one made of carrot, alighting from vegetable tree tops.
Inside a concert hall, the PLA Naval Song and Dance Troupe gave a stirring 90-minute performance of "Toward the Dream," a display of dance, text, film, theater and chorus, that began with the story of China's humiliation, starting in the 1840s, at the hands of European, then Japanese invaders. The rest of the show was devoted to the communist struggle and China's economic boom, ending with a speech by President Xi Jinping proclaiming China's rejuvenation can be realized.
"When the handover came we were told there would be no changes for 50 years," said Hong Kong resident Jennifer Cheng, 40, before posing for a photo with a navy officer in his white uniform. "Well, we all know that's not the case. But what can we do?"
Before it's here, it's on the Bloomberg Terminal.
LEARN MORE