Bears Find No Joy as Goldilocks Era Boosts Markets: Japan Credit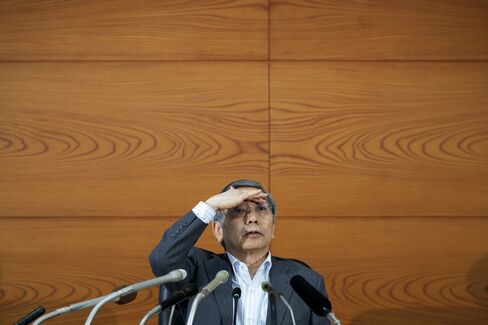 Bears are finding nowhere to hide in Japan's financial markets.
The Bank of Japan's roughly 7 trillion yen ($69 billion) monthly buying of government bonds, exchange-traded funds and real estate investment trusts encouraged enough optimists to spur a stock rally in the second quarter, yet not enough to trigger a slump in note prices. The yen strengthened 1.9 percent as Governor Haruhiko Kuroda said last month that the economy is recovering moderately while holding off on expanding stimulus.
Prices for government debt due in more than a year are hovering near the highest since April 2013, when the BOJ announced unprecedented stimulus, after rising 0.4 percent last quarter. The Topix stock index and a gauge tracking price returns for real estate investment trusts rose 5 percent and 9.1 percent respectively in the period. The Bank for International Settlements warned in June that a delay in normalizing monetary policy could lead to "excessive risk-taking."
"If we're afraid stimulus will create bubbles, we can never exit from a low-growth economy," said Toru Yamamoto, chief strategist at Daiwa Securities Co. in Tokyo. "Policy makers have to keep their feet on the accelerator until right before bubbles form. We're still not at the point where we need to worry about the market bursting. Goldilocks is here to stay for a very long time.'
Central bankers and their followers use the term Goldilocks economy to refer to one that is not too hot and not too cold, just like the porridge eaten by the heroine in the Three Bears fable.
Increased Liquidity
The BOJ's monetary base, the cash in circulation plus bank reserves, will expand to 340 trillion yen at the end of next year from 234.4 trillion yen at the end of June, according to the median forecast of economists surveyed by Bloomberg News. Policy makers, next meeting on July 14-15, target an inflation rate of 2 percent.
''We're facing a new conundrum," said Shogo Fujita, chief Japan bond strategist at Bank of America Corp.'s Merrill Lynch Securities Co. unit in Tokyo. "We're still at the beginning of a market driven by excessive liquidity. This Goldilocks scenario will continue this year and next."
Core consumer prices rose 3.4 percent in May from a year ago, which includes the effects of a 3 percentage point sales-tax hike in April, according to the BOJ. The central bank's quarterly report showed domestic companies expecting sustained price gains.
Gross domestic product expansion will moderate to 1.5 percent this year, after growing an annualized 6.7 percent in the first quarter, the sharpest increase since September 2011, according to the median estimate of economists surveyed by Bloomberg.
'Debt Monetization'
"The biggest risk now is that the BOJ's quantitative easing will be labeled as debt monetization," said Daisuke Karakama, a markets economist at Mizuho Bank Ltd., a unit of Japan's third-biggest financial group by market value. "That would trigger accelerated yen selling and drive up inflation, damaging the economy."
The 10-year Japanese government bond yield was at 0.565 percent, the lowest globally. Historical price volatility on JGBs plunged to 0.647 percent on June 30 on a 60-day basis, a record low in data going back to 1994.
Morgan Stanley MUFG Securities Co. said investors may have become too complacent, warning that as their perception of the U.S. Federal Reserve's policy changes, U.S. rates and dollar-yen will rise, causing Japanese bond prices to decline.
Low Volatility
"Volatility has plunged to extremely low levels, largely because of monetary policies by the Fed and the BOJ," said Kenro Kawano, chief fixed income strategist for Japan at Morgan Stanley MUFG. "Both volatility and yields in the JGB market are likely to pick up around summer, pushing the 10-year rate above 1 percent," he said. The weighted average of analysts surveyed by Bloomberg is for the benchmark rate to end this year at 0.78 percent.
Fed Chair Janet Yellen has stressed U.S. rates will stay near zero for some time and her European Central Bank counterpart also last week reiterated a commitment to stimulus policies.
The yen traded at 102.16 per dollar as of 10:36 a.m. in Tokyo today. The Topix closed at 1,284.83 yen, near the 5 1/2-year high of 1,308.08 reached on Jan. 16. The Tokyo Stock Exchange's REIT Index was at 1,589.19.
"If this artificially-made market, whether it's Goldilocks or a bubble, were to crash, it would have already happened," said Daisuke Uno, the Tokyo-based chief strategist at Sumitomo Mitsui Banking Corp. "The current market could very well continue forever."
*T *T
Before it's here, it's on the Bloomberg Terminal.
LEARN MORE