Palestinian Teen Buried as Egypt Seeks Hamas-Israel Cease-Fire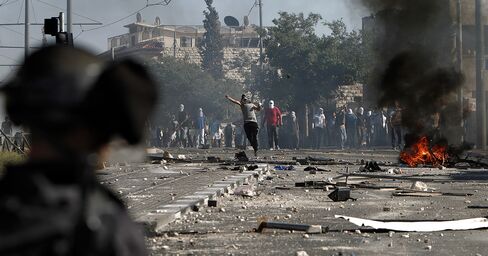 Violent protests broke out across Arab areas of Jerusalem as thousands of mourners came to bury a Palestinian teenager they say was murdered in revenge for the killing of three Israeli youths.
Israeli police spokesman Micky Rosenfeld said authorities still didn't know whether the July 2 killing of the Palestinian youth was politically or criminally motivated. His death just a day after the three Israelis were buried has fueled suspicions he was killed in an act of retribution.
"How did the Jews burn my boy?" Mohamed Abu Khdeir's father, Hussein Abu Khdeir, said in a filmed interview with the Ynet website, referring to the boy's charred body which was found in a Jerusalem wood.
Palestinians, some masked and hurling rocks, firecrackers and firebombs, clashed yesterday with a reinforced deployment of Israeli police at a Jerusalem holy site, in the neighborhood where the Palestinian teenager lived, and at the funeral, police said. Officers used stun grenades and other non-lethal means to break up the crowds during hours of disturbances, Rosenfeld said.
Some of the mourners and protesters hoisted red, white, green and black Palestinian flags. Israel Army Radio said some in the crowd chanted, "We will give our blood for the martyr," a term Palestinians apply to people who die in the fight against Israel.
The youth was buried as Hamas militants based in the Gaza Strip reported efforts to try to defuse violence between Israel and the Palestinians that has flared since the Israeli teenagers were kidnapped June 12 in the West Bank. Relations between Israel and the Palestinians were already fraught following the collapse of U.S.-sponsored peace talks in April and the formation of a Hamas-backed Palestinian government in June.
Truce Efforts
Egypt, traditionally a broker between Hamas and Israel, is attempting to mediate the truce, Hamas spokesman Sami Abu Zuhri said in a text message to reporters.
"There are contacts between Hamas and Egyptian officials concerning the Israeli escalation in the Gaza Strip," Abu Zuhri said. "We clarified and reiterated our position that we are not interested in escalation and the occupation is responsible."
Israel holds Hamas responsible both for the abduction of the Israeli teenagers and a surge in rocket fire from the militant group's Gaza stronghold since the kidnappings.
The BBC reported earlier yesterday that Hamas, through Egypt's mediation, had agreed to halt rocket attacks on Israel from Gaza in exchange for Israel's stopping its air raids on the territory.
'Respond Forcefully'
An Israeli government spokesman had no direct comment on any truce efforts. On July 3, Israel's military disclosed it was reinforcing troops along the Gaza border, including a limited call-up of reservists. Shortly after, Israeli Prime Minister Benjamin Netanyahu delivered an ultimatum to Hamas at an Independence Day celebration at the U.S. Embassy.
If calm prevails, Israel will halt its military operations, Netanyahu said, in remarks sent by e-mail. If not, "the reinforcement forces that are located in the field will respond forcefully," he said.
The military said about 150 rockets and mortars have been fired at Israel since the Israeli teenagers were kidnapped. Israel has carried out air strikes against Hamas targets in Gaza and arrest raids against Hamas militants in the West Bank that have killed at least 10 Palestinians.
Before it's here, it's on the Bloomberg Terminal.
LEARN MORE