Riksbank Returns to Crisis-Level Rates to Prevent Deflation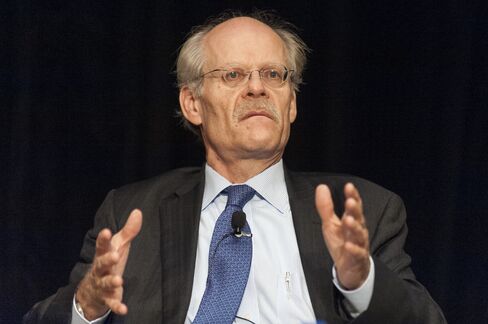 Sweden's central bank cut its main interest rate by a more-than-estimated half a percentage point and predicted no increases until the end of next year to shield the largest Nordic economy from deflation.
The repurchase rate was reduced to 0.25 percent and the deposit rate to minus 0.5 percent, the Stockholm-based bank said today. Sixteen of 17 economists surveyed by Bloomberg forecast a cut to 0.5 percent. Governor Stefan Ingves and First Deputy Governor Kerstin af Jochnick were outvoted 4-2 on the board as they sought a quarter point cut.
The reduction will send "a clear signal that monetary policy will ensure that inflation approaches the inflation target within the reasonably near future," the bank said.
The bank in April signaled it was prepared to ease policy as soon as this month as it has faced a barrage of criticism over a failure to meet its target for more than two years. Policy makers, led by Ingves, have been reluctant to lower rates amid concern over record household debt and financial stability even as unemployment hovered above 8 percent.
The krona slid as much as 2.5 percent, and was 1.8 percent lower at 9.3311 per euro as of 10:35 a.m. in Stockholm.
'So Serious'
"What makes things so serious and that they vote for such a crisis rate is that they take a very serious view perhaps primarily of inflation expectations," said Robert Bergqvist, chief economist at SEB AB in Stockholm. "They would like to pretty quickly see an effect on inflation" through a weaker krona, he said.
Swedish consumer prices declined an annual 0.2 percent in May, falling for a fifth month. The Riksbank predicted today that consumer prices, excluding mortgage costs, will rise 0.6 percent this year, 1.6 percent in 2015 and 2 percent in 2016. The economy will expand 2.2 percent this year and 3.3 percent next year, according to the bank.
The European Central Bank today left its main rate at a record low of 0.15 percent and President Mario Draghi reiterated that he'll keep rates low for an extended period. The ECB last month unveiled a range measures to shield the euro area from deflation. The 18-nation economy is struggling to sustain a recovery amid weak credit growth, high unemployment and inflation at about a quarter of the ECB's goal.
Norway's central bank last month signaled it may also lower rates again to support economic growth.
Scandinavia's Worst
Nobel Laureate Paul Krugman have been among critics of the Riksbank and in April described its monetary policy as an example of "sadomonetarism" that was creating a deflationary spiral similar to that suffered in Japan. Lars E. O. Svensson, who used to work with Krugman at Princeton University, resigned from the Riksbank board last year after failing to convince the majority to focus more on inflation and unemployment.
Ingves, who has been the most vocal on risks from financial stability, also objected to the rate path and advocated a rate of 0.5 percent until 2016. It was the first time that a governor has been outvoted since the bank gained its independence.
Even as it slashed rates the bank raised its unemployment forecast for 2014 to 8 percent and predicted joblessness of 7.3 percent next year. Unemployment was 8 percent in May compared with 5 percent in Denmark and 3.3 percent in Norway.
Businesses Applaud
The rate cut was welcomed by Swedish business.
"The rate decision is great for us," said Lennart Evrell, chief executive officer at Boliden AB, a Swedish mining company. "Currency changes are very unpredictable and affect us a lot," he said, adding that a 10 percent move in the krona has a "1 billion effect" on Boliden's result.
Still, low rates have fueled borrowing. Property prices have almost tripled since 1995 while consumer debt has almost doubled to 175 percent of disposable incomes. That's prompted the government to increase capital requirements for its banks to curb lending and warn it may force amortization on mortgages.
"A low repo rate makes it more urgent for other policy areas to manage the risks linked to household indebtedness and to developments on the housing market," the Riksbank said today. "To reduce the risks it is not enough just to take measures to strengthen the resilience of the banking system; measures aimed directly at the households' demand for credit are also required."
Sweden's four-party government is trailing in polls ahead of Sept. 14 elections as the economy is struggling to pick up pace. Gross domestic product fell 0.1 percent in the first quarter as manufacturing confidence remains below the historical average. Exports in May were 12 percent below the level the same month two years earlier and little changed from 2013.
Krona Worry
Recent data suggest the economy is picking up as consumer confidence climbed last month, unemployment has showed signs of declining and manufacturing activity has accelerated.
Finance Minister Anders Borg last month said the Riksbank should make sure the krona doesn't climb in an "unreasonable way" to avoid damaging the export-reliant economy.
Borg has also suggested that lawmakers should consider letting an independent body examine how well the Riksbank is meeting its mandate. The Social Democratic party, which leads in polls ahead of September elections, has said it's open to such a discussion. It had earlier said that Sweden should consider introducing a dual-mandate for the Riksbank to include a target for the labor market.
"We have hit bottom in short-term interest rates and I think rather that the longer-term interest rates will start to go down," said Par Magnusson, chief economist at Royal Bank of Scotland. The rate cut "will probably help more than it normally does" since weak domestic demand is a bigger factor holding inflation down than normally, he said.
Before it's here, it's on the Bloomberg Terminal.
LEARN MORE