Pimco's Gross Says Shiller P/E Needs Adjusting: Chart of the Day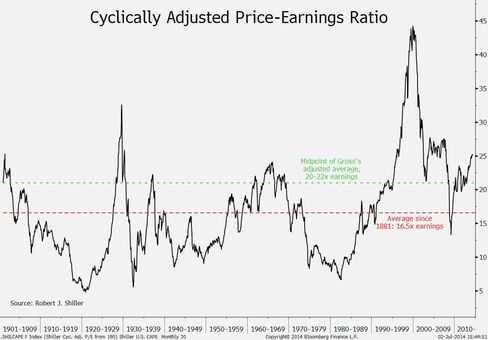 U.S. stocks are cheaper by historical standards than a valuation gauge developed by Yale University Professor Robert Shiller suggests, according to Bill Gross, Pacific Investment Management Co.'s chief investment officer.
The CHART OF THE DAY shows the indicator, known as the cyclically adjusted price-earnings ratio, or CAPE. The figures track the Standard & Poor's 500 Index as a multiple of average earnings for the previous 10 years.
Shiller's data shows the CAPE was 25.2 as of May 31, the latest end-of-month figure available. The ratio was 53 percent higher than its monthly average since 1881, the starting date for calculations.
The comparison is misleading because it overlooks the effects of lower interest rates and slower economic expansion, which increase the value of stocks' dividends, Gross wrote. He addressed the issue in a monthly commentary posted yesterday on the Newport Beach, California-based firm's website.
Stocks are "less bubbly than presumed" after making those adjustments, Gross wrote. He estimated the CAPE average would be between 20 and 22, above the actual reading of 16.5, as shown in the chart. The higher range stemmed from Pimco's "new neutral" outlook, in which the Federal Reserve keeps its main interest rate near zero after inflation and economic growth is sluggish.
"Fed officials who cite bubbly aspects of 'financial conditions' should therefore be less alarmed," he wrote.