A River Runs Through Los Angeles
A $1 billion plan to revive the city's river is driving development
Ben Stapleton has a vision for the junkyard he's trying to sell for $3.5 million. The real estate sales executive sees artist studios, retail shops, and apartments with views south to the skyline of Los Angeles, steps from a riverfront oasis. It's all part of a plan, he says, to reinvent the Los Angeles River corridor and bring in money.
"The private money is already moving," says Stapleton, a vice president at commercial real estate brokerage Jones Lang LaSalle. "It's the private money that's going to make the vision happen."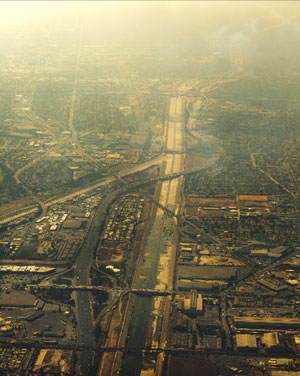 For now, much of the river is a concrete flood channel. The U.S. Army Corps of Engineers encased about 43 miles of the 51-mile river in concrete in the 1930s and '40s after several deadly floods. Hollywood has since used the cementscape as a backdrop in movies including the original Freaky Friday, Grease, Chinatown, and Terminator 2: Judgment Day. Even in the city's wet winter season, the river doesn't gush. It holds mostly runoff from nearby wastewater treatment plants.
A $1 billion plan by the Army Corps to restore 11 miles of the river north of downtown L.A. to a more natural state has speculators circling even before the funding's in place. "Some pretty dramatic work will have to be done," says Henry Cisneros, a former San Antonio mayor, now chairman of the investment firm CityView, which worked with Blackstone Group on the construction of a condo project last year. "But I can see how it could happen, because people are always attracted to water."
The Army Corps says it will landscape the concrete with grass and trees, creating wetlands and wildlife habitat, and will build parks and playing fields, similar to the rehabilitation of a 4-mile stretch of the river along Los Angeles's Griffith Park that began in the 1980s. Herons and egrets nest among the area's reeds and cottonwoods, and local conservation groups run kayak tours.
President Obama, whom Los Angeles Mayor Eric Garcetti personally lobbied to back the project, has endorsed the plan. Congress now has to authorize the Army Corps' $500 million share of the cost. The city has to raise the rest from state funds, other federal sources, charitable contributions, and public-private partnerships, says Garcetti spokeswoman Vicki Curry. The work, the Army Corps estimates, will take at least a decade to complete.
Developers say the revitalized river will draw residents and businesses. One Santa Fe, a $160 million apartment and retail complex in the downtown Arts District, was designed to have views of the water, though you have to look past a rail yard to see the concrete banks of the river about 100 yards away. "We've kept it open so it looks all the way through to the rails and ultimately to the river," says Bill McGregor, president of McGregor Brown, the lead developer of One Santa Fe. Investors in the project include Goldman Sachs Group and Canyon Partners.
Home prices have jumped in Elysian Valley, a neighborhood next to the river and north of Dodger Stadium—known to locals as Frogtown, because of the surge of frogs and toads that once followed frequent spring flooding. The median price of a single-family home in the ZIP code was $699,000 in the first quarter, up 16 percent from a year earlier; for a condo it was $388,000, a 31 percent jump, according to real estate information service DataQuick.
"It has the quality of a recently discovered area, and there's definitely a kind of land boom," says Lewis MacAdams, co-founder of the nonprofit group Friends of the Los Angeles River.
Robert De Forest, principal of Terra River, a closely held real estate investment firm, has worked on river-related real estate in L.A. since the 1990s. He's acquired seven parcels totaling an acre in Frogtown, making his last purchase in January, before asking prices soared. "Anytime you announce the potential for $1 billion of public investment, antennae go up and speculators take notice," De Forest says. He is converting an old warehouse to artist studios and residences. So far, De Forest says, there have been more lookers than buyers.
If buyers do show up, there's a risk gentrification will spoil the mix of homes, workshops, small factories, and craft-oriented businesses that give Elysian Valley its distinct flavor, says David Dedlow, the owner of a frame-making business that has operated in a factory there for 30 years. "There's a fence now between the neighborhood and the river, and we don't want to see that replaced with rows of three-story apartments," he says.
In Boyle Heights, across the river from downtown L.A., Dave Hodgins has been working with the private-public L.A. River Revitalization Corp. to open the first microbrewery along the water. He signed a lease for his Dry River Brewing on June 30 and expects to open a tasting room next year.
Jones Lang LaSalle's Stapleton has received 11 offers for the land he's trying to sell, "at or above" the $88-per-square-foot asking price. Similar parcels went for about $50 per square foot a couple of years ago, he says; now some other sellers are asking for $150 per square foot. In comparison, land in high-density areas in downtown L.A. commands $450 a foot.
"The river redevelopment is going to put a bigger spotlight on the area," Stapleton says. But it's "going to take time for the dream to become reality."
Before it's here, it's on the Bloomberg Terminal.
LEARN MORE