K+S Plans Specialty, Salt Growth to Add to Canada Potash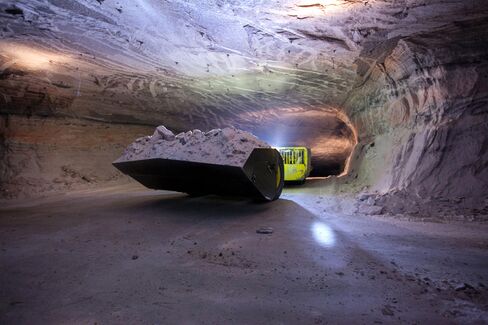 K+S AG, the German potash producer that's developing a $4 billion mine in Canada, is looking beyond the biggest investment in its history and plans to expand its specialty-fertilizer and salt businesses.
The salt unit has a target of doubling operating profit to 250 million euros ($342 million) by 2020, Chief Executive Officer Norbert Steiner said at a press conference at K+S's Hattorf mine on the Werra River in central Germany. The company also plans to boost the proportion of sales from higher-margin fertilizers that have magnesium and sulfur content.
"We have ideas" for growth outside of potash, Steiner said. In salt, "we're only in mature markets. We aren't global yet." Southeast Asia and eastern Europe are regions where the company is under-represented, he said, without specifying countries where Kassel-based K+S may expand.
K+S is still pouring the bulk of financial resources into development of the Saskatchewan mine dubbed Legacy. The potash producer cut its annual dividend 82 percent and sold 1 billion euros of bonds in December to help pay for the project. Some investors had called for a delay or cancellation of work on Legacy after an industry cartel breakup a year ago led to a 24 percent slump in potash prices.
The end of an export agreement between potash companies in Russia and Belarus in July 2013 roiled the industry, sending stock prices of fertilizer makers around the world down as much as 24 percent in a day. The event sharpened K+S's focus on its smaller salt unit, which accounted for 18 percent of operating profit last year.
Divisions' Cooperation
The German company produces de-icing as well as food-grade salt, with about 90 percent of its volume sold in North America and Europe. An operation in Chile accounts for most of the remainder. K+S plans to improve profitability at the unit by intensifying work between operations on each continent and streamlining costs.
K+S has seen the first signs of a price recovery in potash, Andreas Radmacher, the head of the division for that product, said at the press briefing. The company still expects a "significant" drop in full-year profit as prices remain lower on average, K+S reiterated.
Spending on the Canadian mine will be about C$1 billion ($940 million) a year from 2014 to 2016 with the first potash production scheduled for mid-2016.
"It's positive that we're so far along" with the mine, Steiner said. "If you consider that it's already the middle of 2014, 2016 isn't that far away anymore."
Before it's here, it's on the Bloomberg Terminal.
LEARN MORE