Japan Air Prepares for Credit Rating to Enable Bond Sales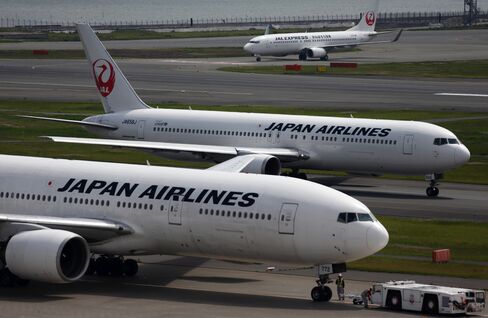 Japan Airlines Co. is preparing to seek a credit rating that will enable it to sell corporate bonds for the first time since the nation's second-largest carrier relisted, widening its financing options.
"We've just started preparations," Norikazu Saito, head of finance, said in an interview in Tokyo yesterday, declining to say when the company would seek a credit rating. "The more financing options we have the more flexibility it gives us."
Japan Airlines ordered Airbus SAS planes valued at $9.5 billion at list prices last year as the carrier plans to renew its long-haul fleet and is adding Boeing Co. 787 aircraft to replace medium-sized jets. The airline, which cut staff, flights and debts under bankruptcy protection, will consider raising the dividend ratio from the current 20 percent of net income, minus deferred taxes, as its balance sheet improves, Saito said.
"We still need to accumulate more earnings and strengthen our financial footing," Saito said. "Should shareholders ask for it, we'd definitely consider increasing our dividend." The airline has no debt sale plans at this point, he said.
Shares Jump
Japan Airlines rose 2 percent to 5,710 yen at the close in Tokyo trading, the highest price since Oct. 31. The shares have gained 10 percent this year, compared with a 5.2 percent decline in the Nikkei 225 Stock Average.
The carrier, based in Tokyo, is planning to spend 135 billion yen ($1.3 billion) on planes in the fiscal year started April 1, rising to 148 billion yen in the next 12 months and 160 billion yen the following year, according to its medium-term business plan.
Japan Airlines ordered 31 Airbus A350 planes in 2013, its first purchase from the European manufacturer, with deliveries set to start in 2019, and it has options to purchase 25 more. The airline, the second biggest operator of the Boeing 787, has also purchased 45 of the medium-sized Dreamliners, and had received a third of them as of May, according to Boeing's website.
The airline posted net income of 166 billion yen in the 12 months ended March, a third straight year of profits. Competitor ANA Holdings Inc. had a profit of 18.9 billion yen in the same period. Japan Airlines had 134.3 billion yen of total debt as of March 31, according to data compiled by Bloomberg.
Japan Airlines has a tax benefit it accumulated during bankruptcy, which gets the carrier an exemption from paying corporate tax for up to nine years. The carrier sold shares in an initial offer in 2012, completing a two-year turnaround from bankruptcy.
Before it's here, it's on the Bloomberg Terminal.
LEARN MORE