How Carlos Slim Can Fix America Movil's Antitrust Problem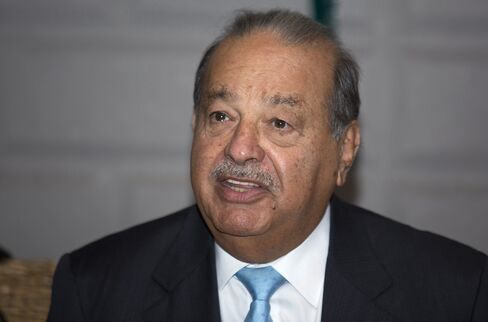 America Movil SAB's top executives, attempting to maintain the company's grasp on the telephone market it has ruled for more than a decade, are reassessing the structure of Carlos Slim's $73 billion carrier.
The company put a special board committee to work after regulatory changes forcing it to share infrastructure and cut fees in Mexico, its biggest market. The members may consider spinning off faster-growing businesses in 17 other countries, according to analysts at Macquarie Group Ltd. Or, they could break up the Mexican unit, reducing its 80 percent share of the phone market to below 50 percent, Banco Itau BBA analysts said.
America Movil, which was also sanctioned this year by Mexican officials for operating more than half of the nation's mobile-phone accounts, said last week the committee will consider a wide range of options that could be proposed to the full board or to shareholders. The company gave no indication of what specific scenarios it was reviewing and when it might make a decision, leaving all alternatives on the table.
"It could go in more than one direction," Valeria Romo, an analyst with Banco Monex SA, said in a phone interview. "This is 100 percent focused on the regulator's decision earlier this year." She has a hold rating on the shares.
America Movil brought the committee together after the newly created Federal Telecommunications Institute, or IFT, declared it dominant, according to a filing last week. While it challenges the ruling, the company said the group will "assess the various structural, commercial, technological and other options available to it, as well as the opportunities offered by the new Mexican regulatory framework, in order to continue with the development of the telecommunications sector and providing services with high quality, state-of-the-art technologies and under best conditions."
An America Movil press official declined to comment further on the committee's work.
Proposing Breakups
Last year, lawmakers made constitutional changes to let regulators force companies to divest assets if they're too dominant in the telecommunications industry. A joint Senate committee released a draft bill this week that would give dominant companies a way to propose their own breakups to the IFT, with the goal of reducing their market share below 50 percent.
Slim's company must consider "bold, adaptive moves" to reduce the regulatory pressure it faces, Itau analyst Gregorio Tomassi wrote in a report last week.
The company "has an incentive, even a responsibility, to exhaustively explore breakup options as alternatives that could actually maximize value under the current conditions," he said. He has the equivalent of a hold rating on the stock.
Shedding Clients
To cut its customer base, America Movil could try to shed its less profitable clients in rural and poor areas where competitors don't even offer service because it's unprofitable, said Vector Casa de Bolsa SA analyst Julio Zetina. America Movil would have to win regulatory approval to adjust its operating license, which requires it to cover those populations under the terms of its 1990 privatization.
"The strategy here could be, 'What segment of clients can I release to lower my market share under 50 percent?'" Zetina said. "They have been obligated to serve markets that don't represent their financial interests, so even if they drop their share by, say, 25 percent, the impact on revenues is infinitely lower." He has a hold rating on the stock.
America Movil has looked into structural changes before. In 2011, its landline unit, Telmex, announced a reorganization that would have created a separate unit, Telmex Social, for its customers in rural and marginalized communities. With the division, which would have represented about 10 percent of its subscribers, Telmex sought for regulators to view it as two companies. Regulatory approval for the creation of Telmex Social was never granted.
Outside Directors
The eight-member committee formed by America Movil includes three outside board members: Alejandro Soberon, chief executive officer of entertainment company Corporacion Interamericana de Entretenimiento SAB; Pablo Gonzalez Guajardo, CEO of Kimberly-Clark de Mexico SAB; and Ernesto Vega Velasco, a retired executive of Grupo Kuo SAB, a consumer-goods and auto-parts conglomerate. Their presence gives the group independence and validity in front of regulators, Zetina said.
The committee includes five America Movil executives, including CEO Daniel Hajj, Slim's son-in-law, and Telmex head Hector Slim, the billionaire's nephew. The elder Slim isn't on the committee himself.
Breakups Hard
Breaking up a dominant phone carrier to create more competition has proven difficult to sustain. To settle an antitrust suit in the U.S., AT&T Corp. agreed in 1982 to split with its regional phone networks, which would provide local telephone service while the national company focused on long distance, manufacturing and research. Many of those units are now part of the same company again, called AT&T Inc., while Verizon Communications Inc. owns most of the rest.
In Brazil, the government broke its telephone monopoly into 12 holding companies in 1998, including three regional landline carriers, eight mobile-phone companies and one long-distance carrier. They have since joined forces to create four major telecommunications providers in Brazil.
In both cases, the breakups separated the providers' national infrastructure, such as the fiber-optic cables that stretch across the country, from their local networks, such as home-phone lines. Mexican regulators have already ordered America Movil to let its competitors use its network -- the biggest in the country -- to provide service to their customers, removing a key competitive advantage.
Calming Investors
The regulatory pressure has weighed on America Movil, sending shares down 11 percent this year, the sixth-worst performer on Mexico's benchmark IPC index of 35 companies. Last week, Slim, 74, boosted his investment in the company, acquiring AT&T's 8.3 percent stake for $5.57 billion. By increasing his holdings to 57 percent of the company, Slim calmed investor concerns that AT&T would dump its shares on the open market, diluting the stock, Itau said.
The acquisition was a sign that Slim "views value in the company," Macquarie analyst Kevin Smithen wrote in a June 30 report. AT&T sold the stake because it's acquiring satellite company DirecTV, which competes with America Movil for TV customers in Brazil and Colombia.
America Movil's committee could consider other structural changes that would reduce its dependence on Mexico as regulations tighten there, Smithen said. Spinning off the businesses outside of Mexico would give investors access to a company with faster growth, he said.
TV Opportunity?
Selling the company's 40,000 wireless towers in Latin America, as carriers from AT&T to Oi SA have done around the world, could produce as much as $10 billion that could be used for stock repurchases or for acquisitions, Smithen said. The company could also raise money by disposing of its stake in Dutch carrier Royal KPN NV, which rejected a full takeover last year, he said.
The funds would let America Movil seek acquisitions in Brazil or the U.S., or could help the company acquire satellite-TV operator Dish Mexico, Smithen said.
America Movil already has an option to take control of Dish Mexico if Slim's company gets a license from the government to offer TV service. A Dish Mexico press official declined to comment.
The IFT has said Slim's company must comply with its regulatory requirements for 18 months before it can apply for the TV license. America Movil has the technology to offer TV over its phone lines, too, as soon as it's allowed, Zetina said.
"The infrastructure is there -- it's like opening a valve," Zetina said. He said America Movil is thinking, "I already give you telephone, Internet and data services -- now I can add another service to that list."