How Bulgaria's Bank Run Affects Ukraine's European Dream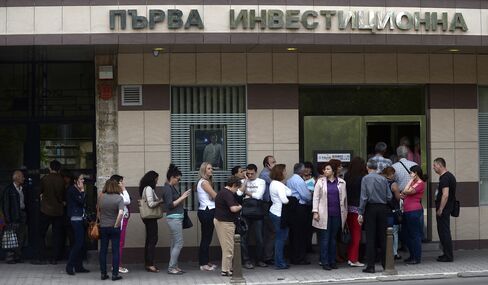 July 4 (Bloomberg) -- Joining the European Union was meant to give Bulgaria a fresh start. Try telling that to Anna Dimitrova.
"Bulgaria didn't gain from the EU as much as it could have, because it's mismanaged by corrupt politicians," said Dimitrova, a law student, in central Sofia. "Our politicians are not visionaries. Their horizon is too short."
Seven years after entering, Bulgaria has had three governments, remains the poorest of the bloc's 28 nations and is repeatedly told by the EU to cut graft and corruption. In January, the EU said corruption "poses a significant challenge for the Bulgarian authorities."
The general weaknesses of the system were highlighted last week when two banks suffered runs. One was brought on by an "organized attack" of "criminal actions," according to the central bank. The other was sparked by what media reports described as a feud between the majority shareholder and a large depositor, who is also a member of parliament. The two men exchanged death threats, according to Bulgaria's chief prosecutor, Sotir Tsatsarov.
Bulgaria's worst financial crisis in 17 years forced the ruling Socialists to extend a 3.3 billion-lev ($2.3 billion) credit line to First Investment Bank AD and Corporate Commercial Bank AD, the country's third- and fourth-largest lenders by assets.
The European Commission approved the credit line, saying it accorded with rules about state aid, helping calm the situation and ending the bank run. The June 30 commission announcement sent Bulgarian stocks to the biggest gain in the world.
Waning Enthusiasm
"The immediate and well-coordinated action taken by the government, the Bulgarian National Bank and the financial community in the country led to a decisive rebuff to all ungrounded speculations and insinuations and restored the citizens' confidence in the system," the Finance Ministry in Sofia said in an e-mailed statement on July 1.
While the EU decision-makers who welcomed Bulgaria and Romania into the club as its 26th and 27th members in 2007 had concerns about the countries' challenges, they pushed them aside in their enthusiasm for a larger and eastern-facing union. Now, with the continent's economic recovery anemic and anti-immigration parties surging in elections from London to Athens, that confidence is waning.
'Deep Problems'
"There was recognition at the highest level of the very deep problems that existed" when Bulgaria joined the EU, said John O'Brennan, a lecturer in European politics at the National University of Ireland Maynooth and author of the 2006 book "The Eastern Enlargement of the European Union." "But there was a fear of geopolitical drift, connected to Russia; a real fear that Bulgaria and Romania would drift off and become more like Ukraine, with the all the kinds of problems that could create."
In Ukraine, three months of deadly protests followed the decision by President Viktor Yanukovych to reverse course and refuse to sign an association agreement with the EU. With Crimea in the hands of Russia and eastern Ukraine still the subject of a separatist insurgency, newly elected President Petro Poroshenko signed the accord on June 27 and said he would seek membership in the bloc.
Ukraine has fallen to 144th in a corruption-perceptions ranking by Berlin-based Transparency International from 107th in 2005. That made it the worst European country last year.
Falling Ranking
The EU pushed Bulgaria's candidacy even as it warned about the country's organized-crime levels, bribery in public office and the failure to achieve convictions of those charged. Former Defense Minister Nikolai Tsonev, a member of then-Prime Minister's Sergei Stanishev's cabinet in 2008-2009, was arrested in 2010 and charged with bribery, abuse of office in procurement orders. Two years later he was acquitted on all charges.
Bulgaria ranked 77th of 175 countries, second-to-last in the EU after Greece, in 2013, according to Transparency International. Countries ranked higher and thus perceived as less corrupt: Ghana, Rwanda and Romania. In 2007 Bulgaria was 64th of 179, the second-worst in the bloc after Romania.
"The EU is not only about economic support, it is a lot more: supremacy of the law, democratic values, security, prosperity -- all the reasons the EU was created for," Bulgarian Deputy Prime Minister Zinaida Zlatanova said in a written response to questions. Zlatanova also is justice minister.
'No Stability'
Markus Ferber, a German member of the European Parliament who warned against Bulgaria's 2007 admission into the club, said there was a limit to how much the EU could do to root out corruption in the country, just as its power to affect national affairs was restricted everywhere in the bloc.
"In Germany, in the U.K, no one would accept the European Commission taking the lead in internal national affairs," he said. "There's no political stability in Bulgaria, and of all the internal problems it's had to deal with -- and the main thing is corruption -- nothing has changed."
The EU has repeatedly urged Bulgaria to make its judiciary and law enforcement agencies more efficient to curb corruption among senior government officials and sever their links with organized crime. Bulgarians ranked the judicial system, political parties and parliament as the most corrupt of all institutions in the country, according to a 2010 survey by Vitosha Research in Sofia in 2010.
Corruption Cases
In the latest of 12 semiannual assessments, the bloc said in January: "The lack of a track record of success in pursuing high-level corruption cases remains an obstacle to persuading the Bulgarian public that a serious effort is under way to address the problem."
Justice Minister Zlatanova told reporters that day that the report was "objective, precise, non-political and professional," calling it an "action plan on which we can start working immediately."
The crisis that gripped Bulgaria six months later began at Corporate Commercial, a lender at the heart of the country's political and corporate establishment. It handled the accounts of most ministries and state companies, including Bulgarian Energy Holding. It had stakes in newspapers and two television stations controlled by Delyan Peevski, its largest depositor, as well as in the biggest tobacco maker and telecommunications company.
Street Protests
Peevski was the subject of street demonstrations on June 14, 2013, after parliament, in a 10-minute session, voted to name him head of the state security agency. About 15,000 protesters marched that night, carrying signs saying "No to corruption" and "No to the Mafia."
The government rescinded the appointment the next day and Prime Minister Plamen Oresharski later said the appointment was a "mistake." Protests continued over the next several months, including calls for Oresharski to resign.
The run on its deposits came after Peevski broke with Tsvetan Vassilev, Corporate Commercial's majority shareholder. Major newspapers including Capital alleged that Vassilev, through affiliated companies, had borrowed 1 billion lev ($698 million) from Corporate Commercial, while Peevski allegedly took his companies' accounts out of the bank. No sources were cited.
The two men exchanged death threats, Prosecutor Tsatsarov told reporters last week. Peevski and Vassilev denied any wrongdoing through their lawyers.
Central Bank
On June 20, with lines stretching outside its doors, the bank ran out of cash and asked Bulgaria's central bank to place it under temporary administration.
Corporate Commercial declined to comment.
Separately, a group of people led by a local broker spread negative information about First Investment Bank and the government's ability to protect deposits. They used e-mails, mobile phone messages and social media, according to the State Agency for National Security.
First Investment was forced to pay out 800 million lev in one day to depositors before the government credit line was issued. As of July 2, it hadn't needed to tap the state aid.
Police arrested seven people involved in the ring and two of them are under criminal investigation, according to the State Agency for National Security. The bank said it returned to "business as usual" on June 28.
First Investment declined to comment.
'Low Trust'
"It is definitely clear that when you have low trust of people in institutions, every rumor and every word can cause instability and a speculative attack could create panic," Bulgarian President Rosen Plevneliev said today in an interview with Bloomberg Television. "We have seen a very clear development, there is no panic now, banks operate normally. The Bulgarian government has additional liquidity."
Oresharski's minority government is facing elections in three months after support for his Socialists fell to 19 percent in European Parliament elections on May 25. The results caused a rift in the ruling coalition.
"There was a lesson to be learned," Georgi Ganev, program director at the Center for Liberal Strategies in Sofia, said by phone. "Banks will have to keep liquid and be conservative for as long as this political crisis lasts, as it's difficult to say which way it will strike."
EU Enlargement
The EU welcomed the first wave of former Eastern Bloc countries on May 1, 2004, as an influx of 10 nations were greeted with cheers and fireworks. Since then many have prospered, with Estonia, Latvia, Slovakia and Slovenia joining the euro currency and Lithuania due to do so in January.
Since Bulgaria and Romania entered the EU in 2007, only the former Yugoslav state of Croatia has added to the numbers, becoming the 28th member last year.
"The difficulties experienced with Bulgaria and Romania have somewhat killed the political will in many western European countries when it comes to enlargement," said Dimitar Bechev, a senior policy fellow at the European Council on Foreign Relations and head of its Sofia office.
Bulgaria has shown some progress. Gross national income has climbed 53 percent since 2007, according to the World Bank. Over the same period the EU allocated 6.9 billion euros ($9.4 billion) to the country for projects such as road-building and energy security.
Recapitalization
The recapitalization of its banking system has so far headed off the sort of crisis Bulgaria suffered in 1997. The share of non-performing loans was about 17 percent of the total, UniCredit said this week. The banking system's capital adequacy ratio was 20 percent on March 30, with a Tier 1 capital adequacy of 18 percent, according to central bank data.
It's taken its toll on markets: The Sofix stock index has declined 54 percent since Bulgaria joined the EU. That's the fourth-worst performance among 94 primary indexes tracked by Bloomberg and compares with a 12 percent decline in Romania's BET index and a 28 percent drop in the WIG20 gauge in Poland.
About 40 percent of Bulgarians support their country's membership in the EU, according to an opinion poll conducted by Alpha Research agency in Sofia on April 23-26 among 1,024 people. That's down from as much as 70 percent when Bulgaria first entered.
At the same time, 27 percent of the polled Bulgarians said they backed the Russian-led Eurasian Economic Union -- the one Ukraine declined to join.
To contact the reporters on this story: Ian Wishart in Brussels at iwishart@bloomberg.net; Elizabeth Konstantinova in Sofia at ekonstantino@bloomberg.net
To contact the editors responsible for this story: Alan Crawford at acrawford6@bloomberg.net; Balazs Penz at bpenz@bloomberg.net Anne Swardson, Leon Mangasarian