China Blocked Line, Flickr Amid Protests, Greatfire Says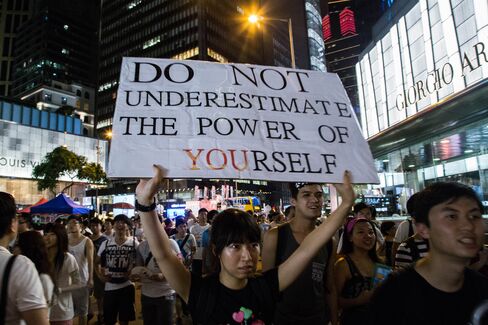 China blocked Yahoo! Inc.'s Flickr photo-sharing service and messaging applications operated by Line Corp. and Kakao Corp. as part of a stepped-up web censorship campaign, according to analysis by Greatfire.org, a group opposed to Internet restrictions.
Line users in China haven't been able to access all services since July 1, Line spokeswoman Fumiko Hayashi said today. While pre-registered Kakao users can still use its texting app other services are not accessible in China, the company said in an e-mailed statement. People attempting to access Flickr's photo sharing website were told the page couldn't be opened.
Greatfire.org, which uses computer servers in different cities around China to gauge access to websites, said Line and Flickr have been blocked by government censors. China blocks pornography and content it considers critical of the ruling Communist Party, with sites including Facebook Inc., Twitter Inc. and Google Inc.'s YouTube inaccessible.
The government is expanding the number of websites it blocks, according to Charlie Smith, a co-founder of Greatfire, who uses a pseudonym out of concern that Chinese authorities will make reprisals. He said the latest interruptions may be connected to pro-democracy protests in Hong Kong this week and the fact that participants spread pictures of the event on social media.
Democracy Rally
China's State Council Information Office didn't respond to faxed questions about the outages yesterday.
A July 1 rally in Hong Kong drew a crowd that organizers estimated at more than a half a million people as citizens demand full democracy when the city overhauls its election system in 2017. China's State Council says the enclave, which has been self-governing since the U.K. ceded control to China in 1997, must have patriotic leaders and judges who put Chinese interests first.
Yahoo is aware of reports that Flickr is blocked for users in China and is investigating, according to an e-mail from the company.
Some Kakao features including adding new friends, the use of some emoticons and checking notices are not accessible for users in China, according to an e-mailed statement from the company.
"We cannot say for sure with 100 percent confidence as to what is causing this problem," Kakao said. "We can only assume."
Line may be getting punished by censors for allowing users to share too many posts on the protests, Smith said. The service, controlled by South Korea's Naver Corp., was still investigating the cause of user access issues in China and the company doesn't disclose the number of users in China, Hayashi said yesterday.