Sarkozy Says Judicial Charges Aimed at 'Humiliating' Him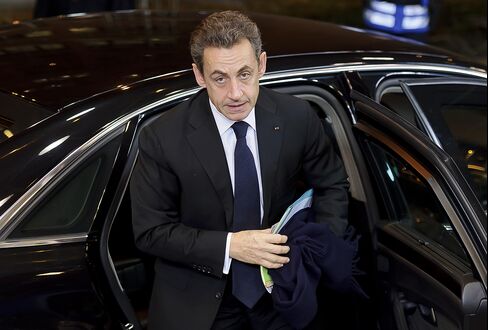 Former French President Nicolas Sarkozy said the influence peddling charges against him are aimed at "humiliating" and "defaming" him.
In his first interview since his defeat in the 2012 presidential election, conducted by reporters of TF1 television and Europe 1 radio today, Sarkozy denied any wrongdoing and said the judicial process against him was evidence of the "political instrumentalization" of the French justice system.
"Everything is being done to give a biased image of me," Sarkozy said. "There has been an effort to humiliate me by detaining me. I am deeply shocked by what has happened."
The charges followed 15 hours of questioning by a team of anti-corruption magistrates centered on whether some judges were keeping Sarkozy and his lawyer Thierry Herzog informed about the state of play in probes into the former president's campaign financing. The string of cases Sarkozy has faced since he left office threaten to upend his political ambitions.
"The charges are grotesque," Sarkozy said. He questioned the impartiality of the judges who interrogated him, noting that they were members of the magistrates' union that had sent him a letter criticizing his work when he was a president. He called the magistrates' questioning an act of "revenge."
Herzog's lawyer, Paul-Albert Iweins, said earlier today the influence peddling charges won't hold up.
"There was no active corruption," Iweins said on Europe 1 radio. "What is corruption? It's handing an envelope to someone. There's nothing. You'll see, in this case, there's nothing."
'Not Political'
Paris judges are working on three cases involving the former president. They're probing whether his campaign got illegal political funding from Libya's former leader Muammar Qaddafi; the circumstances surrounding money Sarkozy is alleged to have received from L'Oreal SA heiress Liliane Bettencourt; and his role in former Finance Minister Christine Lagarde's decision on an arbitration settlement with French businessman Bernard Tapie.
It was the telephone tapping used as part of the Qaddafi probe that led to the influence-peddling investigation.
Sarkozy called the allegation his campaign had been funded by Qaddafi "absurd."
Prime Minister Manuel Valls said today that the facts are "serious," although adding that the judicial system is operating independently.
"To enter into this debate is to create the impression that there is a political plot," Valls said on RMC radio. "The role of the head of government is to remind everyone of the principle of the presumption of innocence and the independence of the justice system."
Sarkozy, 59, said he'd quit politics following his loss to Francois Hollande in the presidential election of May 2012. The former president has, however, made trips across France since the start of this year, and even had a meeting with German Chancellor Angela Merkel, hinting at his intention to run for office in 2017.
He said today that he will decide his political future by September.