Modi Seen Slowing Singh's Decade of Subsidies: Chart of the Day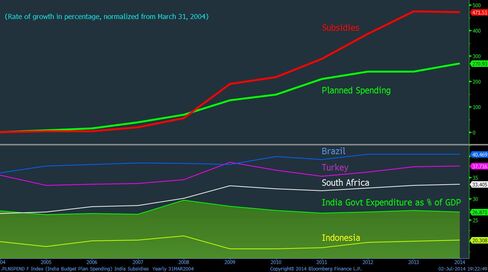 As Indian Prime Minister Narendra Modi prepares his first budget, investors are watching to see how he'll curb a subsidy bill that rose fivefold under his predecessor, stoking Asia's fastest inflation.
The CHART OF THE DAY shows the budget for subsidies rose at almost twice the pace of so-called planned spending the past decade, with funds to ease the burden for food, fuel and fertilizer increasing 472 percent compared with the allocation at March 2004. The lower panel shows India's government expenditure as a percentage of gross domestic product was second-lowest after Indonesia among members of the so-called fragile five, which also comprises Brazil, Turkey and South Africa.
"Subsidies are easy to implement and very tough to get rid of," said Vishnu Varathan, an economist at Mizuho Bank Ltd. in Singapore. "It's essential to get subsidies down in the long term, but we're likely to see a gradual cutting rather than an amputation. The poor still need to eat."
Subsidies rose to 16 percent of India's total budget in the year ended March 2014 from 9 percent in 2004, while plan spending climbed to 30 percent from 26 percent, according to budget documents.
Modi last month said he's ready to take unpopular steps to restore India's finances, while Finance Minister Arun Jaitley denounced "mindless populism" this week as he prepares to present the budget on July 10. Reserve Bank of India Governor Raghuram Rajan said in April that a reduction in subsidies would help him achieve a goal of reducing consumer-price inflation to 6 percent by 2016 from more than 8 percent.
Plan, Subsidies
Former prime minister Manmohan Singh earlier this year said his government could've done better controlling prices while defending policies to buy farm produce at guaranteed prices, boost rural wages and distribute cheap food. His Congress party, which has ruled India for most of its history, suffered its worst-ever defeat at the hands of Modi.
Plan spending includes funds for roads, schools and power plants, while subsidies are part of so-called non-plan expenditure, which is obligatory in nature and also includes interest and pension payments. Modi will probably continue to increase diesel prices while maintaining subsidies on kerosene, which is considered the poor person's fuel, Varathan said.
Before it's here, it's on the Bloomberg Terminal.
LEARN MORE