Iraq Receives Batch of Russian Jets to Fight Militants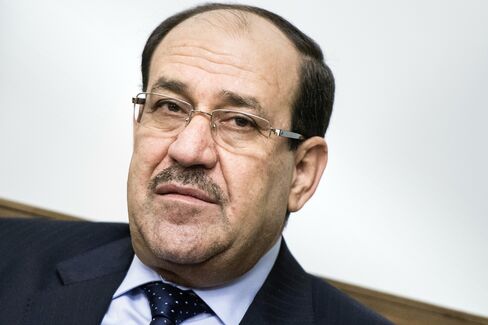 (Corrects name in 14th paragraph.)
July 2 (Bloomberg) -- The U.S. readied to sell Iraq thousands of missiles and a second batch of Russian Sukhoi combat jets arrived in Baghdad as foreign powers moved to help Iraqi forces battle an al-Qaeda offshoot.
Steps to beef up the government's arsenal came as politicians deadlocked over who will lead Iraq as it risks hurtling into renewed civil war. Shiite Prime Minister Nouri al-Maliki is under pressure from domestic opponents to step aside to allow the formation of a broad-based government that would give a greater say to the Sunni minority in an effort to undercut the Sunni insurgency.
Media reported dozens killed and injured in fighting across the country since yesterday.
The risk of sectarian civil war in Iraq, OPEC's second-biggest oil producer, flared last month after the Sunni al-Qaeda breakaway, now known as the Islamic State, seized Mosul, the country's biggest northern city, and advanced on other towns. The U.S. State Department has told lawmakers informally that the Obama administration wants to sell Iraq more than 4,000 additional Hellfire missiles to support its fight against the Islamist insurgents, according to people familiar with the plan.
Sale of the laser-guided missiles made by Lockheed Martin Corp. would be in addition to 500 previously purchased.
Sidelined Minority
Islamic State, which has attracted support from Sunnis alienated by the government's pro-Shiite policies, is also fighting the government in Syria. It recently declared an Islamic caliphate in areas in both countries under its control, an assertion of authority meant to consolidate its power and blur borders.
Russia began sending used fighter jets and military advisers to Iraq over the weekend in response to an appeal from the government of Prime Minister Nouri al-Maliki. Today's arrivals bring the number of planes shipped to 10.
The jets will be flown by Iraqi pilots and "are ready to provide air support to the armed forces," the Defense Ministry said in a statement.
"The lack of a serious aerial threat has allowed Sunni militants to use lightning raids in quickly assembled convoys of pickup trucks equipped with medium- or heavy-weapons systems," Texas-based consulting firm Stratfor said in a report e-mailed last night.
Iraq can use the Russian jets to "interdict massed Islamic State and Sunni rebel convoys," it added.
Dozens Killed
At least 18 people were killed and 18 others injured today when military helicopters attacked an insurgent-held area north of Tikrit, al-Mada Press said, citing an unidentified health official. Eight of the dead belong to the same family, it added.
Separately, at least 25 people were killed in the south after Iraqi forces blocked supporters of Shiite cleric Sayed al-Sarkhi al-Hassani from marching on a shrine in Karbala, Al Jazeera reported yesterday, citing unidentified people.
Al-Hassani criticized a religious edict by Iraq's top Shiite cleric, Grand Ayatollah Ali Al Sistani, to take up arms against the Sunni insurgents, saying it would lead to more bloodshed, according to a posting on his website.
Ahmed Dinar, a spokesman for Diwaniya province, said by phone today that there was no violence in the region. He said security forces closed al-Hassani's office in Diwaniya because of the clashes in Karbala.
Political Impasse
Iraq's Shiite-led government said it turned to Russia to bolster its aerial capabilities because U.S. F-16 jets were taking too long to be delivered. U.S. President Barack Obama has also refrained from ordering air strikes against the Sunni militants, putting the onus on Iraqi leaders to first form an inclusive government that could work to end the marginalization of minority Sunnis.
Pressure from the U.S. and Iraq's top Shiite cleric wasn't enough to prod lawmakers yesterday to end an impasse over picking a prime minister and fill key posts. An hour after convening in Baghdad for the first time since April elections, parliament adjourned until July 8, citing a lack of quorum and disagreements among leading political blocs.
Marie Harf, a U.S. State Department spokeswoman, said while it was important parliament convened, "we do hope that Iraq's leaders will move forward with the extreme urgency that the current situation deserves."
"Time is not on Iraq's side here," she added, according to an e-mail of her daily briefing. "They need to do this as quickly as possible."
To contact the reporter on this story: Alaa Shahine in Dubai at asalha@bloomberg.net
To contact the editors responsible for this story: Alaa Shahine at asalha@bloomberg.net Amy Teibel, Caroline Alexander