Harvard Revamps Policy on Sexual Assault Amid Investigations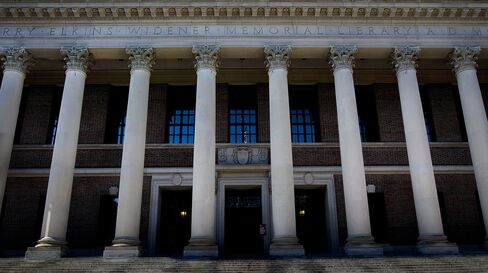 July 2 (Bloomberg) -- Harvard University, which is under two Education Department reviews for its handling of sexual assaults, will centralize investigations of campus sexual misconduct under a new policy released today.
The policy and procedures, which will apply to Harvard's 13 schools and other units, were sent to the U.S. Education Department's Office for Civil Rights for review in April and the university is waiting for a response, Harvard, based in Cambridge, Massachusetts, said in a statement on its website.
Harvard Law School and the university's undergraduate college are each under government investigation for potential violations of Title IX, the law that prohibits sex discrimination in education. The policy comes more than a year after Harvard hired a coordinator to administer Title IX issues, and the school convened a task force earlier this year to recommend strategies for addressing sexual misconduct.
"This new, progressive policy -- alongside the new, centralized procedures for investigating reports -- will significantly enhance Harvard's ability to address these incidents when they occur," Harvard President Drew Faust said in the statement.
A White House task force issued a report on campus sexual assault in April, calling for schools to anonymously survey students to find the real frequency of incidents, which often go unreported. Senator Claire McCaskill, a Missouri Democrat, has held a series of roundtable meetings in Washington aimed at developing legislation that will make it easier for sexual assaults to be prosecuted by local law enforcement.
Expert Investigators
Harvard is creating an Office for Sexual and Gender-Based Dispute Resolution that will use expert investigators to look into all types of sexual assault, stalking, harassment or misconduct. The investigators will give their reports to individual schools for disciplinary decisions, said Mia Karvonides, Harvard's Title IX coordinator, in a separate statement.
"At the beginning of the new term, the new policy applies for all faculty, students, and staff, and the new procedures will apply for complaints against any student across the university," Karvonides said. "Schools are working hard to update their policies and procedures into line as quickly as possible."
At least 64 colleges are currently under investigation by the agency's Office for Civil Rights, which enforces Title IX. Schools that fail to comply with the law face loss of eligibility for federal student aid.
Evidence Standard
The office began investigating Harvard Law School in 2010. A complaint filed earlier that year alleged that the school used too high a standard to prove sexual assault and harassment, according to Wendy Murphy, a lawyer and adjunct professor at the New England School of Law in Boston, who filed the complaint.
The Education Department calls for schools to use a "preponderance of evidence" standard in adjudicating cases, meaning that an incident is more likely than not to have happened. Under the new policy, Harvard will implement the preponderance of evidence standard schoolwide, the statement said.
The policy "means whenever a victim's word is slightly more credible than an offender's denial, Harvard must take some action," Murphy said in an e-mail. "It means sweeping rape under the rug will be a lot harder now at Harvard -- and that's a good thing."
'Student Voices'
The investigation of Harvard College began this year after a student group filed a complaint saying that students who reported having been sexually assaulted weren't given housing and classroom accommodation that would keep them apart from their alleged assailants. Administrators also responded to some complaints slowly, according to Emily Fox-Penner, one of the complainants.
The new policy is "only the first step," said Rory Gerberg, a graduate student at Harvard's Kennedy School of Government who helped found Harvard Students Demand Respect, a group fighting sexual assault.
"Student voices must guide the process" of implementing the policy, she said.
To contact the reporter on this story: John Lauerman in Boston at jlauerman@bloomberg.net
To contact the editors responsible for this story: Lisa Wolfson at lwolfson@bloomberg.net Chris Staiti