Gazprom's China Gas Price Said to Be Near German Level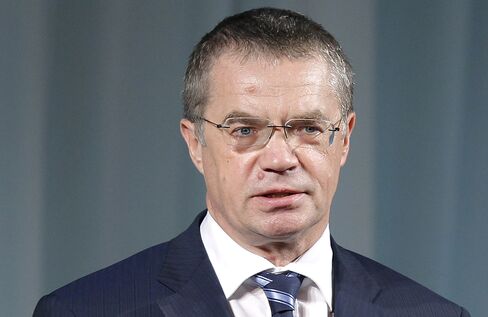 OAO Gazprom, the world largest natural-gas producer, will supply fuel to China at a price close to Germany's, according to Russian officials.
Keeping parity between Germany and China, which will be Gazprom's two largest customers after shipments to the Asian country start, may reassure investors that Russia didn't offer excessive discounts to win a deal that had been sought for more than a decade.
The base price for China National Petroleum Corp. is about $360 per 1,000 cubic meters, two government officials in Moscow said, asking not to be identified because the information is confidential. That's near the average $366 that Gazprom charged Germany last year, which pays one of the lowest prices in Europe, one of the officials said.
The estimated value of the accord is about $400 billion, the largest contract in natural-gas history, Gazprom said when the deal was signed last month. The Russian company had declined to reveal the exact gas price.
Gazprom shares rose as much as 1.6 percent to 151.3 rubles in Moscow and traded at 151.1 rubles at 4:52 p.m. local time.
Russian President Vladimir Putin is pivoting to Asia as a buyer of his nation's gas to bolster the economy as relations sour with the U.S. and European Union because of the crisis in Ukraine. After more than a decade of talks, Russia signed its first gas deal with China last month.
Gazprom plans to start supplies in 2018 to 2020 reaching 38 billion cubic meters annually within five years. Germany, which has been buying Russian gas for 40 years, imported 40.2 billion cubic meters of Gazprom's fuel last year. That's a quarter of Russia's gas deliveries to Europe.
Global Prices
The base price in a gas sales contract can be adjusted to take account of changes in the global crude oil prices, inflation and in interest rates.
It "sounds like a reasonable price, similar to what China's paying from gas imports from Central Asia countries," said Yan Shi, an analyst at UOB Kay Hian Ltd. in Shanghai. "CNPC can still make a profit when the gas import begins to flow."
China agreed to pay $25 billion before deliveries begin, Alexander Medvedev, Gazprom deputy chief executive officer, said last month. The upfront money will help Russia finance field developments in Siberia and the pipeline to bring gas to China.
A schedule for advance payments may be signed in September and Gazprom would provide a discount for the gas covered by the agreement, one of the Russian officials said.
The financial arrangements between Gazprom and CNPC mean that by CNPC's accounting the price for gas would be about $350 per 1,000 cubic meters, a Chinese official said, asking not to be identified, because the accord isn't public.
The press offices at Gazprom and CNPC declined to comment on the price.
(Corrects time reference in 10th paragraph to last month, in story originally published July 2.)
Before it's here, it's on the Bloomberg Terminal.
LEARN MORE