'Transformers' Shows Worldwide Appeal as China Beats U.S.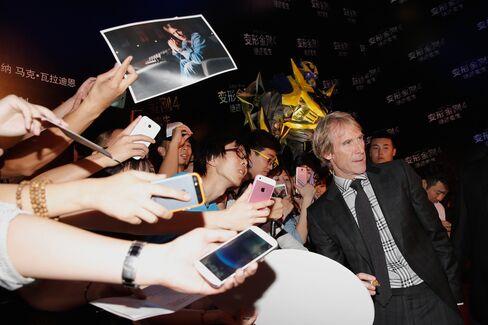 "Transformers: Age of Extinction," widely expected to be the top-grossing film in U.S. theaters this summer, is proving an even bigger hit in China, setting records and marking a rare feat for a Hollywood feature.
Sales in the No. 2 film market behind the U.S. total $134.5 million since Viacom Inc.'s Paramount Pictures released the film on June 27, according to Box Office Mojo. Revenue in U.S. and Canadian theaters comes to $121 million as of July 1.
The fast-growing tally in China highlights the potential for U.S. studios that collaborate with local businesses, such as China Movie Media Group, a marketing partner in the "Transformers" film. The producers also signed sponsorship agreements that included commitments to shoot in that country.
"Because of the efforts of both Paramount and CMMG, TF4 will become the blockbuster with the biggest box office in mainland China this year," Zhang Gen Ming, chief executive and founder of CMMG, said yesterday in an e-mailed statement.
The five-day tally for the picture broke the previous record for "The Monkey King," a Hong Kong-produced feature released in January on the mainland, CMMG said. The company also projects "Transformers" will overtake the $217.7 million record total in that country for "Avatar," the top-grossing film of all time.
Sales for U.S. movies in China seldom top domestic revenue, data from Box Office Mojo show. Last year's top movie worldwide, Walt Disney Co.'s "Frozen," took in $1.26 billion globally, including $401 million in the U.S. and $48.2 million in China.