U.K. Manufacturing Unexpectedly Quickens on Demand Surge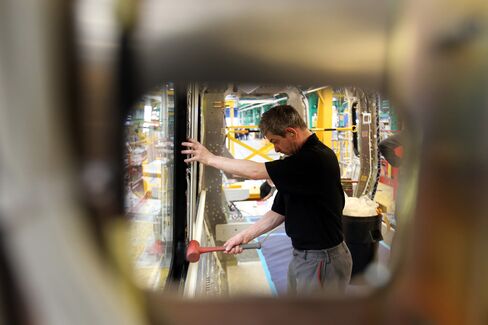 U.K. manufacturing growth unexpectedly accelerated to the fastest pace in seven months as demand surged, adding to signs of a broadening recovery.
An industry index rose to 57.5 in June from 57 in May, Markit Economics said today. Economists forecast a decline to 56.8, based on the median estimate in a Bloomberg News survey. A gauge of new orders increased to 61.1 from 59.5, also a seven-month high. The pound strengthened after the report.
The survey follows a report from the Confederation of British Industry that showed demand at factories strengthened in June and order books were the fullest since December. Business investment is also recovering, and Britain's strengthening economy has prompted speculation about when the Bank of England will raise its benchmark interest rate from a record low.
"It's hard not to conclude the U.K. good-news story is continuing," said David Tinsley, an economist at BNP Paribas SA in London and a former BOE official. "Manufacturing is growing strongly, and work flows suggest this has legs. As this news flow is absorbed further, rate hike expectations for the first hike in the fourth quarter this year should harden."
The growth in new orders in June was one of the fastest since the survey began in 1992, while export orders increased for a 15th month, according to the report. Markit estimates that manufacturing expansion in the second quarter may have exceeded the 1.5 percent pace recorded in the three months through March.
The pound rose against the dollar after the survey was published and was trading at $1.7145 as of 10:44 a.m. in London, the highest since October 2008.
Flourishing Factories
"Manufacturing continued to flourish in June," said Rob Dobson, an economist at Markit in London. "Sustaining the recovery will remain the key and, on this front, the news also remained upbeat."
Britain's economic performance contrasts with the euro area, where manufacturing growth slowed more than initially estimated in June amid a deepening downturn in France, according to a separate Markit report today. Unemployment in the euro zone held at 11.6 percent in May, close to a record high.
In China, manufacturing expanded in June at the fastest pace this year, adding to signs that government efforts to arrest a slowdown in the world's second-biggest economy are working.
'Edging Closer'
While economists forecast the U.K. central bank will keep the key rate at 0.5 percent next week, Governor Mark Carney has said the time to normalize rates is "edging closer." Investors are betting the benchmark rate, which has been at an all-time low for more than five years, will rise 25 basis points by February, according to futures contracts.
U.K. factory payrolls increased in June, at the strongest pace in more than three years, while output-price inflation accelerated, according to Markit. The increase in selling prices was linked to "improved demand and a slight increase in raw material costs," it said.
The U.K. economy is on track to outpace its Group of Seven peers this year with growth of about 3 percent -- the fastest since 2007 -- as surging house prices buoy consumer spending and businesses increase investment.
Bank of England financial-stability officials differed on how best to curtail excessive mortgage lending when they met on June 17, according to minutes published today. The Financial Policy Committee ultimately settled on limiting the proportion of mortgages at 4.5 times income to no more than 15 percent of new home loans, in a bid to stop the housing market threatening the economy.
"The committee assessed that there was the potential for a large adverse impact on aggregate demand from household indebtedness, with this risk more marked in relation to borrowers with higher levels of indebtedness," the minutes recorded. "The size of that impact on aggregate demand was sufficient to warrant intervening now in the mortgage market."