Prabowo Win Seen Spurring Decline in Rupiah, Stocks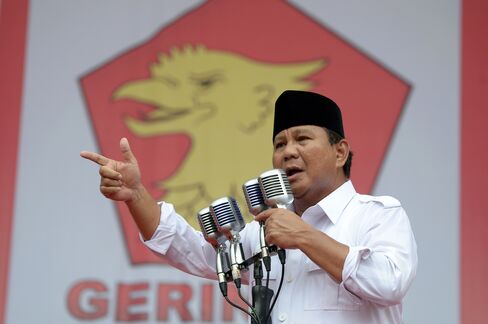 July 2 (Bloomberg) -- Indonesia presidential frontrunner Joko Widodo's disappearing lead in opinion polls has investors bracing for a market selloff as Prabowo Subianto pushes a nationalistic and debt-funded agenda.
The Jakarta Composite Index may fall 5 percent if Prabowo, 62, wins the July 9 election, according to Oversea-Chinese Banking Corp. Morgan Stanley says a victory for the former general would make the rupiah weaken 3 percent to a five-year low of 12,300 per dollar, eroding gains for investors who have pumped $6 billion into shares and local-currency debt this year.
While Prabowo's pledges to be a strong leader who will build infrastructure are boosting his popularity among voters, he's worrying international investors because of plans to raise debt levels and renegotiate contracts with foreign companies to get better terms for the state. Projections that a Widodo victory would cut red tape and corruption helped send the Jakarta index into a bull market in March.
"We could see a knee-jerk in the market, as this outcome is still not widely expected," Wai Ho Leong, a Singapore-based economist at Barclays Plc, said in a June 26 interview, adding there's a sense of "uncertainty" about what Prabowo would do. "Beyond that, we expect some foreign investors may return if the Prabowo cabinet line-up is pragmatic, and if he retains good performers or proven performers in the key ministries."
Markets Retreat
Survey company Roy Morgan said the election is now "too close to call" in a June 30 statement accompanying a poll that showed 52 percent support for Widodo and 48 percent for Prabowo. The poll, which had a margin of error of 1.8 percent, showed the race narrowing from a May survey that had 42 percent of voters favoring Widodo and 24 percent choosing Prabowo.
Some 56 percent of respondents said they would sell Indonesian assets and 13 percent said they would buy if Prabowo won, Deutsche Bank AG said in a June 9 report based on a survey of 70 investors. A victory by Widodo, known as Jokowi, would lead 74 percent to buy, while 6 percent said they would sell.
Local markets are already in retreat. The rupiah fell 0.5 percent by 11:07 a.m. in Jakarta today, according to prices from local banks, and has weakened 4.7 percent since the end of March. The stock market has fallen 2.8 percent since its highest close this year on May 16, paring its rally in 2014 to 14 percent, while rupiah sovereign bonds have declined 0.5 percent from the end of May, a Bloomberg index shows.
Changing Allocation
"A Prabowo election would be a clear second best to a Widodo win," Mark McFarland, the Hong Kong-based global chief economist at Coutts & Co., the wealth management unit of Royal Bank of Scotland Plc, said in an e-mail interview yesterday. "If the result is seen as a rejection of reforms in favor of perceived close links between government and business" that would potentially result in Coutts changing its investment allocation from overweight to underweight, he said.
Indonesian stocks have reacted sharply to recent political developments. The benchmark gauge jumped 3.2 percent on March 14, when the Indonesian Democratic Party of Struggle (PDI-P) announced Widodo, 53, as its presidential candidate. It fell by the same amount on April 10 after the PDI-P won less support than expected in parliamentary elections, and dropped 2.4 percent on May 20, a day after the the country's second-largest party Golkar said it was joining Prabowo's coalition.
"The market has priced in a Jokowi victory, so anything less than that is likely to have some impact on the overall market with some selling expected," Abdul Jalil Rasheed, an investment director at Invesco Asset Management in Singapore, said in a June 26 interview.
Indonesia's benchmark stock index may fall 5 percent if Prabowo wins, Wellian Wiranto, an economist at OCBC in Singapore, said in an e-mail interview on June 25.
Rupiah Predictions
"One of the primary concerns that market players would have in the event of a Prabowo win would be whether he would lead Indonesia away from the path of fiscal stability," he wrote in a research note released the same day.
Prabowo sees Southeast Asia's largest economy as "underleveraged" and would raise its debt-to-gross domestic product ratio toward 50 percent, compared with the current 24 percent, Hashim Djojohadikusumo, the candidate's brother and economic adviser, said at a June 6 seminar in Jakarta.
Bank of America Merrill Lynch would maintain its year-end rupiah forecast at 11,800 per dollar if Jokowi wins, and would weaken it after a Prabowo victory, Claudio Piron, head of Asia ex-Japan foreign-exchange strategy in Singapore, said in a June 23 interview. The currency will end the year at 11,900, according to the median estimate of 27 analysts surveyed by Bloomberg.
Guarding Wealth
Morgan Stanley said the rupiah would probably fall to about 12,300 per dollar after a Prabowo victory and then continue to decline in the short term on capital outflows, according to a June 26 research note by Hong Kong-based analysts Geoffrey Kendrick and Jessica Liang.
Concerns that nationalistic policies may weaken the rupiah would erode gains for yield-seeking foreign investment in Indonesian bonds and discourage further inflows, according to Morgan Stanley. Overseas investors hold 36 percent of the country's rupiah sovereign notes, compared with 32.5 percent at the beginning of the year, making the market vulnerable to outflows.
Prabowo says he wants to guard Indonesia's wealth and stop it from moving overseas. Industries affecting large parts of the population should be managed by the government, Prabowo said in a televised debate on June 15. Both candidates say they will maintain Indonesia's ban on mineral ore exports and Widodo, known locally as Jokowi, has pledged to buy back the state's stake in telecommunications company PT Indosat.
'Interesting Opportunity'
"Foreign investors are placing far too much hope in Jokowi as some sort of charismatic, pro-Western, free-market liberalizer with the nationwide support base necessary to implement reforms decisively," Michael Kurtz, global head of equity strategy at Nomura Holdings Inc., said in an e-mail interview.
The next president will need to discard election rhetoric and focus on luring foreign investment to address budget and current-account deficits, outgoing Finance Minister Chatib Basri said last month.
Given the closeness of the race "we have actually taken risk lower close to neutral in our portfolios on Indonesia," Neeraj Seth, head of Asian credit at BlackRock Inc., the world's largest asset manager, said at a June 24 media briefing in Singapore. "In the absence of a shift in policy framework, I think it will be an interesting opportunity to add to the positioning in Indonesia."
Vulnerable Economy
Whoever wins the election next week will inherit an economy where growth in the first quarter slowed to the least since 2009. Exports have fallen in four of the first five months of the year, while costly fuel subsidies leave budget spending vulnerable to increases in global oil prices.
Indonesia has "turned from a darling into a market that not many people will look at now, given the overhang from a combination of politics and economic issues," said Christopher Wong, a senior investment manager at Aberdeen Asset Management in Singapore.
To contact the reporters on this story: Andrew Janes in Jakarta at ajanes@bloomberg.net; Weiyi Lim in Singapore at wlim26@bloomberg.net; Yudith Ho in Jakarta at yho35@bloomberg.net
To contact the editors responsible for this story: James Regan at jregan19@bloomberg.net Neil Chatterjee, Dick Schumacher