New York Is On a Roll With Greenwich in U.S. Sushinomics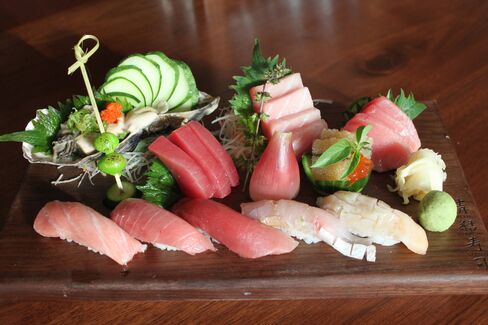 Sushi restaurants in New York and Greenwich, Connecticut, are on a roll, with both cities ranking among the most expensive locales in the U.S. to buy the Japanese cuisine for the third year in a row.
The price of basic sushi at New York restaurants was about 26 percent higher than the national average this year, leading the Sushinomics Cost-of-Living Index for the third straight year. The index, compiled by Bloomberg Rankings, is based on prices for the two most standard items -- spicy tuna and California rolls -- at restaurants in 28 major cities.
Greenwich topped the Sushinomics Premium Priced Index for the third straight year, which ranks cities by restaurants' two most expensive sushi rolls. Sushi lovers in Greenwich pay an average of $17.65 for the finest rolls, $1.72 more than the average price of New York's premium sushi.
Yuji Yokobori, owner of Abis restaurant in Greenwich, said the city's sushi prices are a good indicator of costs involved, including rent, taxes and fish quality.
"It's an expensive place to own a restaurant, and I think the prices reflect that," he said. "Our customers are more sophisticated now than they were 30 years ago. They are looking for a high-quality meal."
Basic sushi prices in New York were 6.5 percent higher than second-place Los Angeles. Seattle climbed to third place from sixth, increasing its prices by 2.3 percent from last year. San Francisco and Dallas rounded out the top five. New Orleans ranked as the cheapest U.S. sushi city for the third straight year, with prices 24 percent below the national average.
Sushi Customers
Sales at American sushi restaurants are projected to grow at a 2.6 percent annual rate in the next five years, researcher IBISWorld Inc. said in a September report. While rebounding disposable incomes and greater consumer health consciousness are helping the industry, sales have been restrained as diners increasingly buy premade rolls from supermarkets or try new types of ethnic food, the Los Angeles-based firm said.
"Sushi has definitely come under pressure," Andy Brennan, the IBISWorld report's author, said in an interview. "The high-end sushi is always going to be very popular because it's all about the experience."
Yasu Suzuki, manager of Sushi Seki in New York's Upper East Side and Chelsea neighborhoods, said a coveted choice for customers in New York's most expensive zip codes is the $60 to $200 Omakase tasting menu, where the chef chooses a variety of the restaurant's best offerings.
"Sushi that doesn't have to charge as much is not using a greater selection of fish," he said. "Pure, sushi-grade selection affects the cost."
Premium Index
New York placed seventh on the premium-priced Sushinomics index, with its most expensive rolls averaging $15.93. Los Angeles was second place behind Greenwich, followed by Boston, Minneapolis/St. Paul and Houston. Portland, Oregon, had the cheapest premium sushi, with prices averaging $13.77.
Anthony Camarco, a 25-year-old accountant who works in New York, said he eats sushi more often near his home in Hoboken, New Jersey, than in the city.
"New York City sushi is more kind of higher-end sushi," he said, "so I would expect it to be expensive."
The Sushinomics Cost-of-Living Index in 28 cities and their rankings, with 100 as the national average from the index's first year in 2011.
New York              136.66
Los Angeles           128.34
Seattle               117.72
San Francisco         117.23
Dallas                116.91
Austin                115.28
Sacramento            114.62
Miami                 112.34
Orlando               112.17
Boston                111.52
Denver                110.38
Minneapolis/St. Paul  109.56
Phoenix/Tempe         109.23
Atlanta               105.97
District of Columbia  105.80
Philadelphia          105.80
Houston               105.15
St. Louis             104.83
Chicago               102.54
Charlotte             100.25
Wilmington/Dover      99.27
San Jose              96.82
Portland              95.03
Columbus              91.76
New Orleans           82.62
National Average      108.31
The Sushinomics Premium Price Index in 30 cities and their rankings according to average price of restaurants' two most expensive rolls.
Greenwich             $17.65
Los Angeles           $16.88
Boston                $16.80
Minneapolis/St.Paul   $16.48
Houston               $16.45
Dallas                $16.26
New York              $15.93
San Francisco         $15.74
Chicago               $15.67
Sacramento            $15.55
Philadelphia          $15.54
Miami                 $15.51
Charlotte             $15.41
Wilmington/Dover      $15.41
Denver                $15.32
Atlanta               $15.11
Orlando               $15.03
St. Louis             $14.81
Seattle               $14.71
New Orleans           $14.66
Stamford              $14.61
Columbus              $14.54
San Jose              $14.49
District of Columbia  $14.13
Austin                $14.03
Phoenix/Tempe         $13.98
Portland              $13.77