Biggest Pension Fund Replaces BOJ Driving Stock Rally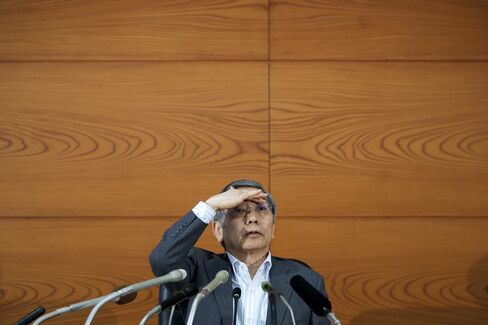 Move over, Haruhiko Kuroda.
Stock investors, tired of waiting for a boost from the Japanese central bank, have found a new hero in the nation's 128.6 trillion yen ($1.3 trillion) retirement fund, said Societe Generale Securities. The Topix index rebounded 5 percent last quarter as the Government Pension Investment Fund moved closer to an asset overhaul that's expected to pour 3.6 trillion yen into Japan's equities. The gauge started the year with the developed world's steepest quarterly slump as the yen gained and Kuroda dashed expectations for more stimulus.
"The BOJ's role is over and the market is now counting on GPIF," said Akihiro Ohara, head of Japan sales trading at Societe Generale. "I expect the fund to change its asset allocation around September."
Government efforts to encourage the GPIF's strategy shift, signs Japan's economy has weathered a sales-tax increase and a global stock rally brightened the mood on Tokyo trading floors last quarter. The Topix will advance to 1,400 by year-end, an 11 percent gain from its June 30 close, according to the median estimate in a Bloomberg survey of investors and analysts.
The Topix gained 0.4 percent in Tokyo today. It rallied 1.1 percent yesterday after the BOJ's Tankan survey showed large manufacturers increased their investment plans more than forecast. Industrial production rebounded 0.5 percent in May after falling 2.8 percent in April, the trade ministry said June 30. Output in April was curbed by a 3 percentage point sales-tax rise on the first day of that month.
Beyond Tax
"Economic data and company outlooks suggest Japan is overcoming the tax hike," Kazuhiro Miyake, chief strategist at Daiwa Institute of Research in Tokyo, said by phone on June 27. "Public pension funds will boost their equity weighting in stages and that will improve supply and demand conditions for the market."
The world's biggest pension fund may change its strategy as soon as August, Yasuhiro Yonezawa, who heads GPIF's investment committee, told the Nikkei newspaper last month.
It will increase its target for holdings of domestic shares to 20 percent from 12 percent, while cutting local bonds to 40 percent from 60 percent, according to the median estimates in a Bloomberg survey of analysts and investors in May.
At the end of 2013, Japanese stocks accounted for 17.2 percent of GPIF's assets, or 22.1 trillion yen. A 20 percent holding would imply an additional 3.6 trillion yen in local shares owned by the fund. That compares with the 2.1 trillion yen average daily value of equities traded on the Topix during the six months through June.
Overseas Assets
GPIF doesn't even have to buy Japanese stocks to buoy the local equity market, Hitoshi Asaoka, a Tokyo-based senior strategist at Mizuho Trust & Banking Co., said in a June 26 interview. If the fund adds to holdings of foreign shares and bonds, it'll have to sell the yen to pay for them, he said. A weaker currency improves the earnings outlook for Japan's exporters and typically boosts equities.
"Investors are placing their hopes on higher allocations of assets denominated in foreign currencies," Asaoka said. "They expect that such allocations will add downward pressure on the yen and that will cause Japanese shares to be bought."
Targets for foreign bonds and overseas shares will rise to 14 percent and 17 percent respectively, according to the projections in the Bloomberg survey. That compares with the fund's current levels of 11 percent and 12 percent.
Growth Strategy
A weaker yen on the back of unprecedented BOJ monetary easing helped the Topix cap a world-beating 51 percent rally last year. Now with Prime Minister Shinzo Abe declaring the end of deflation and economists paring projections for more central-bank stimulus, the market's focus is switching to whether the premier can deliver on his growth strategy of initiatives including company tax cuts and trade liberalization.
Thirty-three percent of economists in a Bloomberg survey in June forecast the central bank will expand easing measures at its meeting on Oct. 31. Nine percent of respondents see more easing in July, down from 38 percent in a May survey.
Stock-market gains will be restrained as it can take a long time before government initiatives improve corporate earnings, said Hideyuki Ishiguro, a senior strategist at Okasan Securities Co. in Tokyo.
"Investors bought shares based on hope until June, but from July they'll be buying the reality, looking at economic fundamentals," Ishiguro said on June 27 by phone. "I don't think the market will rise much when investors focus on growth and corporate earnings."
Earnings Growth
Earnings per share at companies on the Topix will increase 5.2 percent this fiscal year, according to estimates compiled by Bloomberg. Mitsubishi Kakoki Kaisha Ltd., which makes hydrogen stations, led gains on the index last quarter with a 115 percent jump as Toyota Motor Corp. said it would start selling fuel-cell cars. Arrk Corp. fell the most, slumping 38 percent as Orix Corp. offered to buy the maker of design models at a discount.
There are indications GPIF is already stocking up on equities. Trust banks, which often buy and sell on behalf of pension investors, added money into local shares for eight straight weeks through June 20, exchange data show. Tomoyuki Hirao, a spokesman for GPIF, declined to comment on the fund's transactions.
Even after its rally, the stock market has yet to fully price in GPIF's portfolio overhaul, according to Masashi Akutsu, a strategist at SMBC Nikko Securities Inc. in Tokyo. The Topix jumped 11 percent from its May 21 low through yesterday, while the smaller Nikkei 225 Stock Average rose 9.1 percent during the period to 15,326.20. The Topix traded at 1.2 times book value as of yesterday, compared with 2.7 for the Standard & Poor's 500 Index.
"Some investors will try to buy after GPIF announces data," Akutsu said on June 26. "Plus, Japanese shares are still cheap, compared with earnings outlooks and overseas markets. I don't think they are overpriced on expectations for GPIF."