Trudeau Tries to Bury Father's Legacy on Alberta Energy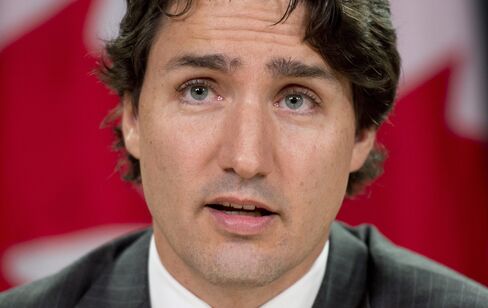 The last time a politician named Trudeau tried to regulate Canada's energy industry, it sparked outrage in Alberta. Justin Trudeau is betting his plan to manage growth in the oil sands will be less combustible.
The Liberal Party leader and son of former prime minister Pierre Trudeau is pushing more stringent controls on greenhouse-gas emissions in the country's oil-and-gas sector and a more conciliatory tone on pipelines. He hopes this will help his party regain credibility in a province where they haven't held a seat since ceding power to Prime Minister Stephen Harper's Conservatives in 2006.
He's even backing the idea put forward by the provinces of a national energy strategy, despite lingering anger in oil-rich Alberta to the National Energy Program his father introduced in 1980, which increased taxes on crude producers to offset the impact of high energy prices in eastern Canada.
"We're a very different country than we were 30 years ago," Trudeau said in an interview last week in Fort McMurray, Alberta, home base for Canada's oil-sands industry. "People want to know that their prime minister is going to say the same thing in downtown Toronto as he will in Fort McMurray."
Trudeau's energy stance will be tested today in special elections to fill vacancies in four districts: the Alberta constituencies of Fort McMurray-Athabasca and Macleod, as well as the Toronto-area seats of Trinity-Spadina and Scarborough-Agincourt. Canada's elections agency will start publishing results after 9:30 p.m. Toronto time, when polls close. The votes are also a chance to test campaign themes ahead of the next general election, scheduled for October 2015.
Price Discount
Harper's ruling Conservatives have made it a national priority to expand infrastructure to transport output from the oil sands, which accounts for most of Canada's recoverable crude reserves, the world's third largest. Heavy crude from the oil sands has traded at an average of $18.72 per barrel below the U.S. benchmark over the last five years due to a transportation bottleneck in North America. The discount costs Canada's economy as much as C$50 million per day, according to the Canadian Chamber of Commerce.
Trudeau's position on pipelines put his party between the Conservatives and the largest opposition bloc, the New Democratic Party. While Trudeau and Harper both support TransCanada Corp.'s proposed Keystone XL pipeline to the U.S., the Liberal leader opposes Enbridge Inc.'s C$6.5 billion ($6.1 billion) Northern Gateway project to carry diluted bitumen to the Pacific coast.
National Strategy
The NDP, led by Tom Mulcair, opposes most new pipelines, with the exception of TransCanada's Energy East proposal to an Irving Oil refinery in New Brunswick. Mulcair has said the country should refine more of its own crude.
A national energy strategy supported by the country's provinces would help pipeline companies secure the "social license" to break ground, Trudeau said. Liberals would also establish a price for carbon emissions in the oil and gas sector, a move he says would help curb emissions and give political "cover" to President Barack Obama to approve Keystone XL.
Under former leader Michael Ignatieff, the Liberals were reduced to 34 seats in the nation's 308-seat legislature in the 2011 election, the worst showing in the party's history. That relegated them to third place in party standings behind Harper's Conservatives and the NDP. It also left them hobbled in the country's western provinces and territories.
The Liberals also lost the 2008 election after then leader Stephane Dion proposed a carbon tax that was vilified by the Conservatives.
'Residual Narrative'
Still, the party has held a consistent lead in public opinion polls since Trudeau became leader in April last year.
"The Liberal brand in Alberta is probably in better shape than it has been in a decade," said Nik Nanos, chairman of Ottawa-based polling firm Nanos Research Group. "But there's a residual narrative that they're a party that's hostile to the West."
While a victory today may be unlikely, the Liberals are looking for a strong showing in Fort McMurray-Athabasca. Since 1968, the district has never been won by a party other than the Conservatives or their predecessor parties.
About a half-hour drive north of Fort McMurray, two story-high trucks haul 400 metric-ton loads of sticky black soil across mines run by Suncor Energy Inc. and Syncrude Canada Ltd. Other operations in the region inject steam into the earth to release the bitumen, a viscous form of petroleum.
Production in the oil sands will more than double to 4.8 million barrels per day by 2030, according to the Canadian Association of Petroleum Producers.
Better Record
Increasing oil-sands production is one of the main reasons Canada is projected to miss its targets to reduce carbon emissions under the global Copenhagen Accord, according to the Canadian environment ministry. Canada has committed to cut its emissions 17 percent from 2005 levels by 2020.
A spokesman for Natural Resources Minister Greg Rickford said the Conservatives have a better record in office than the Liberals at addressing climate change. The government reduced emissions between 2005 and 2012 even as the economy grew, Chris McCluskey said in an e-mail.
Growth in the oil sands has put a strain on Fort McMurray, about 440 kilometers (273 miles) northeast of Edmonton. The population of Wood Buffalo, the municipality that includes Fort McMurray, grew almost one-third to 116,407 between 2007 and 2012, according to Wood Buffalo estimates.
Local Needs
The region needs more housing, roads and bridges, as well as a more diverse mix of retailers, said Mayor Melissa Blake. "I like the idea of a pace that enables a bit more sensibility," she said.
The Liberal candidate in today's by-election said he would lobby the federal government for more infrastructure funding. "It's been Conservative here for 56 years, and it's clear they're taking this region for granted," said Kyle Harrietha, 37, general manager of the McMurray Metis, an aboriginal community.
Conservative candidate David Yurdiga declined an interview request. The NDP candidate, Lori McDaniel, didn't respond to an interview request.
The Liberals aim to woo voters such as Steve Auty, an operations manager at Syncrude who's lived in Fort McMurray since 1977. While describing himself as "fiscally conservative," Auty said the Conservatives haven't been attentive enough to the town's needs. At the same time, he's disturbed by Trudeau's opposition to Northern Gateway.
"I don't know what to do," Auty said in an interview. "The Chinese and Indian markets desperately need what we've got."
(An earlier version of this story corrected the Liberal candidate's title.)