Pakistan Starts Ground Offensive Against Taliban Near Border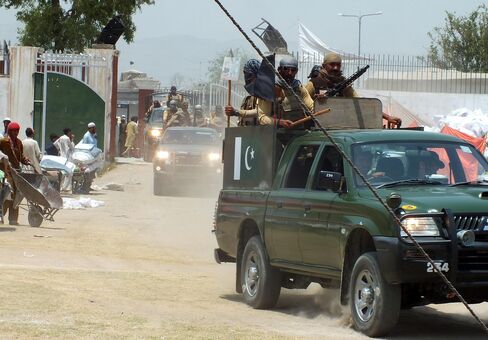 Pakistan's military started a ground offensive to flush out militants from North Waziristan, a tribal region on the Afghanistan border the U.S. has called the "epicenter" of terrorism.
The operation began in and around the region's main town of Miranshah after all civilians were evacuated, Inter-Services Public Relations, the military's media wing, said in an e-mailed statement today. As many as 15 "terrorists" were killed in the offensive while three soldiers were also injured in the exchange of fire, according to the statement.
"If the operation succeeds, it will be the first psychological victory for the government," Hasan Askari Rizvi, a Lahore-based security analyst who previously taught at Columbia University in New York, said by phone. "It will take a long time for militants to regroup and set up a center like North Waziristan."
Prime Minister Nawaz Sharif is pushing to eradicate militants to end violence that has killed more than 50,000 people since 2001 and complicated efforts to revive South Asia's second-biggest economy. A Taliban attack on Karachi's international airport this month prompted him to end peace talks and order a military offensive.
Ground troops moved into the militant strongholds two weeks after the military used jet fighters and helicopter gunships in the first phase of the operation that started on June 15. The area is also home to the Haqqani network, which has long used Pakistani safe havens to attack U.S. troops fighting Taliban militants in Afghanistan.
Stocks Rise
Investors, long used to strife in Pakistan, shrugged off the latest offensive. The benchmark KSE-100 Index rose 1.2 percent at 2 p.m. local time in Karachi, while the rupee gained 0.04 percent to 98.7 per dollar.
Pakistan's military was also using artillery, tanks and other heavy weapons to target militants in the town of Mir Ali and other areas. Some 376 insurgents have been killed and 19 have surrendered to security forces during the operation, while 17 soldiers have also been killed, the military said.
Last week gunmen fired on a Pakistan International Airlines plane as it was landing in the northwestern city of Peshawar, killing a female and injuring two flight attendants. The second airport attack in a month prompted foreign airlines such as Emirates to suspend flights to the city.
500,000 Displaced
The operation has displaced more than 500,000 people within the country, with about 65,000 Pakistanis crossing the border into Afghanistan.
North Waziristan is an area roughly the size of Connecticut with about 700,000 residents that sits near the Afghan border in a semi-autonomous tribal region. Michael Mullen, the U.S.'s former top military official, in 2010 called it the "epicenter of terrorism" and "where al-Qaeda lives."
After the U.S. invaded Afghanistan in 2001, North Waziristan became a safe haven for foreign militants like Uzbeks and Turks who fought alongside the fallen Taliban regime. In 2007, militant groups in the area united to form the Tehrik-e-Taliban Pakistan, or TTP, which went on an offensive toward Islamabad.
"The army wants to show the world they have the land under their control by physically occupying the area," said Rashid Ahmed Khan, professor of international relations University of Sargodha in Punjab province. "They are going for the final kill, but a ground assault will prolong the fight into years. I don't think North Waziristan will be completely free of terrorists."