NFL Veterans Walk Off Their Pain in Gait-Changing Shoes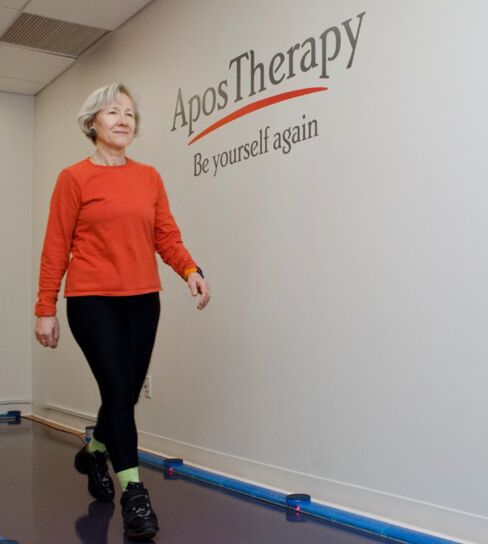 Former National Football League players facing knee and back pain are trying to walk it off with shoes best described as gait-changers.
The closely held Israeli company that sells the shoes, AposTherapy, is betting ordinary Americans, desperate for non-invasive solutions to counter pain, will follow in the players' wobbly footsteps. The products feature what look like two rubbery tennis ball halves attached to the bottom and retrain the muscles to reduce pain.
While AposTherapy isn't the first to make such claims, the treatment is becoming popular with patients seeking a solution to body aches that affect as many as eight in 10 people. After making inroads in Asia and Europe, the company is moving into the U.S., where the product has Food and Drug Administration approval. A publicity video on AposTherapy's website shows former NFL players praising the shoes, even though benefits have yet to be shown in an independent, randomized trial.
"If you can get someone to have a smoother gait, that can go a long way in relieving pain," MaCalus Hogan, an assistant professor at the University of Pittsburgh and an orthopedic foot and ankle surgeon with no financial ties to AposTherapy, said in a telephone interview. "It is definitely one I would be open to trying with patients."
Americans spend at least $50 billion each year on lower back pain, the most common cause of job-related disability, according to the National Institute of Neurological Disorders and Stroke, which studies pain. More than 50,000 people have tried AposTherapy's product in the U.K., Israel, and Singapore, and sales increased 60 percent to $14 million last year. The company expects sales to surpass $30 million by 2015.
Gait Changers
AposTherapy's shoes aren't the only ones out there that claim to have health benefits. Vibram USA Inc.'s FiveFingers shoes are popular with athletes who seek to emulate the sensation of running barefoot. Vibram claims its shoes require a significant increase in lower leg and foot strength, which can reduce knee pain and soreness over time.
Another company, Albuquerque, New Mexico-based Z-CoiL Footwear, said it's sold more than 1 million shoes made to absorb the shock of walking. And millions of Americans suffering from foot or knee pain have tried Dr. Scholl's cushions for shoes available in many drugstores.
AposTherapy's personalized footwear is supported by studies published in peer-reviewed journals and the company has received backing from the largest insurers in the U.K. and Israel. The founders of the Herzliya, Israel-based company, doctors Avi Elbaz and Amit Mor, say the device can reduce knee and back pain by altering gait and improving mobility.
Snowball Effect
Elbaz and Mor came up with the idea to combat what AposTherapy calls a snowball effect. When pain emerges, the muscles around the knee receive signals from the brain to contract around the injured area, further inflicting damage. The idea behind the device, which feels awkward to walk on for the recommended hour a day, is to ignore the brain and involuntarily change one's gait, reshaping the body and realigning muscles.
The evidence from retrospective, controlled trials show "significant improvement in the short and long-term outcomes and improvement in gait velocity, cadence, and stride length," James Noake, the London-based head doctor of the London Irish Rugby Club, wrote in BMJ.com's medical blog. "Although one could certainly pick holes in the methodology and quality of the research, it is still enough to pique interest in this non-invasive, relatively low-cost treatment."
Football Injuries
The company has already attracted some high-profile customers in the U.S. Former New York Jets running back Bruce Harper was unconvinced when asked to try on a shoe for pain relief as part of a publicity video promoting healthier habits.
"I'm skeptical," said Harper, a wry smile spreading across his face, as Mor, AposTherapy's chief medical officer, pontificated about the wonders of the $5,000 product, which isn't covered by U.S. insurers. "You need to prove it to me."
For former NFL players, who often swallow a hodgepodge of pills and undergo surgery to treat damage caused by years of extreme physical activity, AposTherapy's non-invasive approach is appealing. Once Harper and other veterans including former New York Giants players Bart Oates and Karl Nelson tried the shoes on, they praised its ability to realign one's walking. Mor said the players aren't paid by AposTherapy.
Research Needed
Hogan at the University of Pittsburgh said he was encouraged by initial company-sponsored research, though longer-term studies are needed to confirm its benefits. He also highlighted the device's potential in lowering health-care costs, if used before damage needs to be corrected by surgery. An American with no health insurance pays $45,000 to $70,000 for knee replacement at a typical hospital, according to www.kneereplacementcost.com.
"There is a lack of effective solutions," Mor, a graduate of the Hebrew University Hadassah Medical School, said in an interview in Herzliya. "Our treatment gives people the chance to retrain the way the muscles control their knee or back, and improve the way they walk."
The company lacks randomized trials and the main study touting the device wasn't consistent, tracking the experimental group more frequently than the control group, said Charles Rosen, a former president of the Monarch Beach, California-based Association for Medical Ethics. Rosen also noted the lack of independent trials, citing a 2013 study in the Journal of Orthopaedic Surgery and Research in which Mor and Elbaz were authors.
U.K. Trial
Mor said that studies have shown the benefits of the shoes and that real-life pilots, such as an 18-month trial on 1,300 patients in the U.K. coordinated by Bupa, the U.K.'s largest private medical insurer, showed positive results.
"In the long run, it is very important to run randomized controlled trials, and we are doing that in Europe and in the U.S.," he said. "There are interventions that are much more invasive than ours entering this field with much less data than we are presenting."
Mor said the strategy is to begin selling the product without insurance coverage. Once enough patients show results from the product, Mor said it's easier to get support from payers, who are looking to cut down on costs.
In the U.S., AposTherapy has opened an office in Manhattan and plans to partner with physical therapy centers, which will keep a cut of sales directly to patients.
AposTherapy, which has raised $27 million from investors including Israel's Pitango Venture Capital, has been approached by investment banks for a possible initial public offering though Mor says the company's in no hurry.