Japan Firms Lift Investment Plans Even as Mood Weakens: Economy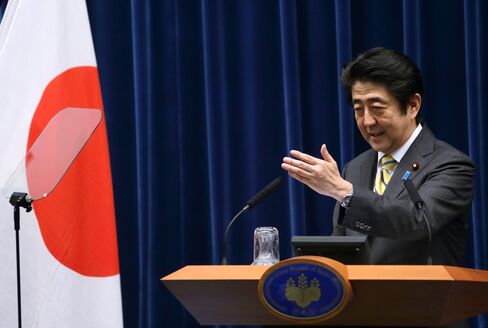 Japanese companies increased their investment plans more than forecast even as a sales-tax hike dented sentiment, potentially aiding Prime Minister Shinzo Abe's effort to stoke an economic recovery.
Large companies across all industries plan to lift capital spending 7.4 percent this fiscal year through March, more than a 0.1 percent increase they signaled three months earlier, a Bank of Japan report showed today. That was above a median 6 percent gain forecast in a survey of 22 economists by Bloomberg News. A gauge of sentiment among large manufacturers fell to 12 from 17 in March.
Abe is counting on companies to use record cash holdings to boost investment and wages as consumers feel a crunch from inflation almost five times faster than income growth as the Bank of Japan pumps record stimulus. Capital expenditure remains well below a 2007 peak, and about the same level as in the late 1980s, underscoring Abe's intention to create fresh business opportunities and incentives for corporate spending at home.
"There is some positive news on capital expenditures," said Takuji Okubo, chief economist at Japan Macro Advisors in Tokyo, said in an interview with Bloomberg Television. "Japanese companies are enjoying profit growth and are flush with cash," with plans to deploy some of it in the domestic market, he said.
Weak Pay
The Topix index of shares climbed 1.1 percent today in Tokyo, extending a 5.1 percent gain in June. The yen weakened 0.2 percent against the dollar to 101.52 at 5:33 p.m.
The survey indicated BOJ Governor Haruhiko Kuroda's easing is benefiting companies, with a measure of financial positions of all firms rising to 10, the highest since August 1990.
Resilience in the corporate sector would help buttress an economy that's estimated to have contracted last quarter as the higher sales levy crimps consumption.
Abe told Bloomberg News last week that Japan is no longer in deflation and that the economy has weathered the weight of April's 3 percentage point boost in the sales tax. The strength of the economy in the third quarter will be a key factor in a decision whether to increase the levy by another two points next year to contain the world's biggest debt burden.
The combination of the higher levy and inflation spurred by the BOJ's easing has squeezed households that have seen limited income gains. Government data today showed overall pay increased 0.8 percent in May from a year earlier as base wages gained 0.2 percent, lagging behind a 3.7 percent increase in consumer prices reported last week.
Inflationary Pressures
"Japan's economy will pick up, but there's uncertainty about the pace of recovery," Norio Miyagawa, a senior economist at Mizuho Securities Research and Consulting Co. in Tokyo, said before the data. "The risk is in consumer spending."
Household spending fell 8 percent in May, about three times more than the median estimate of economists surveyed by Bloomberg. Purchases of automobiles and sales at department stores fell at a slower pace than in April, according to data last month.
Toyota Motor Corp. Chairman Takeshi Uchiyamada said on June 10 the negative impact of the sales tax increase is smaller compared with the last hike in 1997 and that Japan's biggest automaker sees car demand recovering during the summer.
The Tankan revealed signs of rising inflationary pressure, indicating the BOJ may be making progress in its bid to spur 2 percent inflation in the world's third-biggest economy. The output price index for manufacturers increased to minus 2 in June from minus 3 in March, while that for non-manufacturers climbed to 8 from 6.
BOJ Easing
At the same time, the data showed an easing of tightness in the labor market -- a factor that has helped to fuel wage increases. An index for employment at all companies increased to minus 10 from minus 12 in March. The larger the negative number, the more difficulty companies have finding workers.
The Tankan showed areas of weakness that could keep alive market expectations for further BOJ easing, according to Daiju Aoki, senior economist at UBS AG in Tokyo. A lack of confidence about the outlook among small- and medium sized companies, especially non-manufacturers, indicates wage growth is unlikely to spread broadly, he said.
"The Tankan increases doubt about the BOJ's scenario that inflation will pick up in the second half of this fiscal year," said Aoki.