Iraqi Lawmakers Meet Amid Rifts on Maliki's Future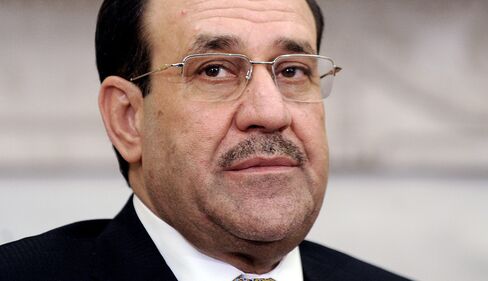 Iraq's parliament convened in Baghdad today amid speculation political leaders will fail to bridge differences on naming a prime minister who can narrow sectarian and ethnic divisions as an Islamist insurgency rages.
Grand Ayatollah Ali al-Sistani, Iraq's top Shiite cleric, had urged the appointment by today of a leader able to "avoid sectarianism" and prevent the country's breakup. Pressure has increased on Prime Minister Nouri al-Maliki to step aside amid criticism by domestic opponents and world leaders that his Shiite-led government has marginalized minority Sunnis, some of whom have swung behind the militants.
The National Alliance, which includes the main Shiite groups, hasn't decided on a candidate for the top office, Ali al-Allaq, a lawmaker from Maliki's party, said by phone. The National Bloc of former leader Ayad Allawi said in a statement that it would boycott the parliamentary session because politicians were "still repeating the same mistakes." Iraq's Kurds and Shiite followers of another cleric, Moqtada al-Sadr, have called on Maliki to go.
The risk of civil war in Iraq flared after an al-Qaeda breakaway group seized Mosul, the country's biggest northern city, as well as Tikrit and advanced on other towns last month. Violence in June left at least 2,417 Iraqis dead and 2,287 injured, the United Nations said in a statement today.
Combat-Equipped Americans
In Washington, President Barack Obama ordered another 200 combat-equipped military personnel to Iraq indefinitely for security at the U.S. embassy, its support facilities and Baghdad International Airport. In addition to troops, Obama is sending "rotary-wing aircraft and intelligence, surveillance and reconnaissance support," he said in a letter to House Speaker John Boehner.
"This force is deploying for the purpose of protecting U.S. citizens and property, if necessary, and is equipped for combat," Obama wrote. It "will remain in Iraq until the security situation becomes such that it is no longer needed."
The 200 personnel authorized by Obama will be combined with 100 others now making their way to Baghdad, Rear Admiral John Kirby, a Pentagon spokesman, said in an e-mailed statement. In addition, about 170 were sent there two weeks ago, according to a previous Pentagon announcement.
Aside from the security forces, Obama has authorized as many as 300 military personnel to serve as advisers to the Iraqi military and to gather intelligence.
Caliph Al-Baghdadi
The al-Qaeda offshoot announced on June 29 that it was declaring a caliphate and had changed its name to the Islamic State -- from the Islamic State in Iraq and the Levant, or ISIL -- in a bid to assert its authority over territory it has taken.
The group, which is also fighting to topple Bashar al-Assad in neighboring Syria, defined its Islamic state as stretching from Aleppo in northern Syria to the eastern Iraqi province of Diyala, according to an audio recording purportedly by its spokesman posted on websites and forums linked to radical Islamists. It named its leader, Abu Bakr al-Baghdadi, as head of the caliphate.
Sunni Islamist militants usually invoke references to the caliphate to refer to times when Muslim empires ruled over territories across the Middle East, Europe and Asia. The last great caliphate was formally abolished in 1924 after the collapse of the Ottoman Empire.
Shiite politicians had been jockeying to replace Maliki even before ISIL fighters stormed into Mosul, following parliamentary elections in April in which no bloc won a majority.
Names Mentioned
Adel Abdul-Mahdi, a former vice president; Ibrahim Jaafari who leads the National Alliance; Allawi and deputy premier Hussain al-Shahristani have all been touted in Iraqi media as potential leaders. If rivals are intent on removing Maliki from office, they'll need to convince neighbor and Shiite power Iran, which has underwritten recent Iraqi governments.
Last week, U.S. Secretary of State John Kerry and British Foreign Secretary William Hague were among the voices calling for a government in Baghdad with a chance of uniting sectarian factions, while insisting it was up to Iraqis to choose their leaders.
Iraqi forces have stepped up efforts to reclaim lost territory, a fight boosted by the deployment of U.S. advisers, drone aircraft, and warplanes provided by Russia. The renewal of Shiite militias has heightened fears the conflict could spark a civil war similar in intensity to that which followed the 2003 American invasion.
Kurdish Referendum
"Maliki's reaction and reliance on foreign backers shows that what he's saying is, 'Look, I messed it up and am now going to fix it the same way by raising Shiite militia and buying planes from Russia,'" Volker Perthes, head of the Berlin-based German Institute for International and Security Affairs, which advises Chancellor Angela Merkel's government, said today by phone. "He's destroying the old Iraq."
A spokesman for the largely autonomous Kurdish region in the north said yesterday that its government would seek a referendum on absorbing oil-rich Kirkuk and a separate vote in independence.
Kurdish leader Massoud Barzani last week insisted that the arrival of his fighters in Kirkuk ahead of ISIL gunmen "can't be reversed or changed." His comments signaled an unwillingness to give up a region that's been disputed between the government in Baghdad and the Kurds, and which could provide an economic lifeline for a fledging Kurdish state.
Before it's here, it's on the Bloomberg Terminal.
LEARN MORE